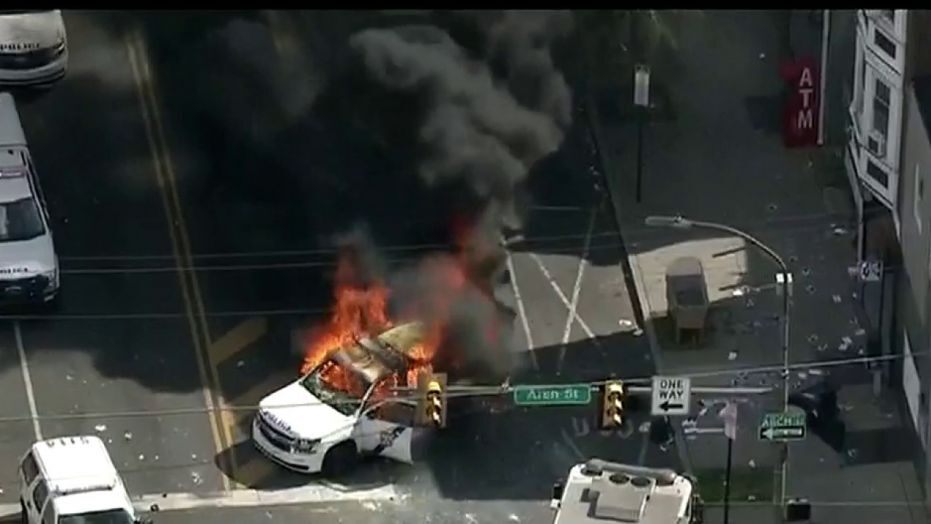 Businesses Shuttered by Coronavirus Face Permanent Closure Following Riots
The Antifa riots are putting an untold number of businesses at risk
By Evan Symon, June 1, 2020 7:35 pm
On Monday, many cities businesses across California began cleaning up following the George Floyd riots that reached a peak during the May 30th weekend.
Businesses look at increased challenges following coronavirus, riot losses
Some businesses have been attacked, damages, looted, and in some cases, burnt to the ground. With most businesses just beginning to recover from the coronavirus lockdown and economic downturn, re-closures and damages have set back an estimated thousands of businesses.
"A lot of California had curfews and closures during the past several days," said economist Tony Lofton. "Even now Monday, we still have entire counties like Los Angeles and Riverside shut down at 6 PM. A lot of cities and bigger counties had just started opening up again too. That was a lot of time and investment in bringing them back up to code. People left unemployment. And now a lot of that momentum is gone.
About half of all small businesses were looking at failing due to COVID-19 and what happened afterwards. They had just hit the reset button. And now some are not only closed again, but they have been broken into and possibly destroyed.
Some of those businesses also either took a cheaper insurance coverage or wanted to risk not having commercial liability insurance, which is technically legal to do in California. So those businesses just looted or broken into, well, they are dead in the water right now.
Even if they were insured and not broken into, the coming days of closures will just add to even more lost profits and employee lay-offs.
This just made the situation even more dire for most businesses. What started as a legitimate protest against a murder and police brutality and inequality erupted into somehow hurting the economy even more and National Guard troops being called up in LA."
There were some positive signs on Monday. Some businesses in riot affected areas reopened regardless for times between curfew hours. Street crews in Los Angeles, Santa Monica, Oakland and other cities have also been working around the clock to remove the debris and make the areas safe for  owners and residents to come back again.
Clean up continues downtown on Broadway. Our crews are helping businesses clean up smashed windows and remove debris- even putting out a small fire. @GMsTREEtsLA1H2O @LACity @LACityDPW @MayorOfLA pic.twitter.com/XKgqGRaLSt

— StreetsLA (@BSSLosAngeles) May 31, 2020
Many small business owners worry about surviving following riots across California
However, despite cities doing their best in quelling riots and keeping places safe for reopening, many businesses still face the aftermath costs of the riot. Places unaccustomed to high levels of crime, such as Santa Monica, were hit particularly hard.
The California Globe was contacted by many in Los Angeles, Oakland, and elsewhere who met the brunt of the riots.
"The police line was less than two blocks away from my storefront," said convenience store owner Jae Kwan Park, assisted in translation with his son Ben. "They went after more expensive stores, and us being inside probably scared some [looters] off. But we still ended up with a broken window and our front sign torn down."
Others were not so fortunate. Daniel Kilborn, who works at a smoke shop, entered the remains of the Los Angeles store Monday morning with his boss.
"It was all torn up," explained Kilborn. "I remember the [Rodney] King riots, and my dad told me about riots here in the 60's. It's one thing hearing about it and seeing it on TV, it's another seeing it personally."
"We were very close to going out of business due to coronavirus. I think this just killed us. Over half the product is gone, the cash register is gone, windows are broken, and a small charred part in the corner had some sort of fire happen yesterday."
"Outside they just moved a burnt out car, and the store next to us, which sold specialty clothes, now looks deserted. And all I've heard seemed to be police sirens and helicopters."
"But these looters, they just destroyed any chance of us coming back, even with insurance."
Robin, who works at a larger store in San Francisco, told the Globe after seeing her store in disarray "I hate quoting Joe Exotic here, but 'I have no idea how we're going to financially recover from this.'"
In addition to the listed Southern California locations, many Northern Californian cities and counties have also extended curfew on Monday, including all of Alameda County.

Latest posts by Evan Symon
(see all)