Californians Trying to Get Back to Work Have Been Criminalized by Governor
Why are healthy people being quarantined?
By Katy Grimes, May 2, 2020 10:12 am
'The First Amendment is my permit'
When the California Legislature reconvenes after being recessed for 7-8 weeks during the statewide COVID-19 lockdown, expect to see a complete political meltdown. And finger pointing. And overreactions. And an ongoing lack of leadership. And then watch the legislation and ballot initiatives to raise taxes on the very people who lost their businesses and jobs because of Governor Gavin Newsom's authoritarian statewide lockdown.
The protests across the state Friday made very clear that California's residents are fed up with the stay-at-home orders and need to get back to work – if their businesses are even still there. A good one-third of the signs at the State Capitol protest were about the governor – one sign said, "He freed the felons and imprisoned the free."
Most of all we need to ask why police were in riot gear at the protest. We need to ask why they arrested a handful of moms and dads at a protest asking the governor to open up the state. These people are being destroyed by the governor's order. They want to get back to work.
Notably, police were far less aggressive and few arrests were ever made at Black Lives Matter rallies, which were destructive and violent. Same with the Antifa protests where property was destroyed and Antifa thugs physically attacked bystanders and reporters. Police appeared to have been given stand down orders at those protests. Why go after a bunch of patriots? Were those the orders of the governor?
Are moms and dads and taxpayers low hanging fruit? Law enforcement in riot gear at the Capitol – they seem to only do this when the Tea Party shows up, or moms opposing mandatory vaccines, or taxpaying citizens who just want their businesses and jobs back.
California Globe is receiving photos and videos of aggressive police. In one video, a pastor and police Chaplin in Murietta, CA was recorded; he wasn't pushing police, but people said that police pulled him across their line and arrested him. Some said police recognized him from another protest.
The police formed a line to force people away from the Capitol building as some chanted, "The First Amendment is my permit," referencing the permit denial from the Capitol CHP for the event.
We don't recall ever seeing this at a Black Lives Matter protest.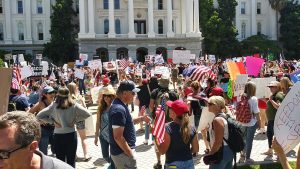 Convicted criminals are being let out of jail, making room for arrested restaurateurs, hairstylists, barbers, joggers, beachgoers and surfers. Apparently, people trying to go to work are criminals now. And healthy people are being quarantined.
County jails are letting out thousands of criminals, who are then committing new crimes against people and property while responsible taxpaying citizens are being arrested for protesting an irrational statewide lockdown order.
We had our own problem with police as we broadcasted a live radio show from a RV in the auto caravan protest. A police officer directing traffic stopped us at an intersection near the Capitol and held us there for 30 minutes, while letting hundreds of other vehicles go ahead. We finally had to just drive past him when we saw an opening. He eventually stepped aside, but this was after several rebuffed attempts to speak with him. We wondered why and what his orders were.
The day before the protest, Californians woke up to news of a leaked memo in which Gov. Gavin Newsom ordered all beaches and state parks closed starting Friday, after scolding beachgoers who flocked to Southern California beaches amid a summer-like heatwave last weekend.
Doctors report that when the coronavirus is exposed to sunlight the virus is slowed and even killed. The governor apparently doesn't adhere to this "science." Nor has he ever acknowledged the 98% recovery rate from the virus. He also has yet to acknowledge the USC and Stanford studies published recently which show that the death rate from the virus is likely to be as low as 0.18%.
As California Globe reported last week, flattening the curve is already behind us, so why is the state still on lockdown? The U.S. Justice Department could take legal action against governors who maintain tough rules over coronavirus that Attorney General William Barr said infringe on constitutional rights even after the pandemic subsides, Bloomberg News reported Tuesday.
Stringent rules such as stay-at-home orders and shutting down businesses are only justified up to a point, Barr said in an interview Tuesday on "The Hugh Hewitt Show," the NY Post reported.
What about following the science Mr. Governor? Or the Bill of Rights? Governor Newsom and many of the state's Mayors are violating the civil and Constitutional rights of the state's residents, which prompted AG Barr's warning.
A learned friend posited, "wasn't it Newsom himself who cast the dye regarding local control and 'sanctuary' with state laws when he announced as Mayor of San Francisco that he'd marry gays in violation of state law? Or violate federal immigration laws? I don't think he gets to pick when he believes in subsidiarity."
Many at the protest said it is the governor who is breaking the law.
Latest posts by Katy Grimes
(see all)