Chula Vista Mayor Mary Salas Endorses Michael Bloomberg for President
Salas highlights Bloomberg's relationship to the Latino community as her main reason for endorsement
By Evan Symon, March 3, 2020 5:22 pm
Earlier this year, Chula Vista Mayor Mary Salas gave her endorsement to Michael Bloomberg to be the Democratic Presidential nominee. Earlier today, hours before polls opened, Salas reaffirmed her position, only this time focusing on Bloomberg's relationship with Latinos and what his plans are for issues close to Latinos.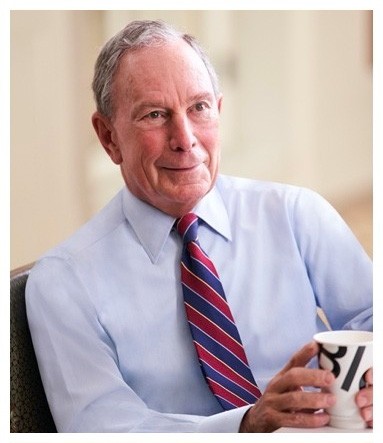 "Latinos face significant wealth gaps," began Salas in her statement. "These are reflected in the wages we receive, our average net worth and our rates of homeownership. One survey said that Latino wage and salary workers ages 16+ who were paid hourly received below the prevailing federal minimum wage. In 2015, Latino families had a median net worth of $19,000 compared with $139,300 for white families. And, more than 70 percent of white households were owned by the occupants, versus less than half of Latino households.
Mike Bloomberg has always been a good friend to Latinos — as mayor of New York City and as a philanthropist. His Latino focused agenda "El Paso Adelante" will ensure that the Latino community feels embraced and is able to prosper. It is packed with economic opportunity, which is music to my ears and it is why I hope Mike will be the next president of the United States."
Bloomberg's campaign has been ramping up their defense of racial accusations against African-Americans and Latinos in recent weeks. The primary point of contention was Bloomberg's controversial 'stop-and-frisk' policy, which had the NYPD stop, detain, and frisk any possible suspect in New York, which more often than not was a minority. For Chula Vista, a San Diego suburb of over 270,000 that's nearly 60% Latino, the support of Mayor Salas could change some minds on election day with her defense of Bloomberg.
"Right now there are slightly more than 300,000 Latino-owned businesses with one employee or more," added Mayor Salas. "Mike's plan will build Latino wealth by empowering entrepreneurs and improving access to vital funding in order to double the number of Latino-owned businesses. Mike is a man of his word and if he says he will put federal dollars behind Latino businesses, he means it. That's a big commitment and one that would be very gratefully utilized and that would pay enormous dividends to the economy."
"Mike Bloomberg is an experienced, inclusive, level-headed leader who will get the job done for Latinos and for Americans everywhere. I welcome his inclusive brand of politics and I welcome the change that he will bring to Washington. You read it here: I like Mike!"
California's Primary is today, Tuesday March 3, 2020.

Latest posts by Evan Symon
(see all)