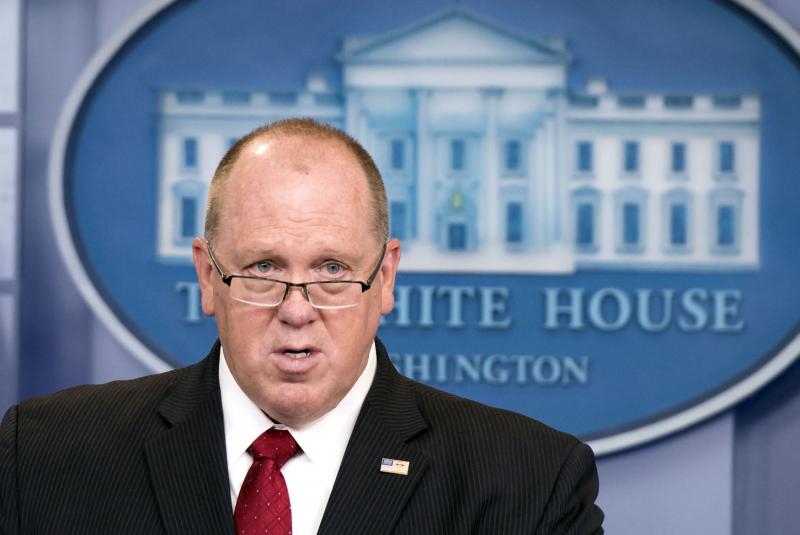 Former ICE Chief Blasts Nancy Pelosi over Border Wall Comments
Tom Homan Insists Pelosi is wrong about Border wall Security
By Sean Brown, December 26, 2018 2:44 pm
Appearing on Fox News today, Tom Homan, the Former Director of the U.S. Immigration and Customs Enforcement agency or better known as ICE, didn't hold back when discussing Nancy Pelosi's (D-San Francisco) opinion of funding a wall which would separate the United States and Mexico.
After proving to be one of the major campaign points for the President in 2016, Trump has persisted that building a wall at the southern border will not only help stem the flow of illegal immigration, but that it would also prevent a large amount of drugs and criminals from entering the country. Despite this, the idea or general image of a physical wall dividing the two countries has become a major symbolic issue that many Democrats and some Republicans alike are not quite fond of.
Homan, a regular Fox contributor said today, "every place a wall or barrier has been built, it has resulted in decreased illegal immigration, decreased drug smuggling. One hundred percent of the time, it has proven effective."
He also went on to say "look at the rest of the data on the border, where arrests of MS-13 [gang] this year are up 118 percent, the seizures of guns — for God's sake — are up almost 200 percent. There's your data. Look at it. You can see why we need a wall."
Although the government operations remain partially shut down which has resulted in thousands of federal employees missing out on pay, Homan believes Trump was "doing the right thing" by shutting down the government.
The shutdown began Saturday after Republicans and Democrats could not come to a compromise over trading DACA for wall funding.
DACA would have provided a pathway to citizenship for nearly 1.8 million undocumented immigrants – mostly children, after Trump raised that number from the previously allotted 800,000 in an effort to further persuade Democrats to make a deal. In spite of the significant jump in numbers, Senate Democrats refused to vote for the nearly $5.7 billion requested by Trump to fund his project he so greatly promised his supporters.
Furthermore, Pelosi, on her way to becoming Speaker of the House a second time, has been one of the most outspoken critics of the President's plan and has said that Trump is "immoral" and a "fear monger" for trying to build the wall.
"He talked about terrorists coming in over that particular border, which wasn't so. He talked about people bringing in diseases and all the rest of that, which wasn't so," said Mrs. Pelosi, before adding, "he's using scare tactics that are not evidence-based, and it's wrong."
Despite the debacle, Mr. Homan insists that Pelosi is "100 percent wrong."
Serving as a Border Patrol Agent, investigator and ICE Director during his 30 plus years working for the department, Homan said "as far as crime coming across the border, ICE arrested 138,000 criminals last year. These are people who entered the country illegally and committed crimes against the people of this country."
Although both sides are pointing the blame at one another, it appears the government won't be set to open until at least January 7th when the new Congress takes office. Trumps' wall funding also remains bleak as House Democrats who will take over the majority, certainly won't be in any rush to fund a wall without considerably more bargaining.
Latest posts by Sean Brown
(see all)