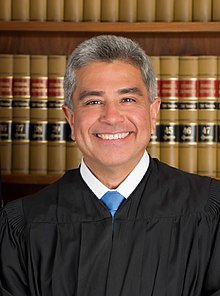 Freelance Journalists' Request for Temporary Restraining Order on AB 5 Denied by Federal Judge
The hearing on their request will be heard in March
By Katy Grimes, January 7, 2020 3:31 pm
U.S. District Judge Philip Gutierrez denied two freelancers' temporary restraining order request challenging Assembly Bill 5, despite their claims that the new law will prevent them from making a living at freelancing. The judge said they waited too long after the bill was signed into law in 2018 to make the emergency request for exemption from the law.
AB 5 limits freelance writers and photographers to 35 submissions annually per media outlet, and will serve to significantly limit Californians' ability to work as independent contractors and freelancers. It was revealed during Senate debate in September that the AFL-CIO wrote AB 5.
The bill broadly codified the definition of an employee that the California Supreme Court established last year in a case involving two delivery drivers who sued the Dynamex Corporation for classifying them as independent contractors instead of employees.
Represented by the Pacific Legal Foundation, the American Society of Journalists and Authors and the National Press Photographers Association sued in December to stop AB 5 from going into effect.
The Pacific Legal Foundation explains the lawsuit:
In an effort to regulate the employment status of independent contractors, California passed a law forcing companies in the state to reclassify most freelancers as employees. Under AB 5, freelance journalists and photographers must cap their submissions at 35 per year, per publisher. Anything greater, and they become employees, losing their professional freedom and autonomy. Or if journalists take a single video, they instantly lose the freedom to freelance. Other professions, like marketing and graphic design, face no such restrictions on freelancing. Such selective and unequal treatment among members of speaking professions violates the right to earn an honest living free from both irrational government interference and regulation based solely on the content of their speech.
The ability to work as an independent contractor—or freelancer—has long afforded people in wide-ranging professions the ability to earn a living on their own terms. Whether they're juggling families, seeking variety, or desiring control, freelancers can choose their own workload, hours, wages, and clients as fit their needs. Such professional freedom has been exceptionally beneficial for journalists and photographers amid an evolving media landscape of consolidations, cost-cutting, and pressure to produce content.
Explaining what is at stake, PLF says "independent contracting allows workers freedom and control of how and when they work. Not everyone wants to fit into burdensome and costly employee arrangements. Government cannot make arbitrary distinctions among professions based on the content of their speech. It cannot single out journalists for especially unfavorable treatment compared to similar professions that deal in the business of speech."
"Plaintiffs' delay belies their claim that there is an emergency," Judge Gutierrez said in his ruling. "There would have been time for a full hearing had they 'promptly filed' their objections."
"'Freelance journalists in California are losing work each day AB 5 remains in effect,' Jim Manley, an attorney for the Pacific Legal Foundation, said in an email," CBSnews.com reported. "However, he said the judge's decision to wait for a full hearing 'is understandable given the gravity of the issues.'"
The lawsuit, American Society of Journalists and Authors v. Becerra, will be heard in March.
In another legal challenge to AB 5, U.S. District Judge Roger Benitez sided with the trucking industry's lawsuit over their claims that the new law is unconstitutional, temporarily exempting them from AB 5. The trucking groups argued that, because AB 5 wouldn't let most truckers set their own schedules, it would go against the interstate commerce clause of the Constitution.
Latest posts by Katy Grimes
(see all)