Governor Newsom Signs Bill to Extends CHP Retail Crime Task Forces Through 2026
AB 331 signing widely praised, Newsom's involvement in bill criticized
By Evan Symon, July 22, 2021 3:02 pm
A new bill that extends the sunset date of the California Highway Patrol (CHP) run Organized Retail Crime Task Forces (ORCTF) that help crack down on regional retail crimes in the state was signed into law by Governor Newsom on Wednesday.
Assembly Bill 331, authored by Assemblyman Reggie Jones-Sawyer (D-Los Angeles), would specifically extend the statute first created in the 2018 AB 1065 law that has the CHP, in conjunction with the Department of Justice, convene a regional property crimes task force to assist local law enforcement in counties identified by the CHP as having elevated levels of property crime, including, but not limited to, organized retail theft and vehicle burglary. The CHP will also continue to support local law enforcement with logistical support and other resources such as support and equipment and work with them and district attorneys to identify and prosecute organized theft rings, recover lost merchandise and reduce associated crime.
The CHP will also work with the retail industry to reduce incidents of theft and strengthen locational safety for shoppers and create an internet-based tip line for anonymous retail theft tips. The CHP program will now extend until January 1, 2026.
In addition, provisions that help increase the penalties for organized theft rings, such as charging them with felonies rather than misdemeanors, were also extended until the end of 2025.
Assemblyman Jones-Sawyer wrote the bill largely to help combat the upswing of retail crimes in cities such as San Francisco this year by going after serious offenders and their organizations, as well as a way that compliments other new laws designed to lower retail theft long-term, such as expanded drug rehabilitation laws and education programs that target at-risk youth.
"That's the ultimate goal here," said Assemblyman Jones-Sawyer at the bill signing on Thursday in Long Beach. "Both philosophies come together to solve the problems that are currently plaguing California. It's so important to continue this work that CHP has passed. It has been successful for several years."
A bill to combat increased retail thefts in California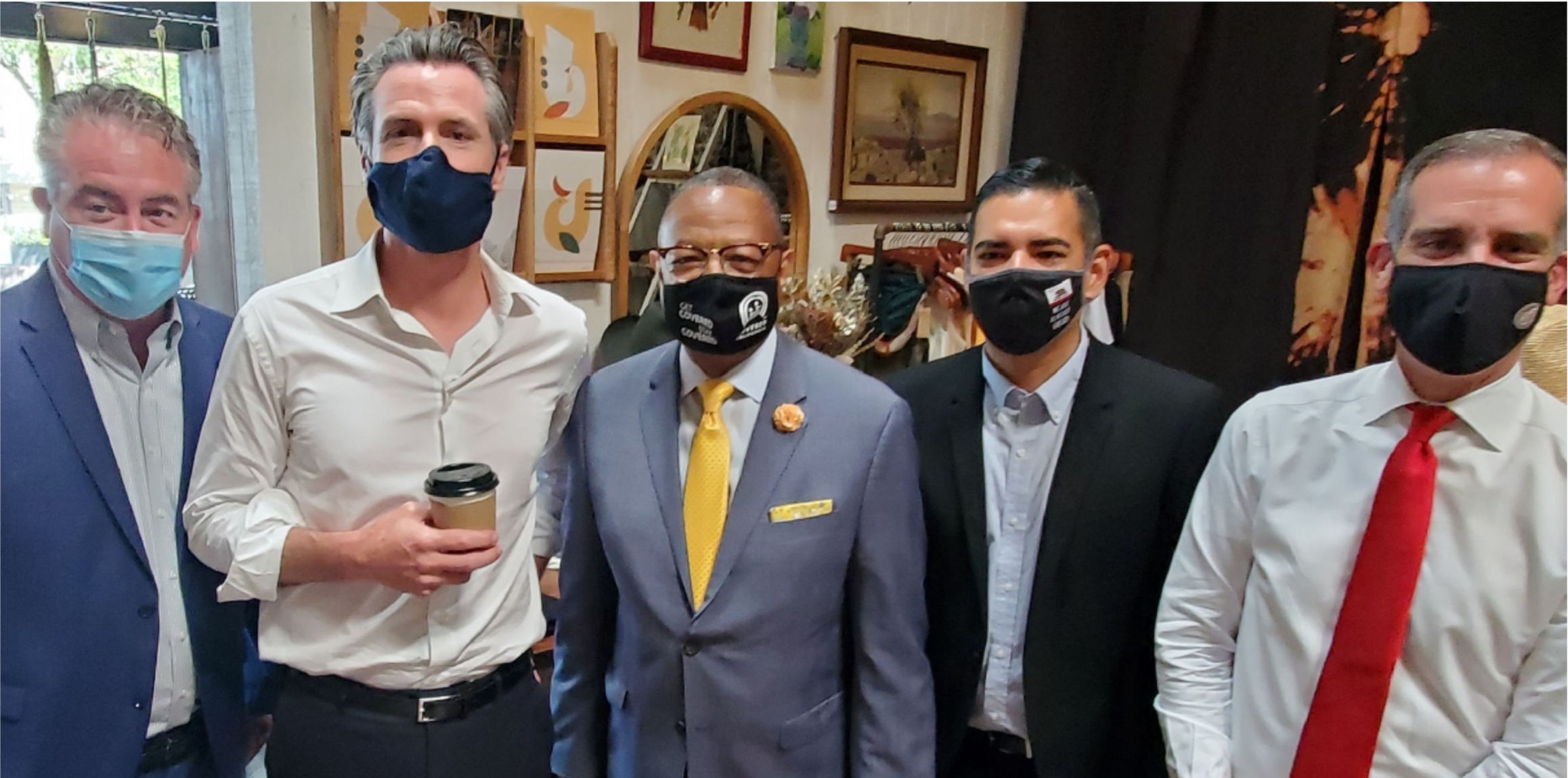 Joining Jones-Sawyer in Long Beach yesterday were Governor Gavin Newsom, CHP Commissioner Amanda Ray, San Francisco Police Chief William Scott and the Mayors of the 13 largest cities in California, including Los Angeles Mayor Eric Garcetti and Long Beach Mayor Robert Garcia. Newsom himself reiterated Jones-Sawyer's arguments in a short speech before signing AB 331 into law.
"Among the most basic needs for all Californians is to feel safe at home, at the park, or walking to school," stated Governor Newsom. "As we pursue nation-leading criminal justice reforms – all with an eye to making our communities safer – a more holistic approach is called for. We must invest in public safety while, at the same time, tackling the root causes of these increases.
"This is not new in the state of California as the Assemblymember noted. We've been organized in a very deliberative manner to address the issue of organized retail crime for a number of years. We are doubling down on those efforts today with this bill that I'll be signing here in a moment."
Newsom also noted the success of the CHP program, pointing out that the Task Force has had 668 investigations conducted in the past 3 years, leading to  to 252 arrests and the recovery of $16.3 million in merchandise. One company alone saw 11 investigations totaling to over $800,000 in stolen goods, resulting in 19 arrests.
Despite the bill being passed unanimously in the Assembly and Senate and Assemblyman Jones-Sawyer's efforts to renew the bill being generally praised, Newsom's recent involvement in advancing and signing the bill grew criticism from many. In particular, many lawmakers and groups said that Newsom is only in favor of the bill now to have a better look before the recall election and that he was only fixing a problem that he had created originally through supporting lesser sentences for thieves in the past.
"In typical Newsom fashion, the Governor is patting himself on the back for attempting to fix a problem he not only breathlessly endorsed, but helped create," tweeted Senator Melissa Melendez (R-Lake Elsinore) on Wednesday, referring to Proposition 47 which largely decriminalized theft and drug crimes by reducing those crimes and a number of other "non-violent" felonies to misdemeanors.  
In typical Newsom fashion, the Governor is patting himself on the back for attempting to fix a problem he not only breathlessly endorsed, but helped create. https://t.co/XqTQjFOff4

— Senator Melissa Melendez (@senatormelendez) July 21, 2021
Groups in favor of his recall also chimed in on Thursday.
"Gavin Newsom's sudden concern about retail theft couldn't be more transparently political and desperate," noted Republican Governors Association (RGA) Action spokeswoman Joanna Rodriguez. "Californians deserve a governor who cares about their safety and the economic impacts of increasing crime all the time – not just when facing the threat of recall."
AB 331 went into effect immediately after being signed on Wednesday. An increase of more retail theft investigations and subsequent arrests are expected throughout the second half of the year.

Latest posts by Evan Symon
(see all)