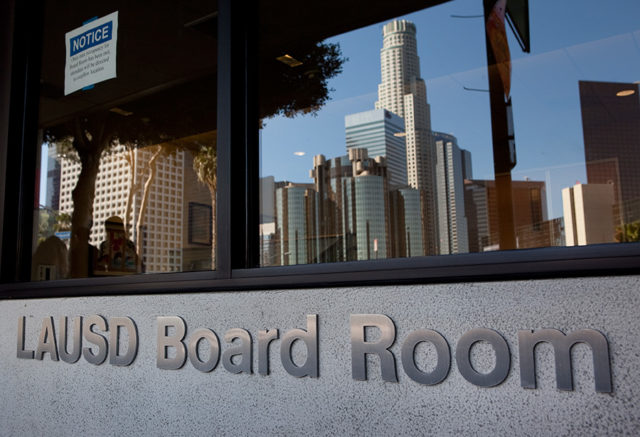 Parents File Lawsuit Against LAUSD to Resume In-Person Learning Immediately, Without Restrictions  
'LAUSD has created an educational apartheid system that arbitrarily and without justification excludes healthy children from participating in school'
By Katy Grimes, June 22, 2021 2:48 pm
A group of parents in Los Angeles have filed a lawsuit to get healthy kids back to school without forced vaccinations, ongoing COVID testing and data tracking.
California law requires children to attend school, and also guarantees them a free public education as a core constitutional right.
Children's Health Defense California and Southern California Law Firm Tyler & Bursch, LLP filed a complaint in U.S. District Court on behalf of parents seeking to bar Los Angeles Unified School District and Los Angeles County officials from continuing to implement certain mandates on their children as a requirement for them to return to in-person learning.
This is the first lawsuit of its kind filed in California Federal Court regarding the targeting of school children with illegal and unnecessary COVID mandates, the law firm says. Named in the lawsuit are Los Angeles Schools Superintendent Austin Beutner, each of the LAUSD board members George McKenna, Monica Garcia, Schott Schmerelson, Nick Melvoin, Jackie Goldberg, Kelly Gonez, and Tanya Ortiz Franklin, as well as Los Angeles County public health officers Muntu Davis, M.D. and Dr. Barbara Ferrer.
Plaintiff's attorneys say, "These parents' refusal to submit to routine, invasive PCR testing of their children; the forced downloading and use of the Microsoft app "Daily Pass" to collect and disseminate their children's private health data; and the covering of their children's faces all day while in school has resulted in LAUSD excluding their healthy children, and thousands of other healthy children, from attending school."
Additionally, the lawsuit says, "Despite the legal authority to reopen schools at that time and the California constitutional right to public education, the Board Members and Beutner did not re-open LAUSD schools. 22. Instead of allowing students to attend school, the Board Members and Beutner instituted a virtual learning program that empirical data proves and at least one California state court judge has held is not an adequate substitute for in-person learning."
The lawsuit says Superintendent Beutner and LAUSD Board Members announced that LAUSD would only allow students to attend school if they submitted to: (i) regular mandatory polymerase chain reaction ("PCR") testing ("mandatory PCR testing"); (ii) the use of the Microsoft Daily Pass digital tracking system ("Microsoft Daily Pass"); and, (iii) covering their noses and mouths with masks at all times while on school grounds ("mandatory masking"), while failing to inform Plaintiffs and their minor children that they have the option to refuse the mandatory PCR testing as required by the statutory framework governing issuance of Emergency Use Authorizations (EUAs).
The lawsuit specifically alleges:
"Officials of the Los Angeles Unified School District and County of Los Angeles Department of Public Health prevented and are continuing to prevent Plaintiffs' children from attending school unless Plaintiffs agree to:
(i) allow their minor children to be tested weekly with a test that has yet to be approved for use in humans by the U.S. Food and Drug Administration ("FDA"), and that has no value as a diagnostic tool to determine if a student has COVID19 or is contagious with same;
(ii) have their minor children's health data, movements, genetic material, daily activities, contacts, and unknown other information and activities collected and monitored by Defendants and their partner/agent Microsoft, and then shared with a number of universities, scientists, professors and researchers absent valid and transparent privacy protections regarding that data, and absent any known boundaries or protections of any kind regarding Microsoft's use of and/or profit from that data; and,
(iii) cover their minor children's faces for the entirety of each school day when evidence proves that face coverings are of little to no value in curtailing the spread of COVID-19 and the prolonged use of such masks inflicts physical, psychological and developmental damage on children."
The lawsuit says that LAUSD and County protocols are discriminatory and exclusionary by design and have zero basis in law or science. "In many instances, the effects of these protocols are most heavily borne by the same traditionally disadvantaged communities and individuals who have been denied equal access for generations," the plaintiff's attorneys say. "LAUSD has created an educational apartheid system that arbitrarily and without justification excludes healthy children from participating in school. This lawsuit will demonstrate how and why this kind of discrimination is flatly illegal and unconstitutional."
"California's constitutional guarantee of a child's right to a public education cannot be conditioned upon parents relinquishing their rights to protect their children's health, well-being and privacy," said Kristina Heuser, Constitutional Attorney for Tyler & Bursch and Advocates for Faith & Freedom.
Children's Health Defense California President Alix Mayer added, "The Daily Pass program is built around products – PCR tests and face masks – that are not approved, and therefore cannot be mandated. Further, the weight of the scientific evidence does not support future approval of these products for the uses for which they are being mandated. With federal law on this subject as clear as it is, we have a strong case that this discriminatory program violates both federal and state law and is unconstitutional."
You can read the lawsuit here:
CHDCA+001+2021.06.19+Complaint

Latest posts by Katy Grimes
(see all)