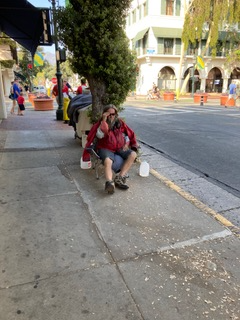 Political Vendetta or 'Public Nuisance': Santa Barbara Chick-fil-A Under Fire
'Santa Barbara—where they can shut you down for being too successful'
By Katy Grimes, March 7, 2022 2:22 am
The Santa Barbara City Council has given restaurant Chick-fil-A 90 days to fix its traffic problems on State Street or face the possibility of being declared a public nuisance. Why?
A local woman who "never liked Chick-fil-A," not because of their product, but "for their social positions," found a reason to cancel them.
What spurred Hobbs to local action, however, was watching the upper State Street restaurant's overcrowded drive-thru line spill constantly and precariously into the road, a public safety issue that has persisted for the better part of the decade, unabated, with no apparent consequences for either the culprit drivers or their fried-chicken-flinging enablers. "The idea of a big company coming into our community and using the main street of our city as a private parking lot is not acceptable," she said.
Can the council sanction Chick-fil-A for doing too much business? One woman's activism nearly brought the issue to a vote of the Santa Barbara City Council in favor of ousting Chick-fil-A, before even considering alternatives.
Instead, Chick-fil-A now has until June 7th to come up with solutions.
But is it warranted or even legal for elected city officials to hand-pick which businesses survive and thrive, and which businesses are forced out?
At the heart of the issue is not just the "public nuisance" Chick-fil-A may or may not be responsible for, but that the City Council very nearly voted to force the successful and popular business to vacate the legally held premises, rather than working with the business to come up with solutions.
These council members should be called on the carpet for even entertaining a decision to oust Chick-fil-A without due process. Do they understand their roles as elected officials? Why would they make the knee-jerk leap to authoritarianism at the first opportunity?
Consider this thoughtful letter to the Santa Barbara City Council from a local Santa Barbara business owner:
"One would hope that before you vote to restrict the operations of a private business, affecting the owners, employees, and commercial property landlords you might take a moment to reconsider your actions.

For one thing, it would be refreshing if you would simply clearly state your real objections to this particular business.  Tyler Hayden's commentary in the Independent seems to be pretty honest about what is behind the real opposition to Chick-fil-A.

Why can't any of you be so honest? You also might want to consider the precedent you will be setting.  Going forward, will elected officials like yourselves be empowered to alter contracts, rescind legal permissions, and to punish businesses for the sin of being successful?

A City Council vote to shut down Chick-fil-A's legal drive thru using a "public nuisance" claim will clearly lead to multiple lawsuits against the City.

There will be serious 5th Amendment issues about unconstitutional "takings."

There will be clear 14th Amendment issues about "due process."

And the potential for many more claims. It is irresponsible for elected officials to expose the public purse to potential damage claims with such questionable actions.

This is not how "representative democracy" is supposed to work. Rather than picking winners and losers, city governments should be empowering their staffs to find solutions and mitigations to issues like this one.

It is not the job of an elected official at any level to vindictively punish businesses for being "too successful" for whatever reasons.

Step back from the brink. Sit down with staff, engineers, and the business and property owners and find potential mitigations.If you don't, it will be clear to all that you are driven by ideology, not reason.

In the meantime, let's talk "public nuisance"—see below."
The business owner shared several photos of homeless vagrants living on the streets, urinating in public, congregating outside businesses, camping under trees, and feces on the sidewalk.
Can Santa Barbara shut a business down for being too successful?  Santa Barbara residents have shared with the Globe that several members of the Santa Barbara City Council won't actually say why they're doing this, but they have schemed without any public planning to shut down the Downtown section of State St. completely to traffic for the past 2 years because they want a "promenade."
Could it be time for a regime change in Santa Barbara? As the business owner said, "This is not how 'representative democracy' is supposed to work.
Latest posts by Katy Grimes
(see all)