President Trump Demands CA Gov. Newsom Return $3.5 billion for State's 'Green Disaster' Bullet Train Project
High Speed Rail plan violated Prop. 1A mandates
By Katy Grimes, February 14, 2019 12:25 pm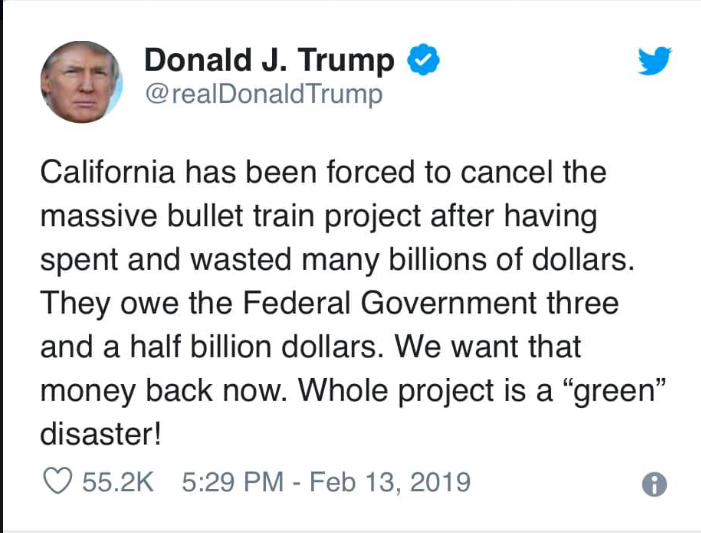 In Tuesday's State of the State address, California Governor Gavin Newsom announced the high speed rail project, as planned to go from Sacramento to San Diego, "would cost too much and take too long. There's been too little oversight and not enough transparency," Newsom said. However, rather than scrapping the entire project, he doubled down on keeping a segment from Bakersfield to Merced in the Central Valley.
By Wednesday, President Donald Trump demanded the California Governor return the $3.5 billion it received from the federal government for the "disaster" high-speed rail project. "California has been forced to cancel the massive bullet train project after having spent and wasted many billions of dollars," Trump tweeted. "They owe the Federal Government three and a half billion dollars. We want that money back now. Whole project is a 'green' disaster!"
In 2008, California voters approved the Proposition 1A bond initiative, authorizing $9 billion in bond money for the construction of a statewide high-speed rail system, to travel at speeds of up to 220 miles per hour. The state received $3.5 billion in federal stimulus money in 2010 for the project. But California's High Speed Rail plan has been wrought with cost overruns, mismanagement, and numerous lawsuits, delaying the project, but still costing California taxpayers billions of dollars spent on consultants.
California's High Speed Rail Scheme
As California Globe reported Tuesday, "California's High Speed Rail scheme no longer resembles the Proposition 1A bond initiative sold to voters back in 2008, or the promise of true high speed rail service from Los Angeles to San Francisco or Sacramento."
"The last High Speed Rail planning options did not include a Merced to Bakersfield route, but did have a Fresno to Bakersfield option at a cost of approximately $2.55 billion. "We'll connect the revitalized Central Valley to other parts of the state, and continue to push for more federal funding and private dollars,"" Newsom said. "But let's just get something done."
Newsom said this would stimulate the economy in the Central Valley.
"For those who want to walk away from this whole endeavor, I offer you this: Abandoning high-speed rail entirely means we will have wasted billions of dollars with nothing but broken promises and lawsuits to show for it," Newsom added. "And by the way, I am not interested in sending $3.5 billion in federal funding that was allocated to this project back to Donald Trump."
High Speed Rail Plan Ran Right Over Prop. 1A Mandates
California politicians and High-Speed Rail Authority officials worked for years  to smooth over the complex and conflicting details of the bulging $100 billion High-Speed Rail plan, and in doing so, created an even larger problem than the growing dissent by the voters who supported the 2008 ballot initiative – they are violating important mandates in the 2008 law.
Proposition 1A, $9 billion in bonds for high-speed rail, included numerous mandates, none of which can be legally bypassed on the way to building the massive train system.
Top on the list is that the rail system must be high-speed. "Electric trains that are capable of sustained maximum revenue operating speeds of no less than 200 miles per hour," the law states. However, most of the planned segments in the Central Valley are not high-speed; nor will high-speed be attainable in dense cities.
Rail Authority Chairman Dan Richard said at a 2012 legislative hearing that the Rail Authority "never intended, our business plan does not contemplate, that we would operate a high-speed rail system only in the Central Valley."
Prop. 1A Mandates
But his statement ran counter to Proposition 1A:
* Prop. 1A stipulates 11 requirements that must be met before funds can be released for the construction of a "corridor" or "usable segment."  Specifically, some of these requirements include actual high-speed train service, ridership, revenue projections and planned passenger service.
* "The high-speed train system shall be planned and constructed in a manner that minimizes urban sprawl and impacts on the natural environment," the law states. But the impact of the rail system may actually create suburban communities around train stations within reasonable distances from urban areas and higher employment areas.
The train system will also dissect both urban and rural communities which will be problematic, as well as a serious violation of the "natural environment." The trains will travel through densely populated cities, but also through sensitive agricultural and natural areas in the state.
* The success of any legitimate transportation system must be based on connectivity. "For each corridor described in subdivision (b), passengers shall have the capability of traveling from any station on that corridor to any other station on that corridor without being required to change trains," the law states. "Stations shall be located in areas with good access to local mass transit or other modes of transportation."  This means that unless there are extensive connecting rail systems already in place in the high-speed rail destinations, cab companies, limo services and car rental companies should be lining up to rent space in the train stations. Commuters will not have the necessary train and bus systems to transfer to with the existing plan.
* The California High-Speed Rail Authority must have all of the the funding ahead of time, before any construction starts on a new segment.
* The high-speed train system must operate on its own entirely, and in the black. That means operating profitably, and includes caveats of no government subsidy. The plan relies heavily on a projection of 100 million users by 2030, a notion that was created with manipulated data, and is absurd.
The entire project has also lacked in private, public and debt funding to complete even the most minor operating segment.
In addition, the mandatory Environmental Impact Report for the system was not completed until 2016. Yet the law called for certified EIR's for each segment of the system prior to building any part of it.
Electricity for High Speed Rail
Pacific Gas & Electric (now in Chapter 11 bankruptcy), and Southern California Edison were tapped to provide the electricity for high-speed rail, with estimates of additional demands for electricity coming in at 1 percent to 5 percent of the state's total energy usage. However, California Independent System Operator Cal ISO was always iffy about estimates for the cost. High-speed rail was anticipated to consume a great deal of power, and many in the state wondered where the power would come from with the state legislatively mandated to have 50 percent renewable energy by 2030?
Back in July 2011, one energy usage analysis prepared for the California High-Speed Rail Program Management Team, estimated total electricity usage for the proposed rail system would be "8.32 million kilowatt-hours (kWh) per day," and more than 3 billion kWh per year.
The average three-person household in California is about 6,000 kWh per year, or a little more than 2,000 KWh per person.
According to the California Public Utilities Commission, electricity customers in the state paid an average rate of about 15.2 cents per kWh.
At 15.2 cents per kWh, the total utility bill for high-speed rail would be nearly $1.26 million per day, and more than $460 million per year. And that's probably a very conservative estimate.
Gov. Newsom Responds
Newsom responded in his own Tweet to Trump's Tweet Wednesday:  "Fake news. We're building high-speed rail, connecting the Central Valley and beyond." Newsom said in the tweet that Trump was "desperately searching" for some border wall money.
Latest posts by Katy Grimes
(see all)