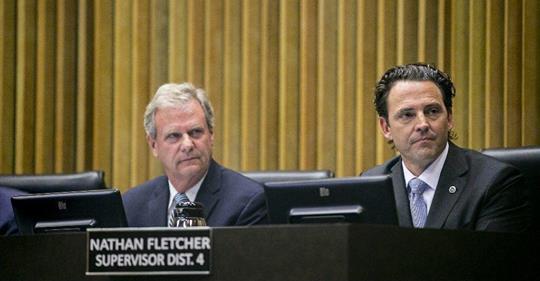 Governor Appoints Storied Nathan Fletcher to CA Air Resources Board
Big-money political power couple built up Fletcher's resume following party change
By Katy Grimes, January 29, 2019 1:23 am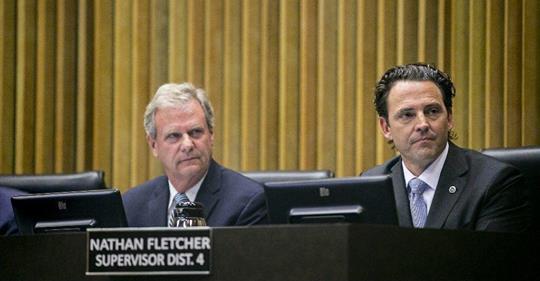 Governor Gavin Newsom announced Monday the appointment of Nathan Fletcher, San Diego Republican-turned-Independent-turned Democrat, to the California Air Resources Board.
Fletcher, a former Assemblyman, also known more recently as the other half of Mr. and Mrs. Nathan and (Democrat Assemblywoman) Lorena Gonzalez-Fletcher team, thrust himself into the spotlight when in 2012 he abruptly announced that he was leaving the GOP to register as an independent "decline to state" voter, while still serving as an elected Republican member of the California State Assembly.
However, if you are confused, get in line.
Fletcher was first elected as a Republican in 2008 and re-elected in 2010. By March 2012, Fletcher sought the endorsement of the GOP in the San Diego mayoral race when instead they endorsed conservative Republican Carl DeMaio. Fletcher lost two San Diego mayoral races.
He was subsequently hired by Qualcomm to oversee the company's "Global Strategic Initiatives and Military/Veteran Affairs," the San Diego Reader reported.
The Gonzalez-Fletcher Team
Fletcher divorced wife Mindy Tucker Fletcher, an aide to GOP President George W. Bush, in 2016.
Shortly thereafter, Assemblywoman Lorena Gonzalez named her then-beau Nathan Fletcher her Assembly district's 2016 Veteran of the Year for his work as the founder of the Three Wise Men Foundation, after Gonzalez orchestrated behest donations for his charity.
They married in 2017.
Billed as San Diego's power couple, the Fletcher-Gonzalez team has tacked left, as expected, with the Gonzalez connections.
Gonzalez ran for Assembly in a special election in 2013, following her career as secretary-treasurer and CEO of the San Diego-Imperial Counties Labor Council, AFL-CIO.
Fletcher's new job on the San Diego County Board of Supervisors was well-funded by Democrats. "Accusations that Gonzalez Fletcher has used her influence to support Fletcher's political career have followed, particularly when it comes to endorsements and campaign donations," Voice of San Diego reported.
Voice of San Diego expanded:
Labor groups and local Democrats worked tirelessly and poured hundreds of thousands of dollars into Fletcher's campaign based on the belief that he can start to transform a county government that has for years prided itself on fiscal restraint.
Progressives are counting on Fletcher to push the county to unload more of its substantial resources and to invest in increased aid for homeless and mentally ill San Diegans, affordable housing and improved county services.
As for his new appointment to the California Air Resources Board, Fletcher spent considerable time signaling his support for climate change issues in the state prior to this new post:
The agency board Fletcher will now serve on is a known business killer.
CARB Chairwoman Mary Nichols is charged with the implementation of AB 32, the Global Warming Solutions Act of 2006, and SB 375, the Sustainable Communities Protection Act – both explicit social engineering processes intended to force Californians into high density, high rise housing, out of personal automobiles, and onto public transportation. Since the 2006 passage of AB 32, the CARB has used this law to add regulations on manufacturers, food processors, agriculture, auto and truck owner/operators, trucking companies, energy producers, utilities, and many more.
Fletcher's new position offers compensation of $48,789.
UPDATE: The position normally pays $48,789 but the Supervisor is not eligible to receive that compensation because he is an elected official in the State of California.
Latest posts by Katy Grimes
(see all)