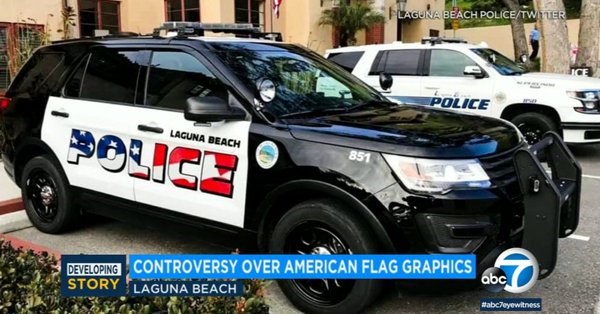 Laguna Beach City Council Votes to Keep American Flag Artwork on Patrol Cars
Some residents felt flag artwork was 'threatening, intimidating, harassing and a symbol of racism'
By Katy Grimes, April 17, 2019 6:12 am
The Laguna Beach City Council voted last evening 4-1 to keep the American flag artwork on its patrol cars. While that may not sound like a major council decision, complaints from some residents said they felt the flag graphic was "threatening, intimidating, harassing and a symbol of racism."
Another resident said the design scheme on the squad cars looked "aggressive."
Not everyone was triggered by the graphics. "Attorney Jennifer Welsh Zeiter said at the last council meeting that she found the police cars 'exceptional' and questioned the loyalty of anyone who objected to the American flag display," the Los Angeles Times reported. "They are so filled with hatred toward this … office of the president of the United States and the current occupant of that office," she said, "that they cannot see through their current biases to realize that a police vehicle with the American flag is the ultimate American expression."
"People are screaming that the American flag on a police car is somehow or another … hurting people's feelings who might be immigrants or visitors," said Councilman Peter Blake. "People are actually ridiculous enough to bring up comments about our cop cars having American flags on them."
At the council meeting Tuesday night, the line of residents who showed up to speak about the flag graphics went out the door. One man said he was in awe of how many Laguna Beach residents were there to support the American Flag. Many thanked the Laguna Beach police chief.
One woman said she saw the word "ICE" in the word "POLICE" on the side of the patrol cars, and said that "people who look different, but are American citizens" would have trouble with the artwork, and would feel "bullied" by the artwork.
"I'm actually appalled we are here tonight," another resident said. "I mean think about it – people are upset at the flag on our police cars. I actually think you should wrap the darned cars with the whole flag."
"We are a rainbow-wearing, avocado eating, art loving beach community, and inclusion is part of that," said a man who said he's lived there since 1968. "We are not including our Hispanic community with the work 'ICE' on our police cars."
Councilwoman Toni Iseman was said the "I" in "Police" should be changed from red to blue. She was the only 'no' vote.
The video of the council meeting is available on the Laguna Beach City Council website.
Latest posts by Katy Grimes
(see all)