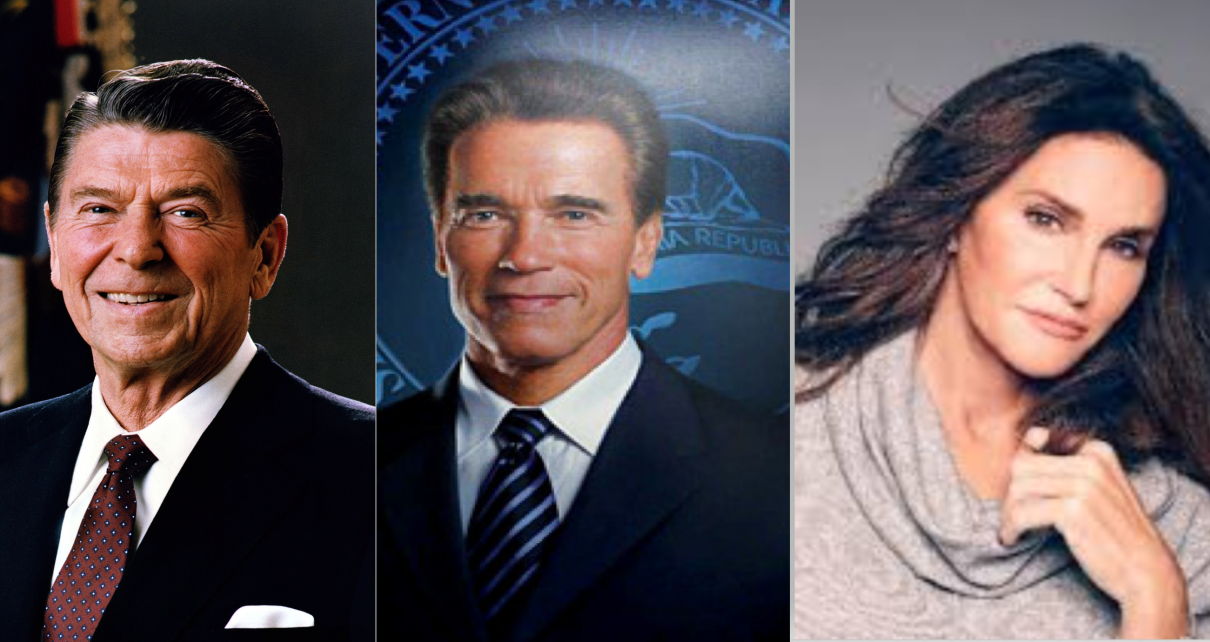 Actor-Politicians of California: How 2021 is Only the Latest Round of Entertainers Running for Office
Actor-politicians post-WWII have had a remarkable success record
By Evan Symon, April 29, 2021 2:30 am
For many Californians, the 2021 Gavin Newsom recall effort is sparking deja vu of the 2003 recall election.
A media circus is growing once again partially due to the number of actors and celebrities joining in the race. While 2003 had figures such as Hustler publisher Larry Flynt, actor Gary Coleman, pornographic actress Mary Carey, columnist Ariana Huffington, and actor and eventually winner Arnold Schwarzenegger, getting at least 10,000 votes each, 2021 is already building up a similar field of celebrity runners.
So far both Carey and reality TV star Caitlyn Jenner have officially launched bids, with others such as actor Randy Quaid hinting at possible runs.
While it can seem outlandish to many, both in and outside the state, the entertainment industry does account for a large part of California's economy, especially in Southern California. And, like farmers winning higher office in states like Iowa, miners winning top positions in West Virginia, and many financial leaders being elected to office in New York, it comes with the territory and makes sense that people from such a large industry would eventually go into politics.
And this is nothing new. After World War II, with Hollywood and the entertainment industry well established in the Golden State, more and more people from the industry ran for higher office.
At first, just being a celebrity wasn't enough. Many tried and failed in the 1940's and 1950's, losing local races to more established politicians. But some did succeed because they proved they had leadership capabilities. Ronald Reagan twice led the Screen Actors Guild (SAG) between the late 1940's and early 1960's. This marked him as a possible candidate, with his "A Time For Choosing" speech during the 1964 Presidential election in support of Republican candidate Barry Goldwater cementing Reagan's successful political path to the Governorship two years later.
Leading the SAG also helped convince Republicans of accepting actor George Murphy be seen as a party leader, culminating in his 1964 election to the Senate.
The relaxing of attitudes in the 1960's also brought other oddities, such as Bob St. Clair, a San Francisco 49ers Tackle who was elected as Daly City's Mayor in 1961 while also playing with the 49ers, becoming the country's first, and to date only, player-mayor.
In the 1970's and 1980's, attitudes towards celebrities running with no background other than being interested in politics relaxed further.
Sick of fighting Carmel bureaucracy, when he wanted to build a small building in downtown Carmel that would have improved the surrounding area, Carmel resident Clint Eastwood was elected Mayor of Carmel-on-the-Sea for one term in 1986.
Actor Bob Dornan was elected to Congress in 1984 after being increasingly politically active, such as speaking along with activist Phyllis Schlafly at the 1977  National Women's Conference.
Star Trek actor George Takei even parlayed a Los Angeles City Council loss in the early 70's into a Southern California Rapid Transit District board seat. He actually helped make history too, as he was called away from the Star Trek movie shoot in 1978  to cast the deciding vote in creating the Los Angeles subway system.
However, many still did run with at least some political experience.
Similar to Clint Eastwood, Sonny Bono ran for Palm Springs Mayor out of frustration with city red tape and corruption in 1988 and managed to win, even moving up to Congress a few years later and helping guide several politicians in dealing with being in the public eye.
Child actor Shirley Temple also managed to turn her international experience into several ambassadorships and State Department positions.
In recent decades the trend of actors and entertainers succeeding in being elected or being appointed to higher office, almost always representing the Republican party, has continued. Actor Alan Autry was Mayor of Fresno for a stretch in the 2000's, with Arnold, of course, being elected as Governor in 2003.
Continuing the actor-politician trend in 2021
Also among the trend? The entertainers beating the odds and actually getting elected in, or at the very least, getting a respectable percentage. Soap opera Actress Kimberlin Brown lost a Congressional race in 2018, but still confounded political experts by making a decent run for it.
While some media outlets are calling candidates in the 2021 recall names such as a "clown car of candidates," many political insiders are not laughing.
In a recent appearance on Jimmy Kimmel Live, Arnold Schwarzenegger quieted the audience by saying that celebrity candidates such as Jenner have a chance to win, largely because he had been in her exact position in 2003.
"Anyone has a chance because I think people are dissatisfied with what is going on here in California," said Schwarzenegger. "I hope as many people as possible are jumping into this race and going for it. Just about anyone who is thinking about running has called me. I'm very good friends with Caitlyn. I have the utmost respect for her."
"But I'm also very good friends with Governor Newsom, and I'm good friends with all the other people who have contacted me and have asked for advice about running or not running. The key thing, it doesn't matter if it's Caitlyn or if it's anyone else. The key thing is you have to have a key vision of where you want to go, what are the kind of changes you want to make, and why are you qualified to be governor."
Others have been more blunt on the situation.
"The nation was laughing at Reagan in '66 running for Governor, saying that he didn't have enough experience," said Zachary Dell, a Washington-based election consultant, to the Globe. "The nation laughed at Schwarzenegger when he ran in '03, also saying he didn't have the experience. And now the same thing is happening to Jenner.
"Yes, these races all had different circumstances, but all three were known politically too. Reagan gave the Goldwater speech and led a trade union. Schwarzenegger had been on several presidential committees and was a big party donor. And Jenner is a leading activist with deep ties.
"We always, always dismiss these kinds of candidates, but when we get into the dog days, celebrities tend to stay in the news a lot more. History has proven time and time again that California voters will elect a Republican celebrity. We're at the laughing phase again right now. Let's see where we're at in July."
More candidates are expected to enter the recall election soon, with Schwarzenegger predicting at least 100 more to formally enter the recall race by the deadline.

Latest posts by Evan Symon
(see all)