Asian American Lawmakers Push For Gov. Newsom To Select Asian Attorney General
Assemblyman Bonta, Congressman Schiff remain the top contenders for AG
By Evan Symon, March 18, 2021 6:31 am
Prominent Californian Asian American lawmakers came together this week and called for Governor Gavin Newsom to select an Attorney General of Asian descent.
The lawmakers made the push due to the impending approval of current Attorney General Xavier Becerra as the next U.S. Health and Human Services Secretary in the Biden cabinet, as well as the recent rise of violence against Asian Americans. The rise in attacks have been most prominent in California, with Asian American Bay Area residents seeing the most attacks for a region nationwide.
Lawmakers on Wednesday made the case to Newsom that an Asian American in the AG position would help bridge the gap between Asian Americans and law enforcement.
"California's next attorney general will need to be a leader for API (Asian-Pacific Islander) Americans everywhere," said Assemblyman David Chiu (D-San Francisco) on Wednesday. "We have to continue to build bridges of trust between our API communities and law enforcement."
Other officials echoed Chiu's sentiment.
"The next Attorney General must understand the trauma and hurt our Asian American and Pacific Islander communities are feeling," Sacramento City Councilwoman Mai Vang.
The two current frontrunners for the AG seat, Congressman Adam Schiff (D-CA) and Assemblyman Rob Bonta (D-Oakland), have long been considered for the position. But while Schiff enjoys senior Californian leadership support, such as the backing of House Speaker Nancy Pelosi (D-CA), Bonta has been getting backing of API state lawmakers, including by those at the announcement on Wednesday.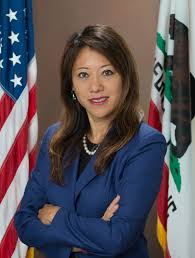 "He understands as the son of immigrant parents what it's like to come to this country when English is not your first language, for example, when there is mistrust of law enforcement," explained California Treasurer Fiona Ma.
Many experts have noted that the recent rise in violence against Asian Americans in California could be a deciding factor for Governor Newsom when he makes his selection.
"You know, a month ago when you asked, I would have said Schiff would have gotten it, as he was riding high off of his actions during the Trump impeachments," said Washington-based political researcher Matt Thomas in an interview with the Globe. "Now, with this jump in violence, like Chinese Americans getting beat up and stabbed on the streets of San Francisco, the home of Newsom, Pelosi, and Harris, Newsom may think twice about picking him."
"And, you know, everyone is really pushing this too. The API had the Wednesday announcement, but African Americans have been pushing certain candidates, women have been putting up names, and it's been getting fractured. And hey, there are a lot of other candidates too. But for those pushing for an API Attorney General, someone like Bonta, then they found some powerful reasoning to help make their case. Newsom also likes firsts, and having the first Filipino American Attorney General would give him a positive going into the recall election."
In addition to Bonta and Schiff, other current contenders for Attorney General include Assemblyman Ash Kalra (D-San Jose), Congressman Ted Lieu (D-CA), and Sacramento Mayor Darrell Steinberg.

Latest posts by Evan Symon
(see all)