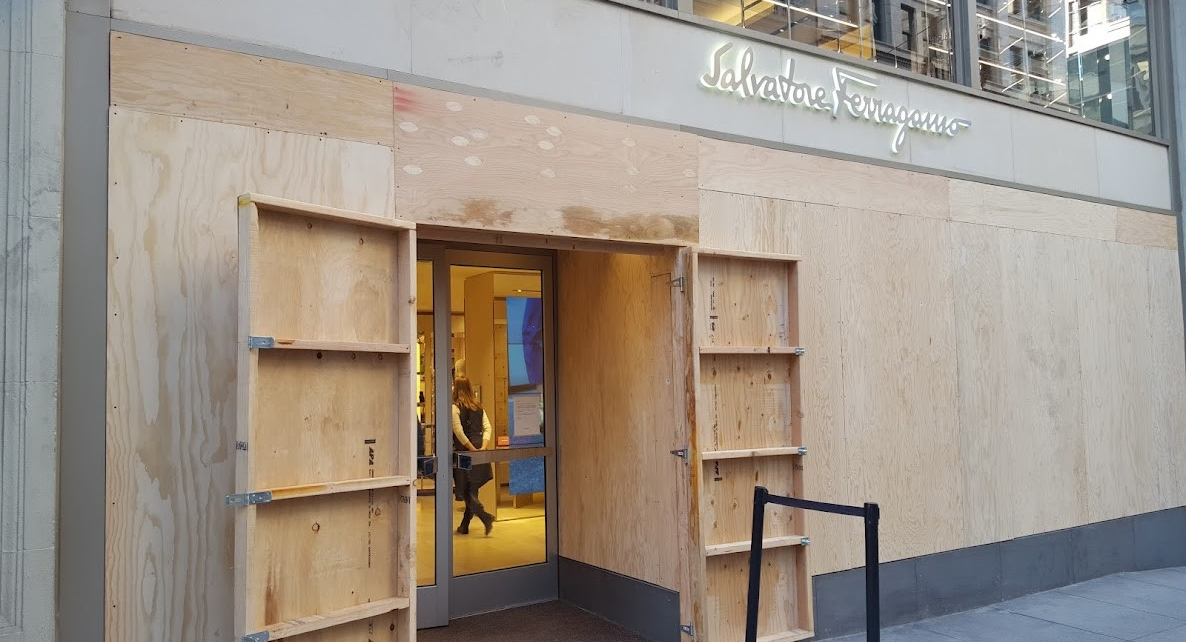 Boarded Up SF Bay Area Stores Following String of High-Profile Robberies
'This is what Detroit looks like; this shouldn't happen if our city is working'
By Evan Symon, November 22, 2021 4:57 pm
Stores in San Francisco's Union Square, as well as around the Bay Area, engaged in a mass boarding up of stores during the weekend to counter the mass number of store robberies that have occurred recently.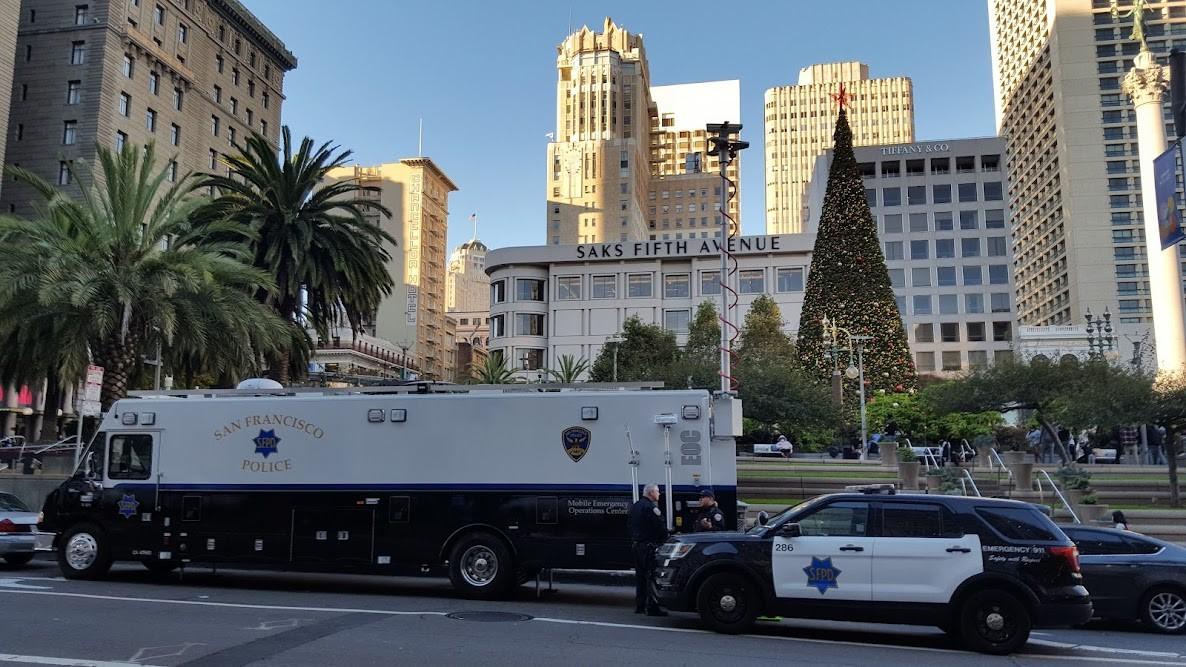 While crime rates such as robbery have been high for several years now, with some chains, such as Walgreen's, currently engaged in pulling out of the city either partially or all together, stores have not had to resort to window blocking, solid security protections, or or types of measures usually reserved for civil unrest or looting incidents.
However, during the weekend, things drastically changed in the Bay Area. On Friday night, numerous high-end stores were damaged, broken into, and robbed by thieves in San Francisco's famed Union Square. While it is not known how many participated exactly, many stores, such as Yves Saint Laurent, Louis Vuitton, Fendi, Burberry, Dolce & Gabbana, were hit. The Louis Vuitton robbery in particular served as a flashpoint on social media due to the store being cleared completely out.
The Louis Vuitton in San Francisco union square just got emptied out ???? pic.twitter.com/Imi6qbL0i1

— Yealenne (@Yealenne) November 20, 2021
SFPD officers on the scene made several arrests shortly after the robberies and vowed to contain the situation.
"We are continuing to respond to other retail establishments where reports of vandalism has occurred," said SFPD officer Robert Rueca late on Friday. "Additional officers are responding to the area and are mobilizing to address the fluid and evolving situation."
While the situation was contained, with retailers beginning to board up in the square, another large robbery happened less than 48 hours later in nearby Walnut Creek 25 miles away. On Sunday, a Nordstrom store experienced an unusual "flash mob" robbery where 80 robbers entered the store at the same time and proceeded to steal items. A few employees who tried to intervene were pepper sprayed. While police did make it to the scene, the crowd quickly dispersed through dozens of cars parked nearby.
"The remaining participants in this criminal mob fled from the area in cars at high speeds," said the Walnut Creek PD on Sunday in a statement.
Like the Union Square robberies on Friday, arrests were made. However, also like Union Square, only a small fraction of the total number of robbers were apprehended in the aftermath. Of around 80 robbers, only three were apprehended in Walnut Creek, one of whom was allegedly carrying a gun.
With only 6 arrests coming from Union Square and three from Walnut Creek, many businesses have decided not to risk any more robberies during the holiday season and have boarded up and added security.
All along Union Square on Sunday and Monday stores have been boarding up. Many stores that were not robbed, such as Harry Winston, took precautions and removed merchandise from windows and put up boards as added protection.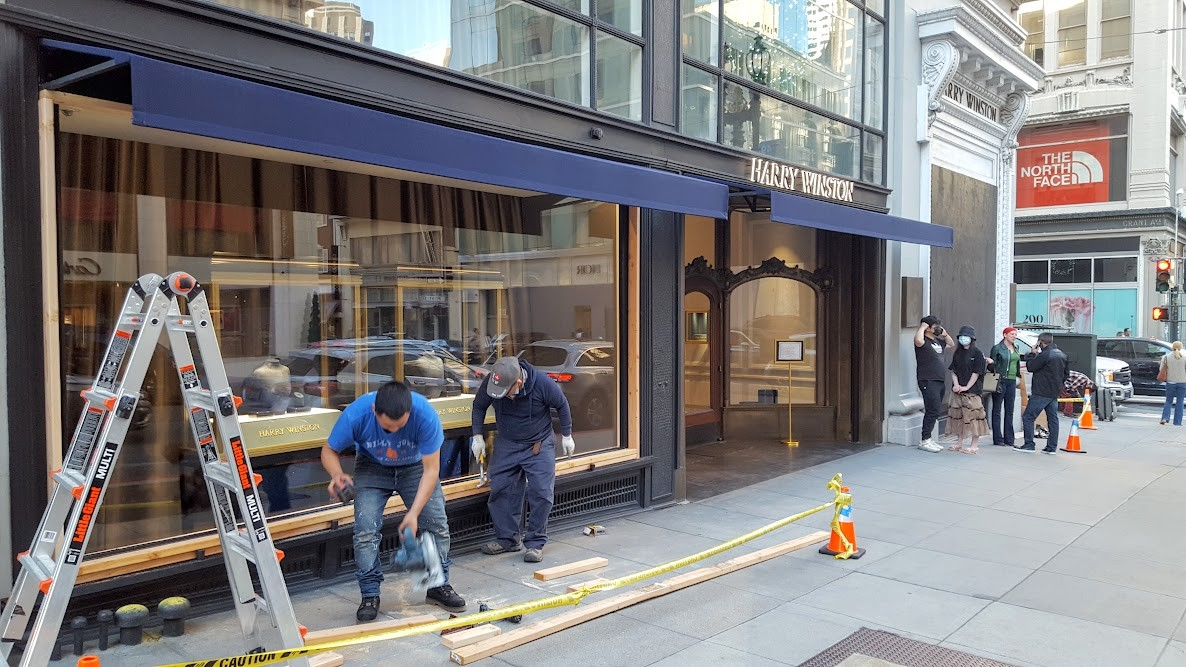 Retailers don't know how long it will have to be like this.
"It will be some time for sure," explained "Richard" an employee at a high-end store in Union Square who spoke to the Globe on condition of anonymity. "It was surreal seeing neighboring stores like this being broken into like that. Fifth Avenue, Rodeo Drive, Bond Street – they don't have to worry about this sort of thing. But now we do. When I got into work today I looked around and thought to myself that this is what stores did during the riots last year. This is what Detroit looks like. This shouldn't happen if our city is working."
Shoppers and tourists in the city were also surprised to see the aftermath of the robberies and the new precautions being taken, with many saying that they couldn't believe it.
"I came to visit family out here," Jessica Washington, a New York City resident visiting San Francisco, told the Globe on Monday. "It's just incredible. We heard about the city not being safe, but to see it so viscerally like this in front of your eyes? It makes you think 'What the hell just happened?' And I'll be honest, I'm a little scared right now. The concierge at the hotel desk, after I told her, said that her car was broken into recently nonchalantly. This isn't the San Francisco I know."
Security  companies and experts noted that requests for their services went up over the weekend, with many stores paying premiums for help over Thanksgiving.
"My phone has been going non-stop since Friday," said Frank Ma, a former law enforcement official who now works as a security advisor for businesses in San Francisco and cities in the Peninsula, to the Globe on Monday. "Some of those calls have actually been from stores in Union Square, but they've been coming from all over too, including places out of my range that I've never worked before like Stockton."
"A lot of robberies have gone unreported, so these robberies finally have shown everyone just how much of a problem it is in the city. [SF DA Chesa] Boudin's policies are really making life hard for retailers, and now it's expanded to the high-end community, where it is very visible.
"There have been people accusing some media outlets of blowing the issue out of proportion or overplaying just how bad the crime rate is, but it turns out that they have been dead wrong. You can't say things aren't that bad when you have mass robberies happening like this. The truth is, this is the reality in San Francisco right now. It's high crime, more visible crime, and retailers being scared out of wits end. Not only is there statistical proof from the SFPD, but you're seeing it on the news."
"My phone keeps ringing with people asking for help. They aren't even going to the police, but straight to private firms like mine. They're desperate. And these crimes are proof of the worsening situation."
The SFPD said that the mobile command center in Union Square will be there until January to help protect businesses. Walnut Creek PD did not respond to requests for continued action from the Globe.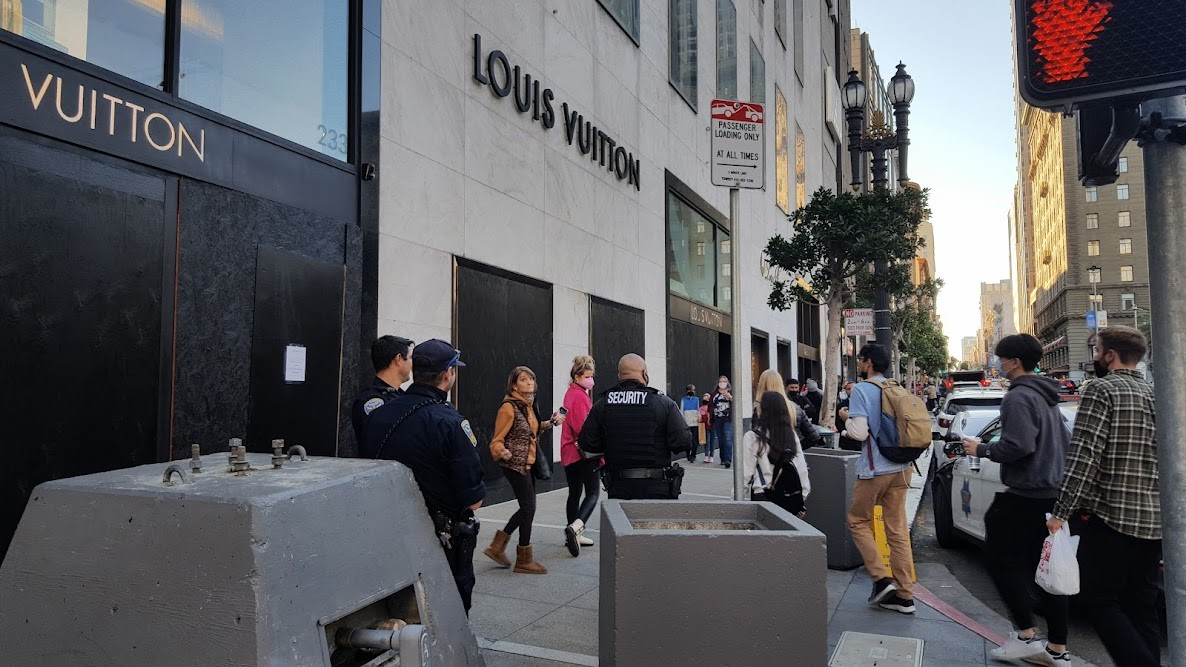 Latest posts by Evan Symon
(see all)