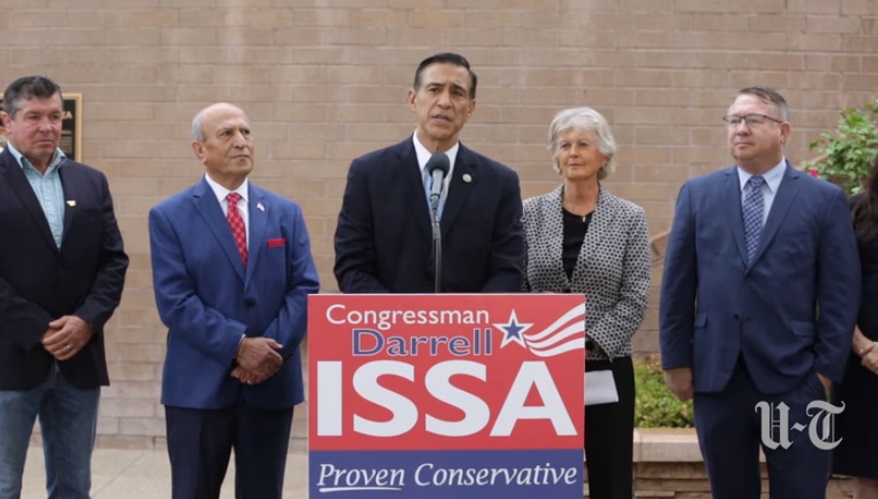 Darrell Issa, Judicial Watch Sue California Over Mail-In Ballot Order
Secretary of State Padilla denounces lawsuit as 'un-American'
By Evan Symon, May 23, 2020 7:49 am
On Thursday, former Congressman and current Congressional candidate Darrell Issa sued California along with conservative political accountability group Legal Watch over California's decision to send mail-in ballots to every registered voter in California in November.
Issa and Judicial Watch challenge Newsom
Judicial Watch filed the suit at the U.S. District Court in Sacramento with the expressed purpose of blocking Governor Gavin Newsom's executive order for mail-in ballots. While the order will not block in-person voting, all voters are to receive a ballot because of coronavirus social distancing possibly still being in place this fall in California.
The suit argues that Newsom's executive order goes against the Voter's Choice Act as it violates county jurisdiction on mailing ballots. It also argues that it violates the Constitution in trying to "replace" and "supersede" current California election law.
 "Under the the Elections Clause, only the State of California, 'by the Legislature thereof,' is authorized to change the time, place, and manner in which Californians will choose their senators and representatives," noted the filed suit. "The all-mail system ordered by Newsom is an unlawful attempt to supersede and replace California election law [by] imposing an entirely new system without the many qualifications required by existing state law, the Voter's Choice Act, which stipulates the requirements needed to send voters a mail-in ballot."
The suit also noted that many campaigns are now scrambling to meet the changes required by a mail-in system, such as informing voters on a ramped up timeline when the first early votes can be cast. It specifically noted the challenges former Congressman Issa has to face in his election in San Diego County, such as reevaluation of strategy and new costs.
"Issa is registered to run for office based under the electoral system established by the California Legislature," continues the suit. "Now, he must develop a new strategy."
Los Angeles lawyer Max Reyes, who assisted on a voting lawsuit in the past, added that "They wouldn't have filed something like this if they didn't believe they could win. The stakes are too high for wasting time."
Padilla defends Governor's decision
While Issa, who is currently facing off against his Democratic challenger Ammar Campa-Najjar for a seat in the 50th district, has not yet responded to news of the lawsuit, opponents have come out against the lawsuit. Many have said that this is needed because of coronavirus restrictions and have pointed out that it only applies to the November 2020 election. Many have also refuted accusations that widespread mail-in voting is being deployed as a means for Democratic candidates to receive more votes or to skew counted votes.
California Secretary of State Alex Padilla has been defending the Governor's decision all week, both from the lawsuit and from President Trump criticizing states such as Michigan allowing more early voting and mail-in ballots.
"The lawsuit is un-American, immoral, and a threat to the health of every Californian," noted Padilla on Thursday. "Exploiting the COVID-19 pandemic to justify voter suppression is despicable, even for Judicial Watch's pathetically low standards."
Padilla also fought back against criticism of other states approving similar measures, claiming that Trump is simply worried about the election.
"It's particularly appalling because there's many blue states that do a good amount of vote-by-mail, like California, as well as many red states, like Utah," noted Padilla. "Trump is clearly focused on the battleground states and is worried about his polling as the November election approaches."
The lawsuit is expected to be heard in the near future and will most likely be ruled on before ballots are set to go out later this year.

Latest posts by Evan Symon
(see all)