Federal Judge Overturns California's 32-year Ban on Assault Weapons
They could just as well be called 'home defense rifles' or 'anti-crime guns'
By Katy Grimes, June 7, 2021 7:34 am
District Judge Roger T. Benitez threw out California's 32-year ban on assault weapons Friday, while also clarifying the deliberate and incorrect use of the label "assault weapon."
In the case of the AR-15, "AR" stands for "Armalite Rifle," named after the company that developed it.
Benitez's opening statement in his opinion says it all:
"Like the Swiss Army Knife, the popular AR-15 rifle is a perfect combination of home defense weapon and homeland defense equipment. Good for both home and battle, the AR-15 is the kind of versatile gun that lies at the intersection of the kinds of firearms protected under District of Columbia v. Heller, 554 U.S. 570 (2008) and United States v Miller, 307 U.S. 174 (1939). Yet, the State of California makes it a crime to have an AR15 type rifle. Therefore, this Court declares the California statutes to be unconstitutional."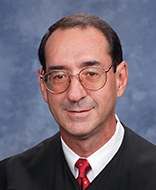 Finding the "assault weapons" ban unconstitutional, Benitez ruled against it issuing a permanent injunction, but issuing a 30-day stay to give California Attorney General Rob Bonta time to appeal the ruling.
Benitez reiterated the meaning of the Second Amendment and swats down other courts' attempts to justify gun laws:
The Second Amendment "elevates above all other interests the right of law abiding, responsible citizens to use arms in defense of hearth and home." Heller, 554 U.S., at 635. The Supreme Court clearly holds that the Second Amendment protects guns commonly owned by law-abiding citizens for lawful purposes. At the same time, "the Second Amendment confers an individual right to keep and bear arms . . . that 'have some reasonable relationship to the preservation or efficiency of a well regulated militia.'" Id. at 622. And although the Supreme Court cautioned that the Second Amendment does not guarantee a right to keep and carry "any weapon whatsoever in any manner whatsoever and for whatever purpose," Heller, 554 U.S., at 626, lower courts have often cited this proviso about extreme cases to justify gun laws in average contexts. There is no evidence that the Supreme Court intended that language to be a license to avoid its common sense holding in average contexts. Unfortunately, Heller's acknowledgement of exceptions for gun laws at the extreme is in danger of swallowing Heller's rule for the average case."
Gov. Gavin Newsom predictably slammed Judge Benitez's decision:
"Overturning CA's assault weapon ban and comparing an AR-15 to a SWISS ARMY KNIFE is a disgusting slap in the face to those who have lost loved ones to gun violence. This is a direct threat to public safety and innocent Californians. We won't stand for it."
Overturning CA's assault weapon ban and comparing an AR-15 to a SWISS ARMY KNIFE is a disgusting slap in the face to those who have lost loved ones to gun violence.

This is a direct threat to public safety and innocent Californians. We won't stand for it. https://t.co/feL5BABTXa

— Gavin Newsom (@GavinNewsom) June 5, 2021
Notably, Newsom was corrected on Twitter:
A Californian is three times more likely to be murdered by an attacker's bare hands, fists, or feet, than by his rifle.3 In 2018, the statistics were even more lopsided as California saw only 24 murders by some type of rifle.4 The same pattern can be observed across the nation.

— Matthew irvin (@MatthewIrvin89) June 5, 2021
according to F.B.I. statistics for 2019, California saw 252 people murdered with a knife, while 34 people were killed with some type of rifle – not necessarily an AR-15

— Matthew irvin (@MatthewIrvin89) June 5, 2021
As the judge pointed out, more people die from knife attacks in California than guns. The Swiss Army knife comparison was a reference to how modular the AR-15 is.

— ⓁⓍ﹠Ⓡ (@canonicalbrud) June 6, 2021
Judge Benitez said:
"the Attorney General has not identified any relevant legislative history or legislative findings about the societal dangers of pistol grips, flash hiders, telescoping stocks, flare launchers or barrel shrouds."
And:
The State's legislative information website lists several committee reports leading up to the signing of Senate Bill 23 by California Governor Gray Davis on July 19, 1999. See leginfo.legislature.ca.gov. But there are no studies of criminal gun usage recounted.
The California Legislature passed its assault weapons ban in 1989, known as the Roberti-Roos Assault Weapons Control Act of 1989 (AWCA). The law was amended in 1999 to restrict acquisition and transfer of magazines that could hold more than 10 rounds of ammunition, according to the Attorney General's office. The AG published a guide to identifying assault weapons in 2001.
The Legislature has passed many updates to the law since.
Benitez notes that the California Legislature has not properly adjudicated their ban laws, and quotes former Gov. Pete Wilson's 1998 priceless veto statement:
There are no assault weapon experiences of other states or cities recited. There are no public hearings described. There is one indication, however: Senate Bill 23 was said to be similar to Assembly Bill 2560, which was passed the previous year, but vetoed by California Governor Pete Wilson. Governor Wilson issued a statement with his veto criticizing AWCA's prohibited-features approach and offered this analogy: "If this bill's focus were high speed sports cars, it would first declare them 'chariots of death' and then criminalize possession of Ramblers equipped with racing stripes and wire wheels."
Benitez continued:
After Roberti-Roos Assault Weapons Control Act of 1989 was amended times changed. The federal ban expired in 2004. Heller was decided in 2008. McDonald was decided in 2010. Nevertheless, California continues to restrict "assault weapons" under § 30515(a).
"This case is not about extraordinary weapons lying at the outer limits of Second Amendment protection. The banned 'assault weapons' are not bazookas, howitzers, or machine guns. Those arms are dangerous and solely useful for military purposes," his ruling said. "Instead, the firearms deemed 'assault weapons' are fairly ordinary, popular, modern."
The Judge even included Assault Weapons Defined Under § 30515(a), and almost mocked the state's definition:
A rifle is labeled an "assault weapon" if it is one of three principal types. The first type is a semiautomatic centerfire rifle that does not have a fixed magazine but has one of the following prohibiting features: a pistol grip that protrudes conspicuously beneath the action of the rifle, a thumbhole stock, a folding or telescoping stock, a grenade or flare launcher, a flash suppressor, or a forward pistol grip. The second type is a semiautomatic centerfire rifle that has a fixed magazine able to hold more than 10 rounds. The third type is a semiautomatic centerfire rifle that has an overall length of less than 30 inches. Cal. Penal Code § 30515(a)(1)-(3).16
As an aside, the "assault weapon" epithet is a bit of a misnomer. These prohibited guns, like all guns, are dangerous weapons. However, these prohibited guns, like all guns, can be used for ill or for good. They could just as well be called "home defense rifles" or "anti-crime guns."
Judge Benitez addresses the state's wobbly criminal penalties surrounding "assault weapons:"
…little is found in the Attorney General's court filings reflecting a goal of preventing violence perpetrated against law-abiding citizens in their homes. Instead, the State's litigation stance is more like the view recently expressed by a police chief in Oakland, California: we do not want victims to arm themselves; we want them to be good witnesses. Of course, a dead victim is a lousy witness.
As one commentator describes it, "[m]ere possession of an object that is commonplace and perfectly legal under federal law and in forty-four states will land you in prison, [will] result in the loss of your rights including likely the right to vote, and probably [will] cause you irreparable monetary and reputational damages, as well as your personal liberty. All of this despite the absence of even a single victim."
Summing up the state's stance, Judge Benitez said, "The State prefers a policy of residents not arming themselves with assault weapons, and for those who do, arresting residents."
The lawsuit was filed by the San Diego County Gun Owners Political Action Committee, California Gun Rights Foundation, Second Amendment Foundation and Firearms Policy Coalition. The state will appeal Judge Benitez's decision.
Latest posts by Katy Grimes
(see all)