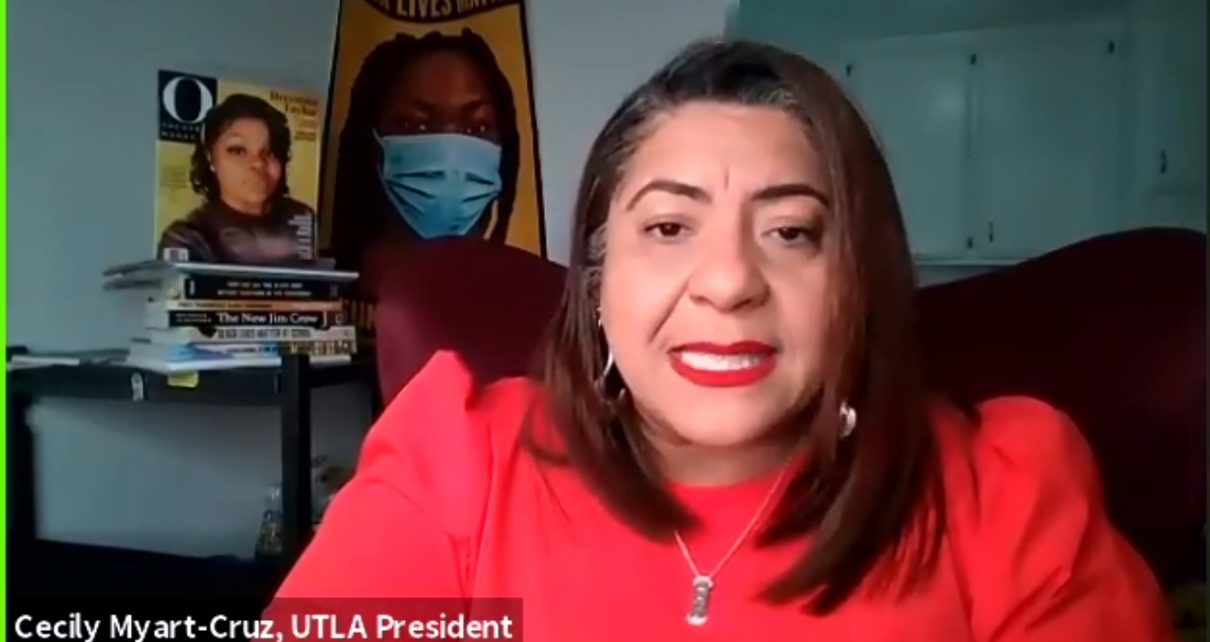 LA Teachers Union Rallying Teachers to Condemn Israel
The 'UTLA has demonstrated it is a political organization and not a union seeking the best educational system possible'
By Katy Grimes, June 11, 2021 7:52 am
The UTLA teachers union has been rallying teachers throughout the district to support a resolution condemning Israel and supporting Palestine – creating more unnecessary divisive politics amongst teachers and students and families.
Last week, UTLA President Cecily Myart-Cruz released a statement to members encouraging adoption of a resolution, along with a motion form that said:
"UTLA denounce(ing) the recent bombings in The West Bank and Gaza by the Israeli resulting in the deaths of hundreds of civilian people, mostly women and children. The high intensity aerial warfare is unjust and inhumane. Palestinians have the right to self-determination free of violence and occupation. UN Resolution 194 asserts their right of return to their homes, unjustly seized by the Israeli government Israel must stop evictions of Palestinians currently taking place in East Jerusalem and end its 55-year old military occupation of The West Bank and Gaza strip.
Our tax dollars should go to public schools and healthcare not incessant warfare against an indigenous people in the Middle East. UTLA should unite with and stand up for workers everywhere, especially the most oppressed of them, especially as the Palestinian Federation of Trade Union of Gaza urges solidarity. The World Federation of Trade Unions has also denounced the attacks against Palestinians. It is time we do, too."
A resident of Los Angeles contacted the Freedom Foundation about this, and reported: the vote "already is taking place at 8 school sites. It was voted down in West LA, voted in favor of in Harbour and North, still pending votes in the other 5 sites. Either way, it will probably go to UTLA House of Representatives bc 2 sites passed it."
The Freedom Foundation fights back
"Leaving aside for a moment the jaw-dropping ignorance of the Middle East situation manifest in Myart-Cruz's grotesque over-simplification, it simply beggars belief that anyone could contemplate marshaling the combined resources at UTLA's disposal in defense of an ideology that make no apology for the use of terrorism and death in its relentless quest to eradicate the entire Jewish race," said Shella Sadovnik, litigation counsel at the Freedom Foundation, a national organization that fights government union abuses.
"For more than a year, the United Teachers of Los Angeles has demonstrated it is a political organization and not a union seeking the best educational system possible. But this is beyond the pale," Sadovnik said.
"It is unconscionable that after a year of sacrificing our children's education and well-being on the altar of their leftist political agenda to defund the police, ban charter schools and raise taxes on California residents, UTLA is now wasting taxpayer resources to condemn Israel, causing further political division at a time we need it least," continued Sadovnik.
"Los Angeles has the second-largest Jewish community in America. UTLA's statements in light of the recent anti-Semitic attacks is unfathomable. Moreover, union leaders are callously alienating and isolating Jewish teachers and students, who are already feeling anxious about being labeled."
"It's as if the UTLA is hell-bent on inflicting mental and emotional damage on the children and parents in the district," concluded Sadovnik. "When will the politicians in Los Angeles stand up to these union thugs? This union needs to be held accountable, and it looks like we're the only ones prepared to do it."
The Los Angeles Times reported that the San Francisco teachers union has moved on a faster track, adopting a pro-Palestinian position in May, calling essentially for the same actions.
2021-06-02 UTLA Motion for Palestine

Latest posts by Katy Grimes
(see all)