NO on Prop 16 Campaign Highlights Anti-Asian Racism; Facebook Mistakenly Bans for Hate Speech
Assemblywoman said she wants to 'punch Asian person in the face'
By Katy Grimes, August 28, 2020 7:32 am
The NO on Prop 16 campaign, which is working to prevent the return of racial and gender discrimination and preferences in California, recently highlighted on their Facebook page an egregious, racist comment made in 2014 by Democratic state Assemblywoman Cristina Garcia (D-Bell Gardens), about Asian Americans participating in the political process.
The Prop. 16 campaign contacted the California Globe about this.
"Shockingly, Facebook took down our post yesterday and labeled it 'hate speech.'"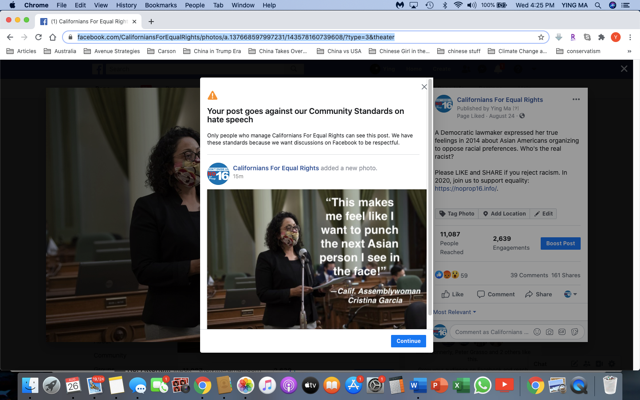 The post is back up on Facebook; California Globe took this screen capture Friday morning.
"There is no place in modern America for the type of racism exhibited by said state lawmaker, who is one of the primary champions of the restoration of racial preferences in California. There is also no good reason why Facebook should be labeling targets of racism as perpetrators of hate speech," the campaign said.
"'This makes me feel like I want to punch the next Asian person I see in the face,' according to sources present at the meeting and other legislative sources who were told about the comments in the immediate aftermath," Politico reported in 2018.
Prop. 16, if passed, would reverse the California Civil Rights Initiative, known as Proposition 209, which protects all Californians from discrimination. Prop. 209, passed by voters 55% to 45% in 1996, said that the state cannot discriminate against or grant preferential treatment on the basis of race, sex, color, ethnicity, or national origin in the operation of public employment, public education, and public contracting.
Prop. 209 is based on the exact language of the 1964 U.S. Civil Right Act.
The post is also up on Twitter:
CA Dem lawmaker @AsmGarcia expressed her true feelings on Asian Americans organizing to defeat racial preferences in 2014. Reject racism in 2020. Support equality: https://t.co/YIyQTFQGtD. #DefendProp209 #NoOnProp16 #EqualOpportunity pic.twitter.com/U1bTfO9FX7

— Californians for Equal Rights /NO on 16 (Official) (@CA4equalrights) August 24, 2020
The NO on Prop 16 campaign objected to Facebook's ruling, contacted Facebook, and Facebook reversed it. "With that said, the ubiquity of Facebook gives it enormous power. That power should not be used, even if unwittingly, to censor or silence ordinary Americans advocating for their political beliefs," the campaign said.
Politico reported in 2018:
"California Assemblywoman Cristina Garcia, the prominent #MeToo activist now under investigation for groping and sexual harassment of former legislative staffers, was reprimanded by former Assembly Speaker John Perez in 2014 for making racially insensitive comments directed toward Asians."
"Perez confirmed to POLITICO that he had to 'strongly admonish' Garcia after she made comments against Asians in a closed-door Assembly Democratic Caucus meeting in 2014 — the same year in which she also acknowledged using homophobic slurs aimed at Perez, the first openly gay speaker of the California State Assembly."
"Furthermore, the activism of first-generation, Asian American supporters of the NO on Prop 16 campaign is part of a broader, nationwide political awakening from this community on the issue of equal opportunity," the campaign said. "The movement is remarkable and inspirational. We hope Facebook will ensure that it does not shut out their voices, even if real racists advocating for racial preferences threaten to punch them in the face."
Prop. 16 will reverse equal rights and equal opportunities. Prior to the University of California's elimination of race preferences, Japanese Americans were 13 times LESS likely to be accepted to UC Davis medical school than members of groups benefiting from race preferences. Korean Americans were 14 times LESS likely to be accepted than those who benefited from race preferences, according to education scholar Lance Izumi.
Repealing Proposition 209 would threaten the equal rights of all people in California, Izumi says.
As for Assemblywoman Garcia, the No on Prop. 16 campaign said it has not had a response from her.
Latest posts by Katy Grimes
(see all)