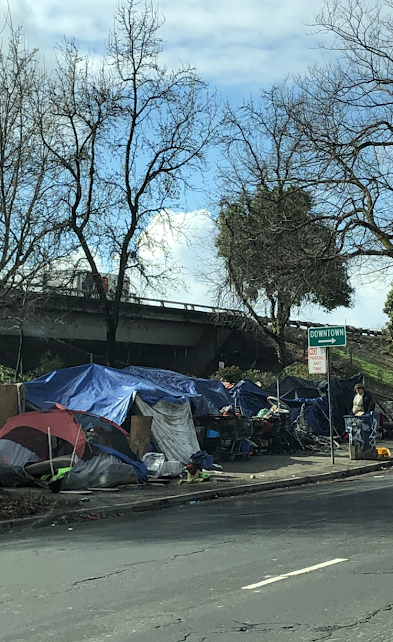 Sacramento Mayor Calls City's 11K Homeless 'Guests' as if They Were Invited
Mayor Darrell Steinberg announced the City is opening a temporary safe camping site 'for people experiencing homelessness'
By Katy Grimes, February 2, 2022 11:03 am
Sacramento Mayor Darrell Steinberg announced Wednesday the City of Sacramento is opening a temporary safe camping site "for people experiencing homelessness" in a small section of the "Peninsula" parking lot at Miller Park.
"People experiencing homelessness."
"Miller Park will be used as a transitional site for the 10 remaining guests at W/X, as well as a low-barrier site providing an entry point into the system for people currently living in nearby encampments," the Mayor's announcement says.
"Guests."
Calling the city's 11,000 squatting homeless "guests," as if they were invited to live on Sacramento streets is offensive to nearly everyone, including the homeless who need help, not flowery language.
"The new 60-tent site will accommodate approximately 80 unhoused residents who remain in the Southside Park and central downtown areas."
"Unhoused residents."
There is no mention of the "guests'" physical, mental and spiritual conditions.
Sounding simpleminded, Councilwoman Katie Valenzuela weighed in:
"I'm excited to work with the Department of Community Response to begin welcoming guests to this site. Miller Park is uniquely suited to this task. We're taking lessons learned from our experiences at WX and approaching this new site in a way that will function efficiently, safely, and provide mutual benefits to our unhoused neighbors and the surrounding community."
"Unhoused neighbors." None of my neighbors are living on Sacramento streets.
Miller Park is a city park, not a campground for "guest" "unhoused" vagrants high on meth and heroin.
As for the "lessons learned," the Mayor and Councilwoman have learned nothing. They just keep repeating the same pointless moves – providing campgrounds on city streets and expensive, newly renovated motels and apartment "housing." Never has meaningful, long-term help for the homeless been on the menu.
Last summer, Steinberg proposed to open homeless shelters, tiny homes and tent encampments in 20 residential neighborhoods and locations around the city. That did not go over well and was scrapped largely because council members did not run this ludicrous idea by their constituents first.
Steinberg also approved tiny apartments in a renovated old downtown hotel, which cost more than $445,000 per unit for about 250 square feet of living space, the Globe reported.
Mayor Steinberg also weighed in obtusely:
Mayor Darrell Steinberg said the W/X safeground had "proved to be an effective bridge for transitioning many into shelter or permanent housing."
"We can't effectively help our unhoused residents or provide relief to our neighborhoods unless we have safe places for people to sleep and to get connected with the services they need," Mayor Steinberg said. I'd like to thank Councilmember Valenzuela for standing up these crucial facilities in her district."
Councilwoman Valenzuela's "crucial facilities" were not hers to "stand up." She does what she wants, despite objections from the residential neighborhoods surrounding these vile homeless campgrounds full of the city's "guests."
A compassionate and merciful Mayor and Councilwoman would never authorize broken human beings in dire need of help to live on the streets in disease-laden filth.
Their low-barrier shelters and campgrounds are just part of a callous mole game, which pop up every few months in different locations. "Low-barrier" means no rules or accountability for the homeless residing there: they openly buy and sell drugs, use the drugs, store stolen property from nearby neighborhoods, and vomit, defecate and urinate wherever and whenever they feel the need.
Recently, Mayor Steinberg announced the city was awarded another $23.9 million state Homekey grant to convert a downtown hotel into housing for homelessness vagrants. The City and the Sacramento Housing and Redevelopment Agency plan to turn a Best Western hotel into a 92-unit homeless apartment complex with bedrooms, bathrooms and kitchenettes.
The Globe noted that $23.9 million is quadruple the annual budget of many effective local programs helping homeless men and women turn their lives around.
In effect, the city is in competition with known successful private programs actually changing lives. The chance for a pretty new apartment at no cost to a guy living in a tent on the sidewalk is a more attractive carrot than a cot in a dormitory and a program to help him get off meth and straighten his life out. Mayor Steinberg and Councilwoman Valenzuela know this, and if they don't they need to be recalled because they aren't qualified to hold elected office.
The real scam is calling the state's homeless vagrant population "unhoused," which has justified spending billions of taxpayer dollars on housing for the homeless in lovely new apartments, renovated hotels, and tiny homes.
"The City and the Sacramento Housing and Redevelopment Agency will work with Danco Communities, the project developer, to turn the Best Western Sutter House at 1100 H Street into 92 units with bedrooms, bathrooms and kitchenettes," the City says on its website. That's $260,000 per unit.
Remember, the amount of this project is $23.9 million.
What could that $23.9 million grant do for the city's 11,000 homeless walking the streets at night, and sleeping on them during the day?
Residential treatment.
But treatment doesn't spread the money around to favored contributors the way an expensive, multi-million dollar renovation or development project does.
"The site is projected to open in early February and will provide new tents, as well as access to restrooms, showers, garbage collection, and 24/7 staff to connect people to health services and programs to help them secure long-term housing," the City says.
Tuesday Gov. Gavin Newsom announced a $45 million grant for two new Homekey projects in Los Angeles and Sacramento which will provide 170 units of housing for people exiting homelessness. That's $264,706 per unit.
The "people experiencing homelessness," and the "guests" of tent cities are inhumanely being used and abused by these politicians. "Long-term housing" is not nearly as necessary as drug addiction treatment and mental health treatment is. Not one of these "guests" will be able to maintain this newly renovated long-term housing until they are forced into treatment and show signs of recovery.
Until then, this is all a very expensive façade, as well as a failed experiment using broken human beings as guinea pigs. And it is evil and cruel.
Latest posts by Katy Grimes
(see all)