Uber and Postmates File Suit Against California Over Imminent AB 5 Law
The lawsuit becomes the third such suit to challenge AB 5 this year, joining previous filings by trucker groups and freelance writers
By Evan Symon, December 31, 2019 2:37 pm
Uber and Postmates teamed up with Uber driver Lydia Olson and Postmates driver Miguel Perez to file a lawsuit against the state of California over AB 5 on Monday.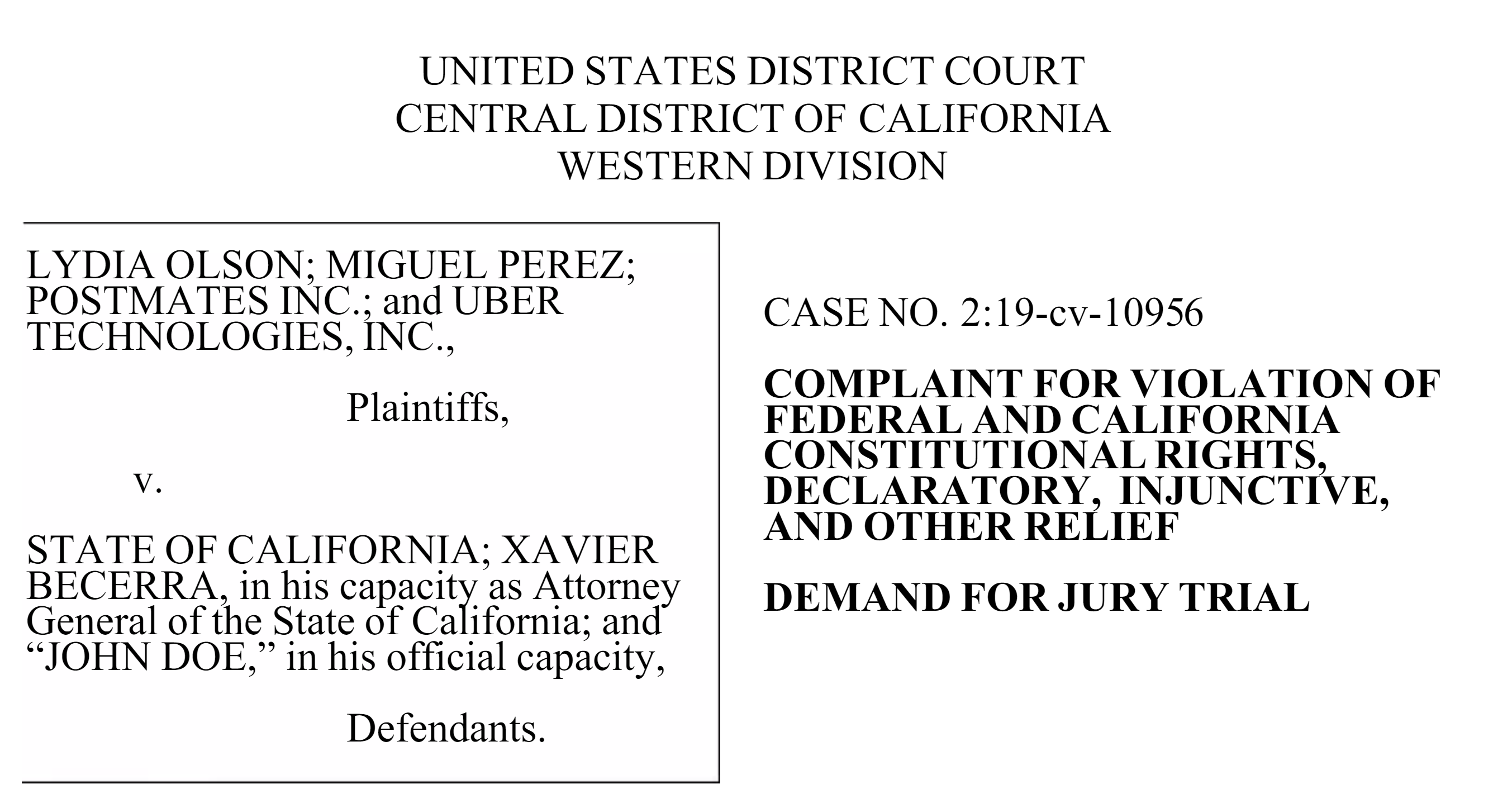 Exemptions and unconstitutional statutes
The suit claims that AB 5, the upcoming new law that drastically reclassifies both employees and contractors, is unconstitutional. It specifically points out that there are unusual exemptions, as many similar jobs have been split between being covered under the law and not covered under the law. For example, while grant writers and milk delivery drivers have exemptions, freelance writers and juice delivery drivers face the strict new independent contracting rules.
"There is no rhyme or reason to these nonsensical exemptions, and some are so ill-defined or entirely undefined that it is impossible to discern what they include or exclude," notes the lawsuit. "AB 5 is an irrational and unconstitutional statute designed to target and stifle workers and companies in the on-demand economy."
The case also encompasses the long held point of drivers liking and even relying on being able to work independently and set their own hours because of family and life obligations.
Miguel Perez, the named Postmates driver suing California in the lawsuit, said Monday that "a new law in California called AB5 is threatening the freedom and flexibility I have relied on in recent years to support my family. The politicians responsible for AB5 have targeted gig companies and workers like me and are trying to eliminate my freedom to be an independent contractor and continue the way I am."
Defending AB 5
Supporters of AB 5 have come quickly to it's defense. Assemblywoman Lorena Gonzalez (D-San Diego), the author of the bill, has been especially vocal following the announcement of the latest lawsuit on Monday.
"The one clear thing we know about Uber is they will do anything to try to exempt themselves from state regulations that make us all safer and their driver employees self-sufficient," said Assemblywoman Gonzalez on Twitter. "In the meantime, Uber chief executives will continue to become billionaires while too many of their drivers are forced to sleep in their cars."
Her response is especially notable as she has frequently turned to Twitter following the announcement of recent lawsuits and has dug in her heels on the labor issues over AB 5, shown no sympathy over the thousands of freelancers and contractors about to go out of work, and has even begun to give hints that she is open to changing a few parts of it.
Other supporters have stated that the law will ultimately help most people because of the higher wages, more steady work, and more benefits that will be available to workers.
#UberGreed so big that they think they can file a lawsuit crying that I called them bad employers. (*spoiler alert – I did, and do) — Do you even get how being a legislator works @Uber_Comms ? https://t.co/zioeTeOHYV

— Lorena (@LorenaSGonzalez) December 31, 2019
Other lawsuits and an option for possible repeal
The Uber and Postmates lawsuit joins two others currently trying to turn around AB 5. Earlier this month lawsuits by trucking groups and freelance journalist organizations sued California over AB 5 for destroying their industries, putting at least thousands out of work, and introducing 'arbitrary' limits on the amount of allowed independent contractor work.
"You usually don't get so many suits against a single law like this in such a short period of time," expressed Marin County based analyst Brandy Miller. "It's been shown to be helping a select number of drivers, but it's hurting many more. Remember, Uber and Postmates are working with Lyft to try and get something on the ballot for November to repeal AB 5. That's a team of rivals. And when you add the truckers, the writers, and whoever else is next on a lawsuit or contributing to the repeal, then you can't really ignore it. You can't just say 'I'm still right
"I think Gonzalez even said she was ok with many losing their jobs if it helped others. That's like saying you can't make an omelette without breaking a few eggs." "
And it's important for everyone (including me) to realize it's not a zero sum game. Helping some workers, may have negative consequences on others. Keeping the status quo, definitely allows for exploitation of workers. I'm committed to continuing to work to balance the scale.

— Lorena (@LorenaSGonzalez) December 29, 2019
"If this was somebody from another party trying to do something like this they would have just ruined any chance for a reelection," added Miller.
"So Uber and Postmates come into this on pretty good ground, and there's enough people losing their jobs that it's making national attention. We just need to wait on the courts now. And also see who else puts in a lawsuit against this."
AB 5 goes into effect on January 1st. Rulings on the several lawsuits against AB 5 and California are expected in the early months of 2020.

Latest posts by Evan Symon
(see all)