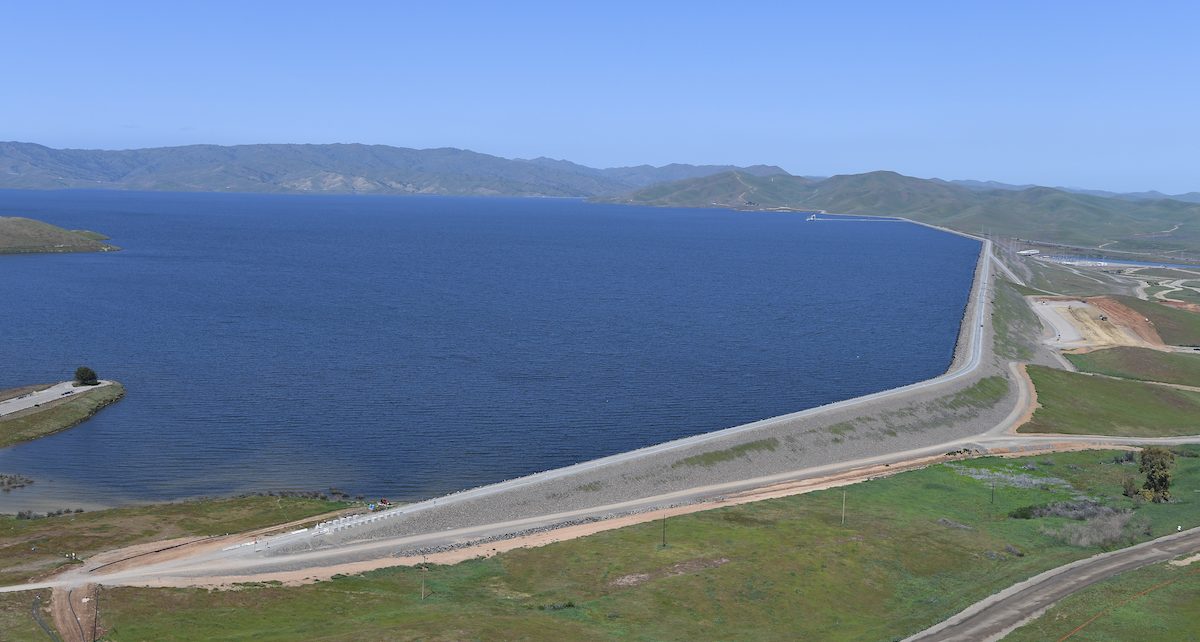 DWR Announces 100% State Water Project Water Allocation For 2023
2023 marks the first time since 2006 that all water requests in the state will be filled
By Evan Symon, April 21, 2023 2:30 am
The Department of Water Resources announced Thursday they would be boosting State Water Project allocations this year from 75% to 100%, meeting 100% of all water requests for the first time since 2006.
Statewide droughts in the 2010s and 2020s had severely limited water allocation in California, with allocation hitting an all-time low of 0% for several months last year due to the drought and the lack of meltwater refilling reservoirs.
However, over a dozen rain bombs and atmospheric river events in January, February, and March this year quickly elevated the state out of the drought. Reservoirs across the state quickly filled up to above average levels, with a record snowpack amount ensuring that water would continue to flow throughout the state into the hot summer months.
In March, Governor Gavin Newsom announced that all state water restrictions would end with the SWP allocating 75% of all requests – the highest amount to date since 2017. However, colder temperatures and a higher than expected amount of snowpack totaling on average 237% above normal levels greatly raised hope that more allocations would come. That hope came true on Thursday, with the DWR announcing that all water requests would be filled in 2023.
In the announcement, the DWR specifically noted that reservoirs such as the San Luis Reservoir in Merced County are now completely full, with the largest, Oroville, expected to be at capacity by the end of May due to meltwater coming down from the mountains. While runoff analysis for April and another snow survey in May, the first such survey since 1983, will still be needed to give a definite greenlight for all allocations, all indications show that the DWR will still be able to meet all requests for the year.
"With reservoirs nearing capacity and snowmelt runoff starting to occur, the state Department of Water Resources now expects to deliver 100% of requested water supplies, up from 75% announced in March. Water supply conditions and careful management of reservoir operations during this extreme winter allows DWR to maximize water deliveries while enhancing protections for the environment," said DWR Director Karla Nemeth on Thursday. "DWR is moving and storing as much water as possible to the benefit of communities, agriculture, and the environment."
100% water allocation
The new allocations were received warmly by many Californian interest groups, especially farmers and agricultural districts, that have largely been cut off from state water in the last few years.
"Following two years of 0% allocations, this water supply will assist growers in Westlands with putting the land to work to grow the food that feeds the world," noted Westlands Water District General Manager Jose Gutierrez on Thursday.
However, the DWR also warned that despite the new abundance of water, possible cuts in water received from the Colorado River were still possible, stressing that keeping an eye on water usage and using water saving practices should still be used to help keep water resources abundant for the state going into the future.
"Between the water in reservoirs now and the water we expect to get from the mountains for the rest of the year, it's looking like a good, wet year for California," Jack Wesley, a water systems consultant for farms and multi-family homes told the Globe. "Yeah, people should still be careful on using water, but urban and agricultural areas that have been parched for years are going to see ample water for the first time in a long time."
"It's looking like a good agricultural year, as a lot of these farms have been fallow for a few years so they had time to 'recharge' per se. With all that water coming, it should be good.  And urban use, well, people will like fewer restrictions for the time being."
"We aren't out of the woods yet, and again, people should still be careful, but the state really got a reprieve from all that rain coming down, and we should make the most of it. Along with developing better water use strategies and figuring out new sources like desalinization, we need to look at more dams, more water storage, and better water transport so we can send it where it need to go during down times."
"100% allocation though. Wow."

Latest posts by Evan Symon
(see all)