2020 March Primary Preview: 77th State Assembly District
California Globe takes an inside look into the 77th State Assembly District primary race
By Evan Symon, January 30, 2020 7:41 pm
The 77th State Assembly District:
Welcome to northern San Diego County. Anchored by the Miramar Marine Corps Air Station, the 77th Assembly District has Northern San Diego and its suburbs. When the district was formed in the early 2010's the District was largely Republican. Today registered Democrats have the slight edge, although the military presence still keeps a very present Republican voting bloc intact.
Races here are generally closer than most. Kashkari edged out Brown here in the 2014 Governor's race, with Newsom only managing to grab 54% in the district four years later. However the 2016 Presidential election went largely in Clinton's favor here, showing that the 77th was at least partially affected by the blue wave. However, local government is still largely Republican leaning, meaning the 77th is definitely in play for both parties. So much so in fact that the incumbent Assemblyman has sided with both at different times in the last few years.
History of the 77th:
Since its creation in 2012, the 77th has only had Assemblyman Brian Maienschein (D-San Diego) elected in.
Maienschein started off on the Republican ticket in 2012, trouncing candidates both Republican and Democrat in the primary and coming in with a 60% to 40% win over his Democrat opponent in the General. However due to voters largely turning against Republicans in 2016 and an increasing amount of registered Democrats, Maienschein only managed to beat Newsom-backed Democrat Sunday Gover by 600 votes in 2018.
Republicans had breathed a sigh of relief until a few months later when Maienschein switched parties after reportedly feeling that the Republican Party had changed too much. Despite the party change, it doesn't alter the fact that this is still very much a swing district. Democrats are buckling down to keep it while Republicans are gearing up to take it back and remove a lawmaker they see as a traitor.
Brian Maienschein:
Incumbent Assemblyman Brian Maienschein enters the 2020 race with enemies at the gate. A former San Diego City Council Member from 2000 to 2008, Maienschein subsequently lost the city attorney election that year. However , the United Way soon picked him up as their homeless guru in San Diego, giving him instant credibility on the issue to this day. When an Assembly seat was created in his area in 2012 he ran for it and won.
Maienschein proved himself to be strong on low-income housing and homeless issues, two of the biggest issues California currently is dealing with. He has also proven himself to the gay and lesbian community with endorsements from Equality California, something he even nabbed while a Republican. His stance as the most liberal Republican and the most conservative Democrat based on his voting record also appeals strongly to undecided voters, likely a key factor in his narrow 2018 win. Plus many unions like him, as evidenced by the Service Employees International Union (SEIU) endorsing him.
But his party switching is something that may come back to bite him. Many San Diegans didn't believe he was switching parties simply on morals and being against Trump, as some said he switched simply because he wanted to be part of the winning side to keep his job. Republicans won't forgive him for that, and many Democrats have felt skittish about a lawmakers who regularly votes for more conservative issues who simply became their candidate by default. Maienschein will need to appease them as well as undecided voters going into the heart of the election. If he can't get it across to voters that he's voting for the wishes of the constituents and not the party, he could face problems in the swing district.
June Yang Cutter: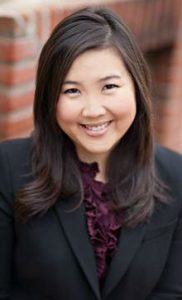 For the 77th District the Republican tapped June Yang Cutter as their candidate. A San Diego civil litigator, she comes into the race with no elected experience outside of being president of her local PTA. She does come in with a lot of backing however. Education leaders have largely thrown their support to her due to her experience in the field, and dozens of state Senators and Assemblymembers have also backed her going in. The endorsement of San Diego Mayor Kevin Faulconer also doesn't hurt.
This what the party generally wants here. As many believe that Maienschein switched parties simply to keep his job, a new blood Republican who isn't fighting for a job and who hasn't 'betrayed' the party. Her education support came as a surprise bonus for Republicans when endorsements started coming in. As the field usually endorses more liberal candidates, Cutter and the party are going to hammer education issues.
Crime, homelessness, and traffic issues are also at the top of her list going into the Primary election.
Going down to brass tacks, she has the parties backing and has already shown a few pleasant surprises for the party. If she keeps this up and keeps the 'disloyal' label on Maienschein, she might just get enough undecided voters to take the seat back.
What does this mean?:
Both parties want the 77th badly, and already the election is seen as one of the 'much-watches' of 2020.
It's youth vs. experience. Party loyalty vs. changing views. Doing everything to keep your elected seat vs. bringing in new blood.
Maienschein is still centrist enough that he can appeal to a lot of people, but that will stop dead cold at registered Republicans, about 1/3rd of all voters. Cutter doesn't have as much name recognition, but she has had an amazingly strong start despite not having nearly as much campaign funding as Maienschein. Her status as a Sacramento outsider and not someone willing to trade their party for two more years can also reach to undecided voters, and possibly even some more DINO Democrats.
The District is slightly more blue than red now, but it really comes down to how many people trust Maienschein. He has never run as a Democrat before, so he has no real track record to fall back on as a member of his new party. If Maienschein can get voters from all sides to look past his party switch and more on his overall record, he can squeak by yet again.
But Republicans want the 77th back, and if they're going to do it, then the Primary is going to be a good indicator on how much work needs to be done. If Cutter is down by 5% or more in the primary, residents should be prepared to see the faces of Cutter and Maienschein a lot in ads for most of the rest of the year.

Latest posts by Evan Symon
(see all)