CA Congressional Candidate Regina Marston Mired in Twitter Controversy
Marston unrepentant in response to deluge of critics
By Joey Mulkerin, February 13, 2020 7:06 am
Regina Marston, a Democratic candidate running in the 42nd Congressional District, found herself mired in controversy this past week. On February 2nd Marston replied to a Tweet from Congresswoman Rashida Tlaib (D)-Michigan with an invective laden diatribe in which she addressed the 44 year old Tlaib as "Girl." When a black Twitter user suggested that Marston not address the Palestinian-American Tlaib with such an infantilizing nickname she countered with the following gambit:
A swift maelstrom of backlash ensued. Dozens called on Marston to drop out. Liam O'Mara, her Democratic opponent managed to raise nearly $10,000 nationwide. The AFL-CIO and California Labor Federation, whose support Marston had claimed, were beseeched to rescind their endorsement. In response the AFL-CIO issued a statement indicating that they had not actually endorsed Marston and in fact never endorsed candidates in state and local races. After deliberating the matter, California Labor Federation members did ultimately vote to rescind their endorsement on February 10th.  
Marston's own responses to the deluge of critics were as revealing as they were unrepentant. When Twitter personality Jack Allison expressed doubt over the veracity of her claim, she implied that her "black friends" would have a laugh at his expense.
She outright addressed one black critic as "boy" in a mocking reply to his Tweeting at several Marston supporters, asking if they were okay with her initial usage of the term. In a vain attempt at dialogue Anthony Clarke (himself a Democratic congressional candidate from Illinois) offered to meet personally and discuss the offensive nature of her Tweet.
In a lengthy reply she reiterated that "boy" and "girl" were universally applicable nicknames for her before launching into a non-sequitur in which she alleged having been the victim of sexist bullying from O'Mara supporters. She then proceeded to block Clarke. Eventually she changed the privacy settings on her Tweets so that only approved followers could read them.
Marston was unavailable for comment at the time of publication.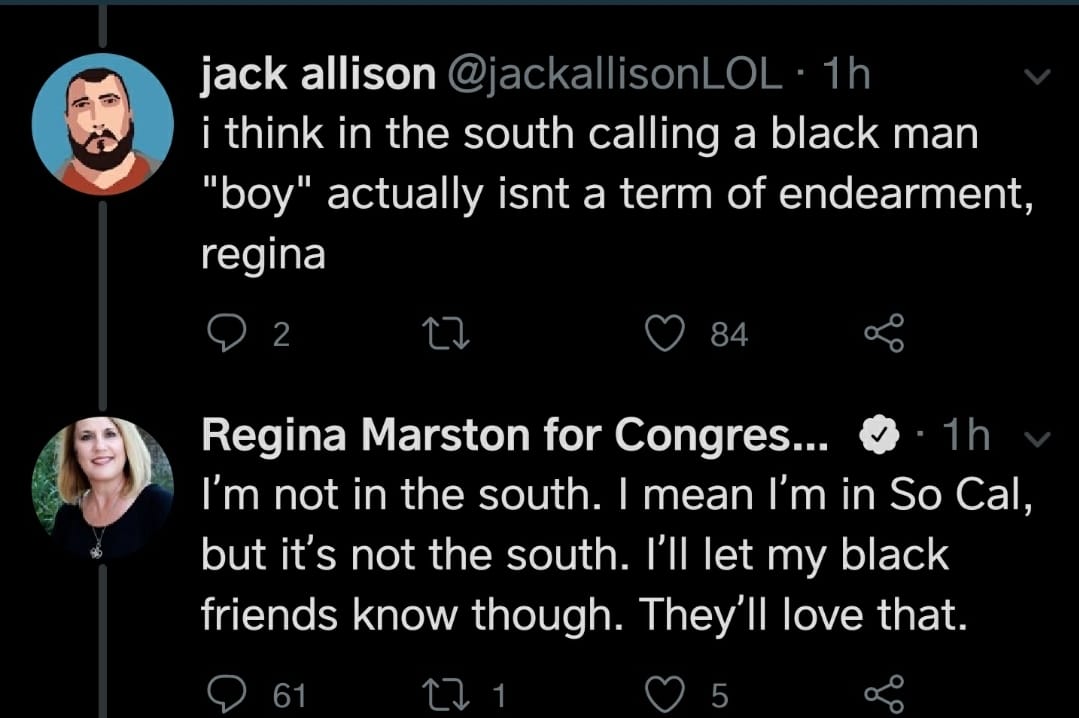 Latest posts by Joey Mulkerin
(see all)