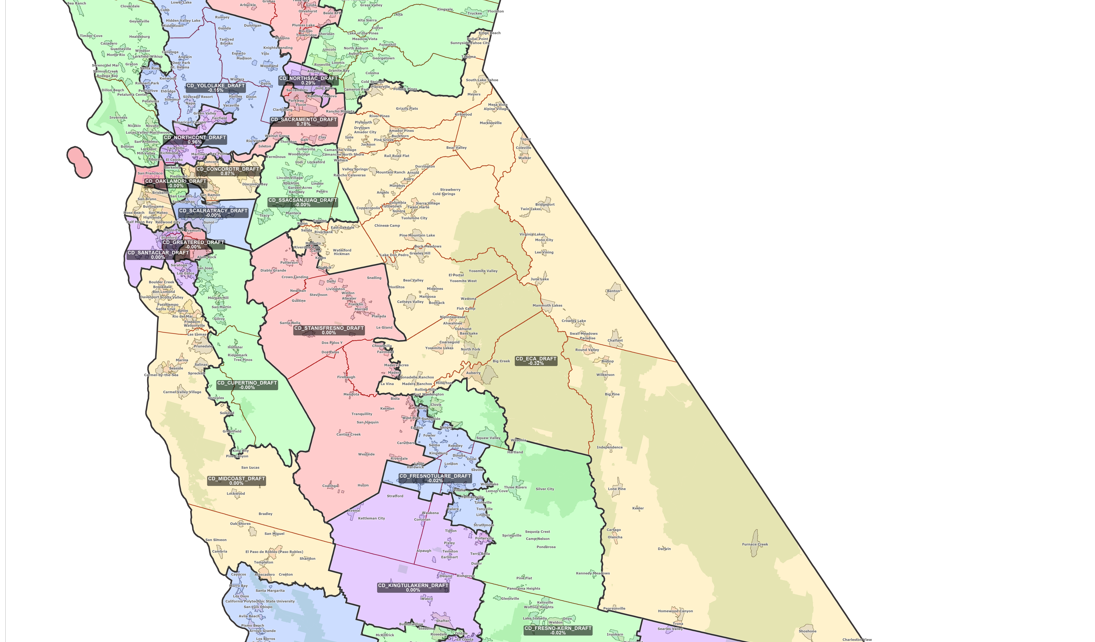 CA Redistrict Commission Releases First Congressional District Draft Map
First draft map shows large shifts in both Democratic, GOP led districts
By Evan Symon, November 12, 2021 2:44 am
The California Citizens Redistricting Commission released their first official draft map of redrawn Congressional districts on Wednesday, shaking up districts across the state due to population shifts and the state losing a Congressional seat beginning in 2023.
Released 5 days ahead of the California Supreme Court's mandated November 15th deadline, the map shows major shifts in both rural and urban districts. Of particular note is the 22nd District, currently represented by Congressman Devin Nunes (R-CA). The district's current boundaries in Fresno and Tulare counties greatly shifted in the draft, with it going from a district that voted for Trump by five percentage points to a population that backed Biden by nine points.
While the lines still don't set up a situation where Rep. Nunes would have to face House Minority Leader Kevin McCarthy (R-CA), as many Democrats had hoped, the lines still are not final and can still be greatly shifted again in the next month.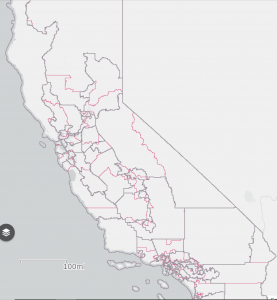 However, the redrawn lines hurt Republicans like Nunes and Congressman Mike Garcia (R-CA), who broke through the Los Angeles County Democratic stronghold in 2020.
Many Democrats may also be hurt by the shifts, including Congressmen John Garamendi (D-CA) and Josh Harder (D-CA), both of whom have had close Congressional races against GOP candidates in the last several elections.
By law, the California Citizens Redistricting Commission is made up of five Democrats, five Republicans, and four voters with no party classification selected by non-partisan state auditors. In addition to Congressional draft maps, they also draw draft lines on new state Legislature and Board of Equalization maps. To avoid issues such as Gerrymandering, they review tens of thousands of pieces of public input every ten years, coming through direct testimony, letters, and online suggestions. Commissioners have continued to encourage all California voters to continue to give them input on how the lines should be redrawn for the 2022 Congressional race.
"These are not intended to be final maps and we strongly encourage Californians to continue weighing in until we get it right," said Commission Chair Trena Turner on Wednesday.
With a red wave looking increasingly likely next year, as hinted by the recall effort against Governor Gavin Newsom earlier this year and GOP-favorable results in both Virginia and New Jersey last week, many Democrats in California are scrambling to give input into where new lines should be drawn. Of particular concern are Latinos, who are voting Republican more and more in recent years both nationwide and in California.
Latino voters, future draft changes
In the Golden State alone, Latino voters helped take back several House seats for the GOP in 2020, helped elect in the first GOP House representative since 1873, and were instrumental in helping bring about the Newsom recall election.
"More and more Latinos are becoming fire-forged friends with the GOP," said Jamie Rodriguez, a second-generation Mexican-American lawyer who helps organize Latino voters, to the Globe on Thursday. "The GOP in California, largely white and Asian, has really made strides with the Latino communities across the state. They've mellowed out on some immigration issues and focused on shared beliefs. GOP heavy areas have also had white and Asian voters show they re willing to vote for a Latino candidate, something of which would not have been so easy 30 years ago."
"This is why it is so terrifying to the Democrats. It's not just because they may lose a huge chunk of voters in the coming decades, but because we're helping change each others thinking. We've had hardcore GOP people who protested during Naturalization Oath ceremonies 15 years ago suddenly show up nowadays and support those becoming citizens during those same ceremonies today and share stories of their own great-grandparents coming here. That's the kind of organic shift Democrats are now facing in terms of Latino voter support, and as we've been seeing, it's already started to make a difference."
The Commissioners noted on Wednesday that the first drafts were not perfect and would likely be changed, with issues such as race and multiple incumbents being in the same new district being among the larger factors.
"I have a laundry list of areas that I think will need a lot of refinement," explained Commissioner Sara Sadhwani.
The first draft maps released Wednesday were largely based on creating 52 districts with around 761,000 people each. In addition to more public input, the next map drafts are to take into account the Voting Rights Act and make sure no minority areas are being disenfranchised. Following that and draft map  approval by the Commission, the public will have two weeks for a final review period. All redrawn maps must then be submitted to state officials by the end of December.
This timeline will allow candidates in the new districts to file by mid-March and be ready for the primary elections in June.
Public input meetings are to begin November 17th in Sacramento.

Latest posts by Evan Symon
(see all)