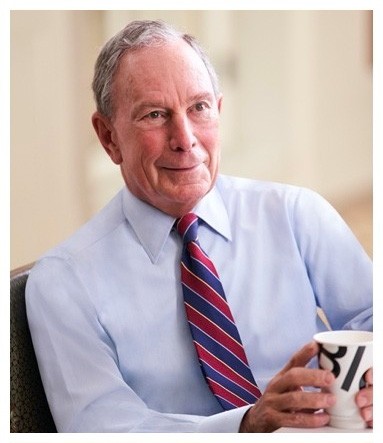 Did Michael Bloomberg Say He 'Bought' the Endorsement of 21 of the Newest Democrat Members of Congress?
Californians should be interested in knowing what Bloomberg's $100 million did for the seven congressional seats flipped in 2018
By Katy Grimes, February 26, 2020 5:20 pm
Inquiring minds want to know if former New York City Mayor and Presidential candidate Michael Bloomberg really "bought" the endorsement of the 21 Democrat members of Congress he contributed $100 million to in 2018.
Californians may want to know how the elected members of the seven targeted districts flipped — CA-10 (Josh Harder), CA-21 (T.J. Cox), CA-25 (Katie Hill – vacant), CA-39 (Gil Cisneros), CA-45 (Katie Porter), CA-48 (Harley Rouda), and CA-49 (Mike Levin) — feel about Bloomberg's investment in them.
During Tuesday's debate, Bloomberg said he "bought" the 21 seats, but then he caught himself, and changed it to "got" them.
Bloomberg said, "I spent $100 million on 21 people to help elect them. All of the new Democrats that came in, put Nancy Pelosi in charge and gave Congress the ability to control this President. I bought… I got them," Bloomberg added.
"Democrats successfully targeted each of the districts in 2018, where Hillary Clinton had won the presidential vote in 2016 but Republicans had held onto their seats," Breitbart's Joel Pollak explained in 2019. "They out-spent and out-organized their rivals, benefiting from the millions dropped on key races late in the election by billionaire Michael Bloomberg, the former New York City mayor now considering a run for the 2020 Democratic presidential nomination himself."
Rep. Steve Scalise
posted
the video clip of Bloomberg saying this at Tuesday's debate on his Twitter page:
Bloomberg clearly says he spent $100 million on California's newest congressional members Rouda, Levin, Porter, Cisneros, Harder, Hill and Cox, and 14 other Democrats in the 2018 midterm elections. And what did Americans get? A House that focused on a partisan impeachment scheme, and pushed radical, far-left policies that went against a great deal of California's 10th, 21st, 25th, 39th, 45th, 48th and 49th District voters – many who supported President Trump in 2016.
Rouda's district in particular is plus+4 Republican. Candidate Michelle Steel is campaigning hard to re-take the 48th District for Republicans.
With the 2020 election ramping up, Californians want to know: did Mike Bloomberg "buy" Harley Rouda's endorsement for president? Did he buy Levin's, Porter's, Cisneros's, Harder's, and Cox's also? Time will soon tell.
Notably, Bloomberg may have bigger fish to fry than buying loyalty from members of Congress in his bid for the Democratic Presidential Nomination.
On Wednesday, the non-partisan U.S. Government Accountability Office (GAO) accused Mike Bloomberg of breaking IRS rules surrounding his various non-profit organizations, saying they're being used not only to benefit his for-profit businesses, but more importantly they're giving him a boost for his presidential campaign, NOQReport announced. "In a letter sent to IRS Commissioner Charles P. Rettig, the watchdog group called on the IRS to investigate Bloomberg Family Foundation Inc. and 'Bloomberg Philanthropies,' both of which the GAO believes "may be operating in violation of the Internal Revenue Code."
If you missed the Tuesday debate, Daily Caller has a 5-minute video of just the best highlights. Enjoy the tedium.
UPDATE: The office of Rep. Gil Cisneros contacted California Globe and said that Michael Bloomberg did not endorse Cisneros, nor did he contribute to his campaign or purchase any digital ads.
Latest posts by Katy Grimes
(see all)