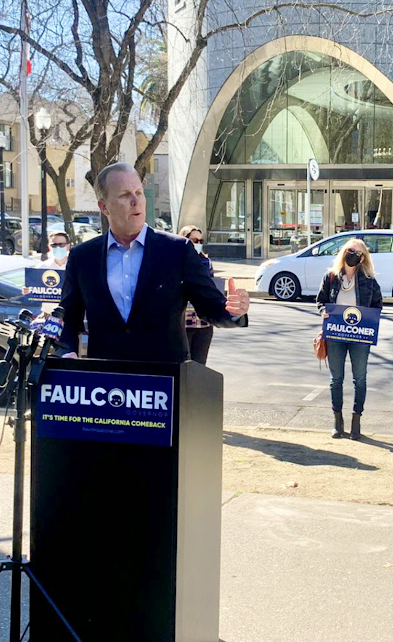 Ric Grenell Tells Recall Candidate Kevin Faulconer to 'Drop Out of the Race'
Faulconer called for Elder to drop out; now Grenell calls for Faulconer to drop out
By Katy Grimes, August 24, 2021 7:03 am
As the California Recall Election of Gov. Gavin Newsom heats up, Richard Grenell, former Ambassador to Germany and Acting Director of National Intelligence, and California Voter just told gubernatorial candidate and former San Diego Mayor to drop out of the race.
"It's clear that this recall election is about the future of California. We need a new direction. Everyone can see just how a politician like Gavin Newsom has failed to successfully manage our state," Grenell said Monday in a statement. "His left wing policies have created more problems than he's been able to solve. Kevin Faulconer's vision is not a conservative one. Faulconer has been unable to embrace the broad type of change we need. He's a politician at a time when we need bold solutions. Kevin Faulconer should drop out of the race, so a solid conservative can garner enough votes to replace Newsom."
Recent media attacks on candidate Larry Elder brought out the knives. Predictably, Republican recall candidates jumped on the bandwagon condemning Elder, the Globe reported.
The AP reported reported, "Faulconer hits GOP rival Elder as California recall heats up. "That Faulconer is now joining Newsom in criticizing Elder reflects his need for a breakout moment that can change his trajectory in the race."
Faulconer went further with Politico: "Elder's backwards positions harm women's rights and the livelihoods of California families," Faulconer said in a late Friday afternoon statement. "Elder's lack of judgement and character flaws threaten the success and credibility of this historic recall movement — Californians will not vote to recall one dysfunctional Governor if it means replacing him with another."
"Faulconer suggested that Elder has become a liability that could cost Republicans a chance to unseat Democratic Gov. Gavin Newsom" Politico said. "Faulconer has taken the lead in lambasting Elder as the former mayor looks to attract moderate voters after building his campaign on a centrist message that argues he is the only Republican capable of carrying a deeply Democratic state."
Last week, the California Republican Assembly (CRA), the largest and oldest GOP volunteer organization in the state,
announced
their endorsement of radio host Larry Elder in the California Gubernatorial recall election.
This followed the California Republican Party's vote to not endorse a candidate after changing the Party bylaws to officially back a candidate. Faulconer was the state Party's heavy favorite, but with Elder's popularity rising supported by surging polling numbers, the party eventually agreed not to support any candidate and instead focus on the Recall of Newsom.
Grenell who founded Fix California, says he is committed to pursuing longterm solutions that advance conservative ideas and causes throughout the state. Grenell's is a long game plan to revamp state politics.
Latest posts by Katy Grimes
(see all)