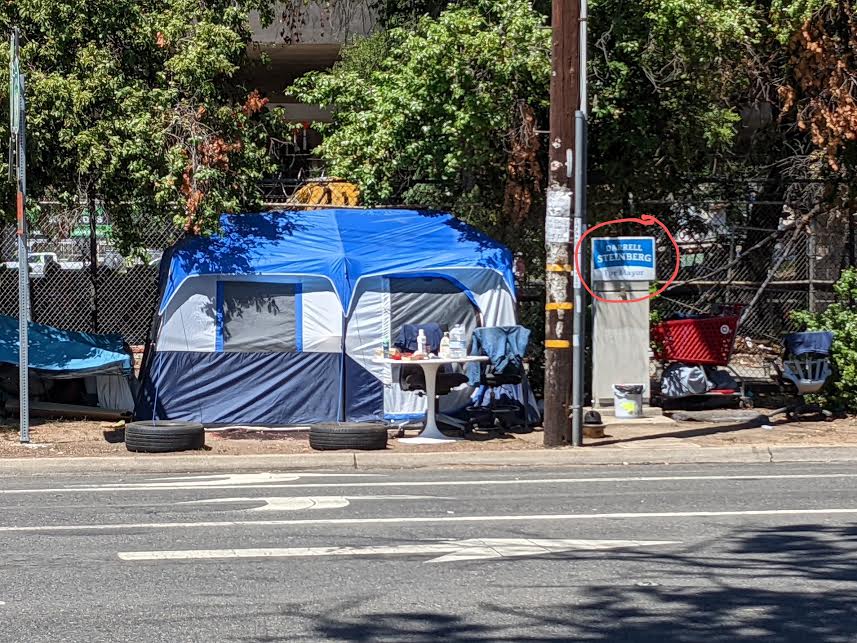 Sacramento's Homeless Street Vagrants Live Under Separate Set of Laws
SacPD has a lot of support in the city… just not at the City Council
By Katy Grimes, August 20, 2021 1:14 pm
Sacramento Mayor Darrell Steinberg recently announced that he wants to open homeless shelters, tiny homes and tent encampments in 20 residential neighborhoods and locations around the city. Because eradicating the drug-addicted homeless from areas where families live, children play, youth athletes play, and neighbors walk, run, exercise and recreate is not on the table – and never has been.
Mayor Steinberg has also spent millions of dollars on hotel and motel renovations and apartments. Who knew his job was spending taxpayer money to make the meth-addicted homeless comfortable in tiny homes, recovered motel rooms and apartments? If only diagnosis and treatment was prioritized ahead of housing.
Remember, the Mayor's project to provide tiny apartments in a renovated old downtown Sacramento hotel cost more than $445,000 per unit for about 250 square feet of living space, as the Globe reported. This project only benefitted the union contractors.
Residents of the City of Sacramento are up in arms about Steinberg's plan. He has ignored every common sense option for dealing with the homeless, allowing the street vagrant population of meth heads, heroin addicts and the mentally ill to explode.
Sacramento's homeless street vagrants also appear to live under a separate set of laws. They are everywhere now – living out in the open on sidewalks in front of homes, living on every freeway offramp, openly living in city parks, under freeways, along frontage roads, behind golf courses, in parking lots, and every open crevice one can imagine. But not in Mayor Steinberg's neighborhood.
And many of them are violent. Crime is spiking in Sacramento, but not in Mayor Steinberg's neighborhood. And his list of 20 residential neighborhoods and locations around the city does not include his.
In my older Sacramento neighborhood, our city councilwoman Katie Valenzuela "volunteered" several private properties and privately owned businesses as locations to house the homeless in tents. That didn't go over well and she was forced to withdraw the recommendations.
The 160 acre park I live near is the largest regional park in the city. And the homeless live in it – in cars, under trees and bushes, along the 9-hole golf course, near the duck ponds, and by the baseball diamonds and soccer fields. This park is home to the Sacramento Zoo, Fairytale Town, Funderland Amusement Park, pony rides and the golf course.
My German Shepherd Hans and I were walking in Wm. Land Park Thursday, as we do every morning and noticed two homeless persons' cars parked parallel along one street. We saw a large Pit Bull mix running loose ahead of us, but did not see its owner. We tried to dodge the loose dog a couple of times by criss-crossing the grass. As we neared the SUVs, the loose dog ran up behind us and aggressively jumped Hans. I pulled Hans in but the dog kept coming at us, circling.
I yelled and an obese women sitting near one of the black SUVs in a chair said something. I assumed it was her dog and I yelled at her to call it off. She finally did as I tried to hustle Hans away. I told her to leash the dog and she said "he's nice." I yelled at her again to tie the dog up and she just kept saying that he's a nice dog. A couple walking by saw the whole thing and just stopped and stared at the huge woman, offering no help.
I and many other neighbors have seen both of the black SUVs in the park, often parked in other locations in the park, usually near the kiddie playground and basketball courts.
Hans is fine. I am fine other than bruises, scrapes and achy muscles. But this is a frequent occurrence in the park with homeless vagrants who own dogs.
I called the non-emergency Sacramento Police Department line. The police dispatcher referred me to animal control. Animal Control said they would first refer the call to the Park Rangers.
I heard back from a SacPD representative who said the police recognize this is frustrating and not ideal to have this type of thing happen while you're walking your dog in your neighborhood.
He referred me to the city's Department of Community Response (DCR). "As you may be aware, we are not taking the lead on homeless related concerns, unless there is a crime involved," SacPD said.
He also referred me to the SacPD Captain who oversees the IMPACT Team; a supervisor with Park Rangers since this incident happened at the park; Sacramento's Chief Animal Control Officer, since there was a loose dog involved; and he said the SacPD Captain was notified.
I responded thanking SacPD and all of those named in his email. And I explained the following:
"Many people don't report issues like this – a dog attack involving the homeless – because in the face of all of the other violent crimes taking place in the City, a dog attack may seem trivial, but is not. And this isn't my first stray homeless-owned dog attack. These are quality of life issues, and safety issues, which are not getting adequate attention from the Mayor and City Council. And it's these issues that are leading to the decline in quality of life in this city. 
My husband and our Australian Shepherd were also recently attacked by a loose Pit Bull. Our dog ran all the way home from the Land Park golf course with the pit bull attached to his neck. We were so freaked out, we forgot to file a report.
It is my understanding that DCR is not fully operational and that there is a significant wait time for calls for service. If so, what other alternatives are there for my safety and that of my dog while walking in my neighborhood and park?
I am also aware transients aren't allowed to live in the park, and specifically not overnight. Yet everyone knows there are regulars sleeping in the park (some dangerous and some not, some crazy, some high on heroin and meth), in cars, in tents, and out in the open under bushes and trees, and even on picnic tables.
I am not trying to unload on you. I have unloaded on the Mayor and City Council, because most of us feel that the elected city representatives are prioritizing taxpayer-provided funding for the criminal homeless vagrants over the police, over the safety and security of city residents and taxpayers, the children and the elderly, and small and large business owners. The city is using taxpayer funds to provide tiny homes, renovated motel rooms and apartments for crackheads, and heroin and meth addicts, who need to be triaged and receive treatment – not tiny homes they will undoubtedly turn into tiny meth dens. Thanks for all that you do. You have a lot of support in the city… just not at the City Council."
This is why elections matter.
Latest posts by Katy Grimes
(see all)