Thousands of Outraged Parents Rally At State Capitol Over Hyper-Sexualized K-12 Curriculum
Sexually explicit language unsuitable for radio is taught to elementary school children
By Katy Grimes, March 28, 2019 3:35 pm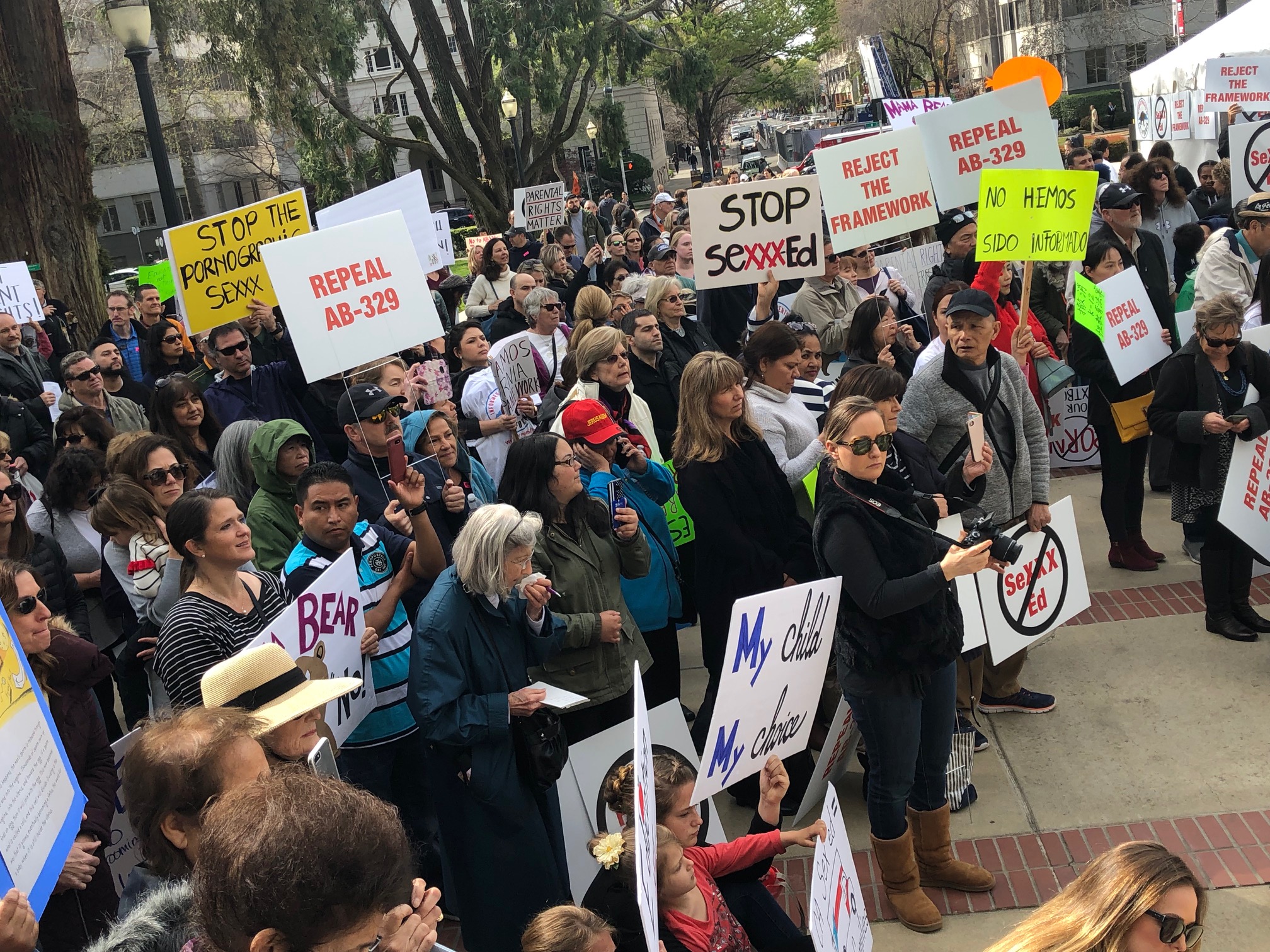 California public schools aren't your grandfather's schools any longer. Today's lesson plans are written by Social Justice Warriors and LGBT activists, and enshrined in the California education code. But what is being foisted on children as young as age five, cannot even be uttered on the public airways, because radio stations would receive a violation letter from the Federal Communications Commission.
If sexually explicit language is unsuitable for public consumption on radio, wouldn't it also be unsuitable for elementary school children?
Thousands of fired up moms, dads, preachers, pastors, teachers, grandparents and concerned citizens rallied at the State Capitol Thursday to protest plans to add even more sexualized content to California's K-12 "health" curriculum. Informed Parents of California and the California Family Council organized the rally over the curriculum proposals, and then walked a few blocks to the State Department of Education for the Instructional Quality Commission Meeting to make public comment on the proposed Health Curriculum Frameworks.
The public comments went on for hours.
What's their beef?
The California Department of Education, Instructional Quality Commission, and State Board of Education are currently in the process of revising the 2019 Health Education Curriculum Framework for California Public Schools, Kindergarten Through 12th Grade, scheduled for adoption by the State Board of Education in May 2019.
Informed Parents of California pulled together the most objectionable portions of the 1000 page framework document in a 24 page summary with excerpts for K-6th grade health lessons, complete with pictures of some of the recommended supplemental materials. This document includes:
Elementary School: It is permissible to teach knowledge and skills related to comprehensive sexual health and HIV prevention education in grades kindergarten through grade six (K–6), inclusive. All instruction and materials in grades K–6 must meet the instructional criteria or baseline requirements in EC Section 51933. Content that is required in grades 7–12 may be also be included in an age-appropriate way in earlier grades. (EC sections 51933, 51934[b].)
(This information has been copied directly from the California Department of Education Website.
Kindergarten: "Students also learn about individual differences, including gender, from a very early age… students can still begin to challenge gender stereotypes in a way that is age appropriate. While students may not fully understand the concepts of gender expression and identity, some children in kindergarten and even younger have identified as transgender or understand they have a gender identity that is different from their sex assigned at birth. This may present itself in different ways including dress, activity preferences, experimenting with dramatic play, and feeling uncomfortable self-identifying with their sex assigned at birth."
Grade 1: Parents, guardians, or caretakers receive a handout with suggestions on how to initiate a conversation on growth and development with their child. Books such as It's Not the Stork! A Book About Girls, Boys, Babies, Bodies, Families and Friends by Robie H. Harris (2008) or Who Are You?: The Kids Guide to Gender Identity by Brook Pessin‐Whedbee (2017) can be shared together.
In Grade 4 the California Department of Education teaches, "An estimated 3.1 percent of California high school students reported being sexually active before the age of 13. Approximately 32.3 percent of high school students are sexually active, making sexual health education a critical content area in late elementary."
This curriculum also includes:
Kindergarten books that introduce 5-year-olds to families with members who identify as lesbian, gay, bisexual, and transgender.
First grade gender vocabulary lessons on words such as third gender, trans, queergender, non-binary, gender fluid, gender neutral, agender, bigender, and two-spirits.
Lessons for 1st graders that provide detailed descriptions of sex with these quotes such as: "The man's penis goes inside the woman's vagina," and "sperm can swim out through the small opening in the man's penis – and into the woman's vagina."
Pictures in a book for third graders showing a cartoon drawing of a penis ejaculating sperm while inserted into a vagina.
Lessons which teach third graders that sexual reproductive organs don't always match a person's gender.
Recommendations that fifth graders are taught sexual health lessons that must include examples of same-sex sexual activity. Students should not be separated by sex during these lessons to avoid "misgendering" students.
Books that introduce 10-year-olds to anal sex, and the slang for male and female genitals.
Grade 5: "Fifth-grade students will have an opportunity to learn that gender is not strictly defined by physical anatomy or sex assigned at
birth. Rather, students understand that gender refers to attitudes, feelings, characteristics, and behaviors that a given culture associates with being male or female, sometimes labeled "masculine" and "feminine." Moreover, a person's gender identity refers to their sense of self, while gender expression refers to their outward gender presentation including physical appearance and behaviors. Understanding individual differences will help students feel accepted and be more accepting."
Rally Opposing Sexualized Curriculum
Several parents at the rally had some of these authorized school books with them. The photos (by CaliforniaGlobe) are from these books, teaching children as young as age 5, inappropriate slang for male and female body parts which might even make a drunken sailor blush.
At the rally there were parents from all walks of life, ethnicities and religions. Speakers included Kira Davis, an op-ed journalist and co-host of the Smart Girl Politics podcast, Gina Yee, a children's minister and author of the upcoming book "Purity," America Figueroa and her son Samuel, Marlo Tucker, State Direcdtor of Concerned Women of California, and George Rosca, a Romanian man whose parents and 12 siblings escaped Communism in Romania, came to America and became U.S. Citizens, and is now a pastor. Each spoke passionately and factually about the indoctrination and damage to young children the hyper-sexualized "health" curriculum inflicts. Bosca talked about the highest ever suicide rates among kids and teens because while they are being sexualized and taught they can have sex whenever and with whomever they choose, they are not being taught about the consequences of such decisions. "Meaninglessness is leading to more suicides than ever," Bosca said. "And the collusion is deep. The ACLU and Planed Parenthood have been working with the Department of Education for years," he added. "It is up to a parent revolution to make changes."
A public school teacher spoke warning that this curriculum is being sprung on teachers as well. "We've got to blow the lid off of this, because teachers are also scared." She told parents to "back down these superintendents and school board presidents. We've been waiting for you."
The founders of Informed Parents of California, Stephanie Yates and Aileen Blachowski had one message: "Hands off our kids!" And they said that if this curriculum isn't removed, "you tell the schools that you'll be removing your kids."
Senators Brian Jones (R-El Cajon) and Mike Morrell (R-Rancho Cucamonga) addressed the thousands, and both men told the parents, "Never give up." Morrrell said how great it was "to be out of the Capitol building, with people who are normal."
The rally Master of Ceremonies was Sacramento radio talk show host Phil Cowan from AM1380TheAnswer.
Latest posts by Katy Grimes
(see all)