2020 General Election Preview: 45th Congressional District
California Globe takes an inside look into the 45th Congressional District race
By Evan Symon, November 3, 2020 4:59 pm
Located in the heart of Orange County, the 45th Congressional District  comprises of Irvine, Tustin, and parts of cities Anaheim and Santa Ana. The district is wealthy, predominantly white, and is made up of city and suburban areas.
Of all the Orange County districts lost to the Democrats in 2018, the 45th is the one the GOP wants back the most. Congresswoman Katie Porter (D-CA) has become something of a thorn in the Republican Party's side despite being in her first term. And the area is a fundraising goldmine. The average household income is above $100,000 in Orange County, making it among the wealthiest nationwide. And it still leans Republican, despite years of gradual Democratic buildup.
Since redistricting in 2013, the area has continued to be a major Republican base. With a high number of Republican voters, candidates such as former members of Congress John Campbell and Mimi Walters won by a lot. In 2014, Walters won her first campaign by 65%, and other elections stayed well above 55%, in part due to her more moderate lean attracting undecided voters. However, the 2018 midterm blue wave and ballot harvesting by Democrats swung a lot of undecided voters to the Democratic camp.
This led to Porter winning the race by a little over 2%. Two years later, despite Porter now nationally known and registered Democrats still slowly moving into the district, Republicans still outnumber Democrats by several percentage points. Gubernatorial candidate John Cox won one of his few districts in this area over Newsom. And despite Trump losing out to Clinton in this district, voters showed their preference for more moderate Republicans by voting overwhelmingly for Romney over Obama in 2012.
Like all other turned-over OC districts in 2018, the Republicans are fighting to take it back this year, with Greg Raths being tapped to take on Porter. The GOP didn't originally want him, but once he came in second during the primary, he's been their guy.
The Candidates:
Katie Porter – The freshman incumbent, Congresswoman Katie Porter is gunning for another term. Originally from Iowa, Brown graduated from Yale and Harvard in the 1990's and was a law clerk, lawyer, and law professor everywhere from Little Rock to Portland during the 2000's before becoming a law professor at UC Irvine in 2011. While Attorney General for California, Kamala Harris appointed her to independently monitor banks, leading Porter to get settlements for Californians to the tune of $9.5 billion. While she didn't do much else politically, or even hold elected office before, she won in 2018, helping consolidate Orange County to be Democratically represented.
In the last two years she has made many centrists in her district grow concerned over her support for Medicare for all and has scored the ire of the GOP for her attacking style of questioning. She has also become known for pulling out charts, graphs, and dry erase boards at every opportunity to prove her point. While charming to many at first, it is now seen as tiring and even condescending to many people. Plus many still remember the voter harvesting incident in 2018, making many voters a little bit more wary about her.
In her two years in Congress she has shown to be a solid Democratic voter. Voting organizations either give her a 90+ score or a 10 points or below score. There is no middle ground with her voting and she doesn't even attempt to work with Republicans unlike other Democrats in office bordering her district. She's polarizing to say the least.
In 2020 she is all out on the attack against Trump. Besides her opposition to his Medicare plan, she opposes his tax plan, wants to greatly reduce Corporate PACs (ironically while being primarily funded by a PAC), wants to increase more family maternity/paternity leave, wants to instill more gun reform, and wants immigration reform to allow more people to become citizens. Basically you know if you're going to vote for her or not based on that last sentence alone. That's how polarizing she is.
She's also very close to Senator Elizabeth Warren (D-MA). In fact, she was her old law professor at Harvard. She has her support, as well as former President Barack Obama's.
She's very left, yet somehow is still ahead in a right leaning district.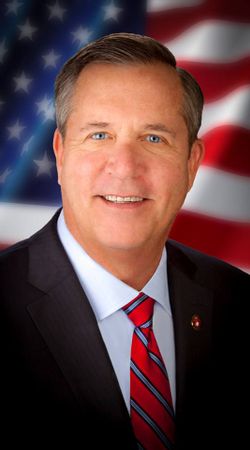 Greg Raths – Opposing Porter is Republican Greg Raths. A former Marine pilot, Raths moved to Orange County in 1977 as part of his service. After fighting in wars in the Gulf, Raths gained White House experience by becoming the Assistant Chief of Staff of the White House Military Office. After leaving the service he became a business owner and a pilot for Jet Blue. In 2015 he was elected to the Mission Viejo City Council and since last year has been the Mayor, overseeing record low unemployment numbers up until COVID-19 struck in March.
In 2020, Raths is aiming to lower taxes, reduce illegal immigration, and create a business-friendlier environment in California, the big three for the GOP in California. His healthcare belief of not allowing anyone to be care or insurance for pre-existing conditions have made more than a few on the right nervous, although his opposition against Medicare-for-All and Obamacare won them right back. He also wants to punish China for COVID-19 and is really big on protecting gun rights.
Republicans weren't entirely on board with him him being their candidate for his farther right views in a district where moderates have a much better chance, but he did get second in the primary due to a large number of moderates going at it.
While Porter may have Obama in her corner, Raths has a lot more endorsements, pretty much having the support of nearly every local lawmaker in the 45th. But his fundraising hasn't been up to snuff compared to Porter. With the election nearing, Raths has been trying to plant himself as the non-Porter candidate, but he hasn't reached out to many moderates and undecided voters yet. His views win over many Republicans in the district, but they might go a bit too far for others. Especially in such a polarizingly partisan year like 2020.
What does this mean?
Had COVID-19 not happened and Trump was in a little better standing with Americans as a whole, it might have given Raths enough oomph to oust Porter. But as it stands, Porter has the slight advantage. She barely got over the 50% mark in the primary with no other Democrats, and polls are showing it to still be a slight lead for her.
In an election filled with voters not even being remotely undecided, this election left many wondering who to vote for as both are closer to the edges of their respective political leanings than many voters wanted. Porter does have that name recognition and has a lot of support down in Irvine, and that may be the deciding factor here. Raths is liked in Mission Viejo, but there aren't nearly as many people there.
But Raths isn't completely out of luck either. Republicans in the 45th want someone in the GOP in the seat again, and Porter herself has lost some traction due to her far-left views and association with Warren. And her new PAC she created this year has been getting scrutiny from political funding watchdog groups. This has been especially surprising as she has been railing against them for the last few years.
Porter will likely win on Tuesday, but it's still too close to know for sure. If she wins, the Democrats may find that she is the only Democrat Congresswoman to win in the OC on Tuesday. If Raths win, it will be a major upset and will make the GOP to take note of Raths. Plus it will be a black mark on Porter's short political career.
Tuesday will tell all.

Latest posts by Evan Symon
(see all)