Deceptive Animal Extremists Behind California Fur Ban Legislation
'It's not about animal welfare, it's about animal use'
By Katy Grimes, August 27, 2019 5:00 pm
'The first casualty in this legislation was the truth.'
Fur is quickly becoming the new "guns and ammo" industry to hate and ban in California.
Assemblywoman Laura Friedman (D-Glendale) is the author of AB 44, which would prohibit the sale and manufacture of new fur in California. From her home in Glendale, California, Friedman wants California to lead the nation in statewide fur bans. "Today there are a variety of humane alternatives, both in terms of faux fur that is virtually indistinguishable from real fur, and alternative textiles that are just as warm or fashionable," Friedman says. "There is no need for fur in the 21st century and no place for it in a sustainable future."
Animal rights groups like PETA and Direct Action Everywhere, have continued to voice strong support for Friedman's bill.
Yet retailers fear that groups like bill sponsors PETA and Direct Action Everywhere, one of whose adherents recently charged a stage to swipe a microphone from US Sen. Kamala Harris, will organize protests at their retail stores. Or worse, that they would subject retailers and their clients to the kind of harassment and intimidation that they have experienced at the hands of animal extremists for years, including vandalism of their stores and homes, destruction of inventory and, in some cases, even the use of Molotov cocktails thrown into their stores.
Kaplan shared one such situation in 2017 in which animal activists were sentenced for splashing flesh-eating acid and other chemicals on the outside of a San Diego fur store, gluing their locks and spray-painting anti-fur screeds on the store's exterior. The homes of the store owner and her elderly parents were similarly targeted.
Friedman called fur a "fashion statement and statement of wealth. There is no need for warmth" from fur, she said, mentioning the many faux fur products available.
Los Angeles, San Francisco, West Hollywood and Berkeley already have fur bans in place, but Assemblywoman Friedman wants fur formally banned throughout the state of California.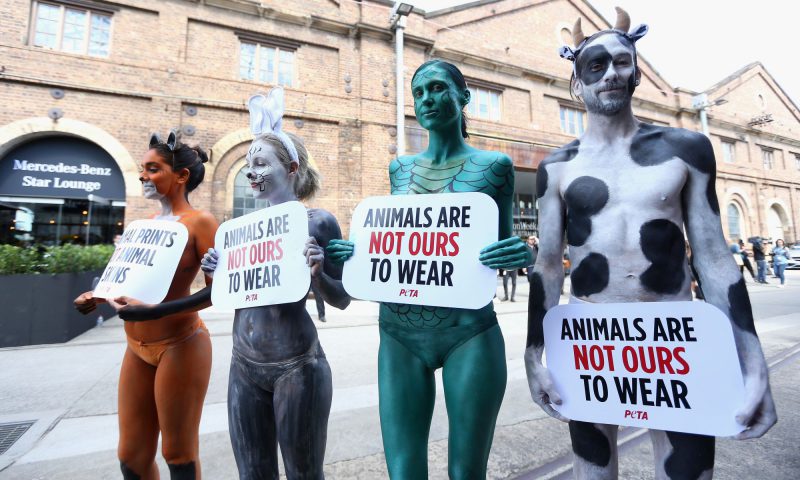 Kaplan and fur industry representatives have offered amendments to Friedman four different times, "which she failed to accept or even discuss," Kaplan said.
Friedman also claims she has not heard from fur industry retailers, however this is not true. "The first casualty in this legislation was the truth," Kaplan said.
Teli Spyropoulos, President of BC International Group, Inc., one of the largest fur retailers, sent a letter to Friedman sharing his opposition to her bill, challenging her claim that she has not heard from any retailers:
"Many people (myself included), within our organization have been submitting letters since the bill was originally introduced to Assembly Members, Senators and to each of the committees who have heard AB44 to date," Spyropoulos said.
He explained the economic importance of his industry:
"We currently operate over 80 locations nationally as well as an additional 40 locations internationally each respectively doing business as either: 'The Fur Vault,' 'The Fur Salon' or 'Maximilian.' BC International Group, Inc. holds the exclusive lease for fur departments in four major department stores, three of which are located within the state of California."
"If AB44 were to pass, it would result in hundreds of jobs lost within the State of California as well as having an indirect impact on hundreds more who provide ancillary services to my salons as well as other furriers. California is home to some of our most successful locations and ceasing operation within the state would send a ripple effect across the country requiring us to eliminate additional positions within our organization as well as close additional locations. This does not only affect the individuals, but their families as well."
The fur trade ranks as one of America's oldest, continuously operating industries, with more than 400 years of history. The industry in the United States comprises more than 1000 fur retailers, 100 manufacturers, more than 200 small family farmers, and tens of thousands of trappers, all of whose businesses, jobs and livelihoods depend on the industry.  Retail fur sales in California, alone exceed $300 million, and is an important source of employment and tax revenues to the State.
For the fur activists who claim to care about animal welfare, fur farming is among the most sustainable forms of animal agriculture.  In the U.S., animals raised on fur farms are typically fed leftover proteins from food processing plants that humans do not eat, thereby diverting 390 million pounds of waste that would otherwise go to landfills. The manure generated by animals raised on fur farms is used as a rich fertilizer on local agricultural crops.  The by-products from the animal are used in many ways, e.g., the meat of the animal is used as bait for the crab fishing industry and as a biofuel and the oil from the animal is used in the cosmetics industry or as a leather conditioner.  Virtually no part of a farmed fur animal goes to waste.  Fur farming is consistent with the policy objectives of California to promote environmentally sound and sustainable agriculture and industry.
Keith Kaplan says California could pave the way as the leader in fur industry sustainability, instead of mandating a product ban. He said California could and should be the first to adopt the FurMark certification program of fur sustainability as a state requirement, and be the leader in animal welfare standards, taking regulations above and beyond the industry standards.
"AB 44 defies sustainability," Kaplan said. "It's horribly written smacks of a novice lawmaker," referring to Friedman's stubborn refusal to even discuss amendments or considering industry standards. Friedman said she won't take amendments unless her bill sponsor agrees. "What about her constituents?" Kaplan asked.
Lies, Lies, Lies
Animal activists claim animals on fur farms are skinned alive. This is patently untrue. Not only is it a near physical impossibility, illegal and immoral, the fur would be damaged in the process. It would be a stupid business practice, as well as unnecessarily cruel.
Friedman claims there is no regulation on the fur industry. This is also untrue. Kaplan says fur farms are regulated by local and state laws, as are all farms. Truth About Fur says, "Furthermore, farmers who mistreat or do not provide proper care for their animals can be prosecuted under federal (and state/provincial) animal-cruelty laws." And notably, the federal government regulates food safety, but not farms – that is left to local and state governments.
A proposed amendment says, "Friedman includes several exemptions in her bill that would allow for the use of certain animals or the use by certain cultural groups without any stated protection for the animals used nor stated guidelines for animal welfare.  It was claims of abuse from lack of regulation that led Ms. Friedman to introduce the bill in the first place and these exemptions create a direct contradiction to the objectives of the bill.  In fact, the exemptions leave open the possibility of animal use without application of animal welfare standards or any type of monitoring."
Keith Kaplan wants lawmakers to ask themselves why supporters of a fur ban would lie to further their cause. "It's not about animal welfare… it's about animal use."
Latest posts by Katy Grimes
(see all)