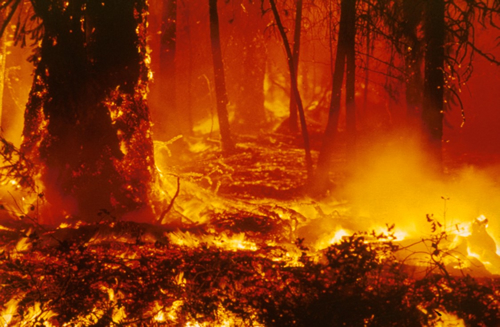 Involuntary Manslaughter for Couple Who Sparked El Dorado Fire With Gender Reveal Party Pyrotechnics
A total of 30 counts charged against couple in fatal wildfire
By Evan Symon, July 21, 2021 3:09 pm
A Southern California couple who accidentally sparked a wildfire last year by using pyrotechnics during a gender reveal party at a park in Yucaipa was charged with 30 counts, including involuntary manslaughter, in San Bernardino County Superior Court on Tuesday.
The case dates back to September 5, 2020. That day, Refugio Manuel Jimenez Jr. and Angela Renee Jimenez hosted a gender reveal party at El Dorado Ranch Park in Yucaipa. However, during the time of the reveal, a pyrotechnic that released smoke that had been placed in a field with dry grass, malfunctioned. This quickly started a fire, and despite the couple trying to put it out and calling 911, it quickly spread through the park and into the San Bernardino Mountains.
Over the next two weeks, the El Dorado Fire continued to rage, with dry conditions and high winds propelling it across some fire breaks put up to stop it. On September 17th, a firefighter at one of these breaks, 18-year firefighting veteran Charles Morton, was killed in the blaze. By the time the fire was finally put down in November, it had also caused around $8 million in damages, including 10 structures being destroyed and another 6 being damaged, another 13 people being injured, and nearly 23,000 acres being burned up.
While the El Dorado Fire had been one of many large wildfires in California in 2020, it made international news and kept pressure on the Jimenez's due to the unusual nature of the start of the fire, as opposed to the more usual culprits of faulty utility lines, lightning, and arson. This led to the couple being charged on Tuesday.
30 counts charged against couple, 8 of them felony
Led by San Bernardino County District Attorney Jason Anderson, 30 counts were placed on the couple following a grand jury hearing where 34 witnesses were questioned and 343 exhibits were presented. The Jimenez's now face one felony count of involuntary manslaughter due to the death of Morton, four felony counts of recklessly causing a fire to inhabited structures, three felony counts of recklessly causing a fire with great bodily injury, and a final 22 misdemeanor counts of recklessly causing fire to property of another.
"You're obviously dealing with lost lives, you're dealing with injured lives, and you're dealing with people's residences that were burned and their land that was burned," said Anderson on Tuesday. "That encompasses a lot of, not only emotion, but damage, both financially and psychologically."
"The fire had a tremendous impact on the community of San Bernardino. At least six agencies were involved in containing, extinguishing and investigating the deadly blaze."
"Given the scope and the impact of the El Dorado Fire on the land and lives of so many, particularly Charles Morton and his family, it was imperative that every investigation be completed within both federal and state agencies to provide a full, fair presentation to the members of our community. He's fighting a fire that was started because of a smoke bomb. That's the only reason he's there."
Anderson also added that while charges are only now coming 10 months after the El Dorado Fire, they had taken so long in part because they had wanted to be thorough in the investigation and make sure that those responsible were brought to justice.
Legal experts noted that while charging people with starting wildfires is not new, the catalyst for it very much is.
"It was not intentional, but it also wasn't from a more easier to understand reason, like a cookout grill being tipped over by accident at someone's home or something like that," explained LA-based environmental lawyer Mallory Jones to the Globe on Wednesday. "This was willingly going to a public park and using pyrotechnics for something non-essential. And someone died from it. The trial is still months away, but already they face an uphill battle."
The couple pled not guilty on Tuesday and were released. They are next due in court on September 15th.

Latest posts by Evan Symon
(see all)