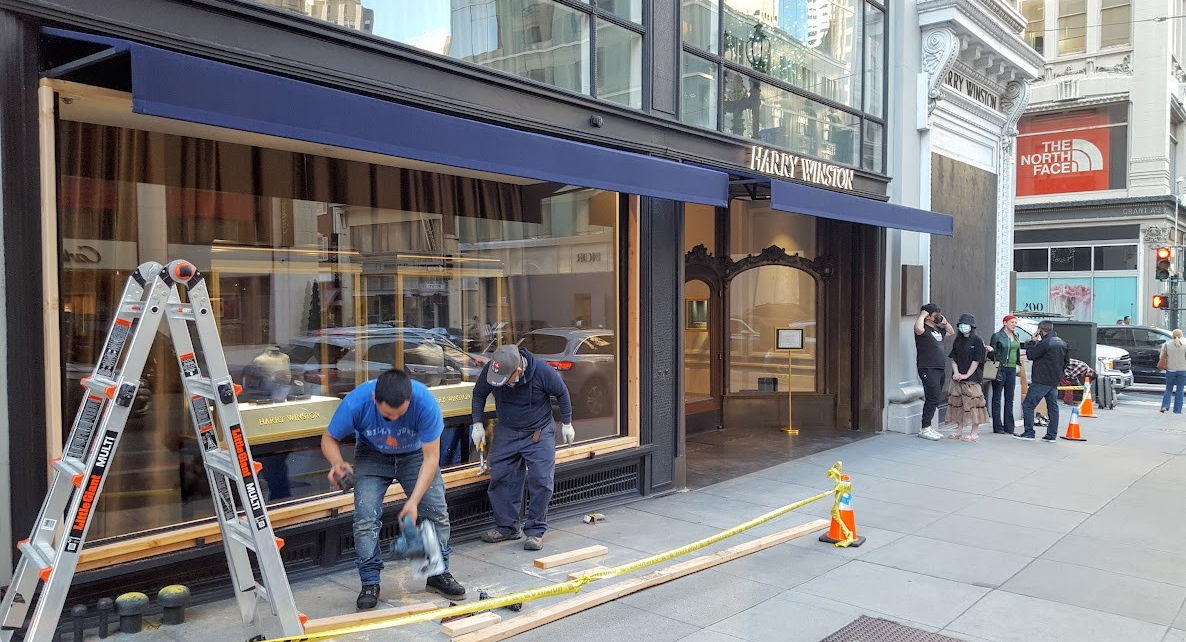 Police Defunding Efforts, Lowered Numbers of Police Officers Partially To Blame For Recent Retail Robbery Wave
National profile of California robberies causing many prosecutors to be harsher than normal
By Evan Symon, November 26, 2021 3:13 pm
The wave of group mob-style smash and grab robberies around the Golden State continued on in California over the Thanksgiving holiday period, resulting on the ramping up of police protection despite some departments facing strained resources following defunding efforts.
Following the flash mob-inspired robberies of multiple high-end stores in San Francisco's Union Square, as well as a Nordstrom's in Walnut Creek late last week, other similar robberies continued to occur throughout the state. Several stores, including high-end stores at LA's Beverly Center and a Nordstrom in Canoga Park, were robbed on Wednesday in Southern California. Northern California continued to be hit as well with a Santa Rosa Apple Store meeting the same fate as the others.
Some arrests have been made in the incidents, with other robberies being investigated heavily due to the large numbers of possible tips and leads left in the cases. District Attorneys looking after the cases have also been significantly more fastidious about punishing those responsible, with usually lax on prosecuting San Francisco DA Chesa Boudin pressing criminal felony charges against 9 of the Union Square robbers before Thanksgiving.
"You will face serious consequences when you commit serious crimes in our city," said Boudin earlier this week "The charges that we're filing today are felonies. We will do whatever it takes to keep San Francisco safe. To assure that you can go about your life, that you can go shopping."
However, as a result of the robberies, police departments are being relied on more to help keep law and order in shopping heavy areas, such as the SFPD keeping a mobile headquarters active in Union Square until January and the Beverly Hills Police Department pushing officers to 12-hour shifts following two failed smash and grab robberies last weekend. Despite added city support, and Governor Gavin Newsom vowing to add more law enforcement funding to stop these robberies, many police departments are being stretched thin. While this is in part due to a high number of department holiday leaves, as well as holiday activities having a greater police presence due to more places being open compared to last year, a big part of it is tied directly into police defunding efforts that have occurred in the last year and a half.
Police defunding efforts partially to blame in recent string of robberies
Of particular note is San Francisco's $120 million in police defunding that reallocated funds to other programs following the George Floyd incidents and other similar cases last year.
"First the problem was created here by a mixture of Prop 47, where the state set a high new theft minimum limit and changed most felony robberies to misdemeanors, and Boudin refusing to prosecute criminals," said "Steven" a SFPD officer who wished to remain anonymous to the Globe on Friday. "Then there was a huge backlash against the police last year, which led to many officers leaving, either by choice or defunding. Oh, and we can't even replace the ones we can replace, because recruiting efforts are falling short."
"So now we have a situation where a lower number of police officers, who aren't seeing help in a rise of numbers soon, are now being peeled away from other areas stretched thin to protect some businesses who wouldn't need the protection in the first place if there were major consequences for robbery. Even those that we do arrest may not even be charged."
"And now look what's happening. We all defunded so much that we can't afford to go after these people like we could have, forcing the state to step in with funding to make up for it. We shouldn't have to be out there like this, helping look after shores and stoppers. Stores shouldn't be operating in fear of them being robbed."
"When we were allowed to freely police after the robberies because of a large number of people asking for us to make arrests in the case, we did so quickly. That's how affective we could be if it wasn't for the Department being shrunken."
On Friday, police departments across the state continued standing by on due to the high likelihood that more robberies like these would occur during the weekend.

Latest posts by Evan Symon
(see all)