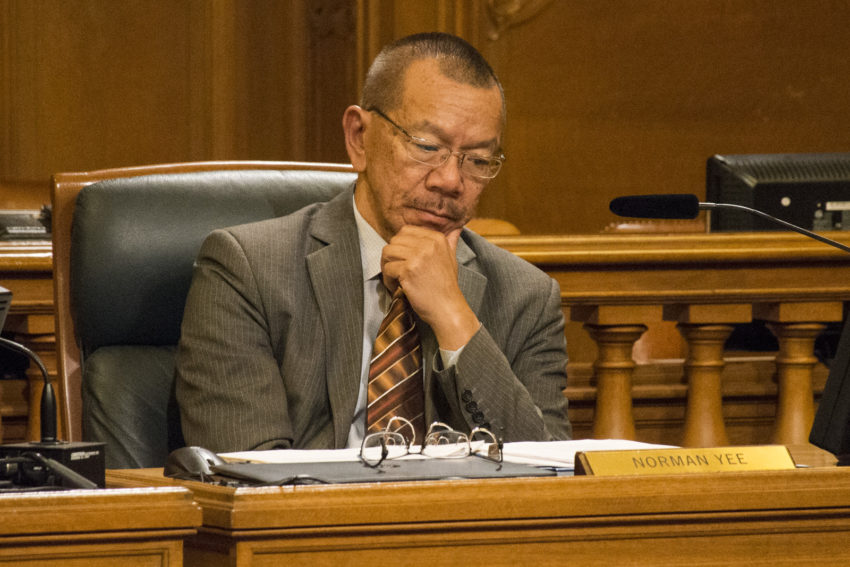 Proposed SF Ban on Smoking Inside Apartment Buildings Quickly Gains Opposition
The San Francisco Board of Supervisors is to vote on the bill December 1st
By Evan Symon, November 16, 2020 2:32 pm
On Monday, significant public opposition began to form around a proposed San Francisco Board of Supervisors bill that, if passed, would ban smoking inside private apartment buildings.
The bill, authored by Supervisor Norman Yee, would specifically  ban usage inside apartment buildings with 3 or more units. Tobacco, marijuana, and vaping would be covered under the ban, but with an exemption for medical marijuana. Many Supervisors, led by Supervisor Rafael Mandelman, are currently trying to remove marijuana entirely from being banned due to  the legality of marijuana in California and the trouble of enforcing a ban when some marijuana is allowed, but it has yet to be amended.
The ban itself would be enforced by the San Francisco Department of Public Health, with repeat offenders facing fines to as much as $1,000 a day. Balconies and patios attached to such units would also be covered under the ban, with an outreach program also added for the first year of the new law to let residents be informed of the change.
The smoking ban bill was only approved by the Public Safety and Neighborhood Services Committee on Thursday and is currently being fast-tracked for a vote on December 1st.
Supervisor Yee wrote the bill because of his concern that secondhand smoke from some units could travel into others putting many at risk. During the committee meeting, he especially emphasized the danger to mothers and infants by secondhand smoke, as well as to the growing number of cases due to more people working from home due to COVID-19.
"I'm proud to help residents avoid being exposed to secondhand smoke in their own homes," said Supervisor Yee in a tweet earlier this month. "Smoke easily moves between units and buildings. Now that more of us work from home, it's more important than ever because there is no way to contain it."
I'm proud to help residents avoid being exposed to secondhand smoke in their own homes. Smoke easily moves between units and buildings. Now that more of us work from home, it's more important than ever because there is no way to contain it. https://t.co/DNlG9AqrqA

— Norman Yee (@NormanYeeSF) November 5, 2020
"We are discussing the right of our residents to breathe clean air," added Yee during the meeting on Thursday. "I was alerted to and reminded that San Francisco has fallen behind many cities in enacting policies to protect our most vulnerable from secondhand smoke by a mother with an infant. My priority is to provide clean air for people to breathe in their own homes."
Opposition to the bill
While many Supervisors supported the ban, as evidenced by the passage of the bill to a Supervisor vote and many expressing support afterwards, many members of the public have begun to come out against the ban, noting that factors such as wealth discrimination, liberty, and misinformation are all playing a role in the proposal.
"Smoking inside is one of the few places we have left to smoke because the city banned everywhere else," noted John Chan, a San Francisco resident who has fought and petitioned against previous smoking bans in the city. "Now, during a time where it's not safe to be out in public, they're trying to force people outside to smoke and be more susceptible to COVID.
"And I'm not saying that some smoke doesn't travel inside, because it does. But during warmer months with windows open, where do you think cigarette smoke from outside will go to? There are so many ways around this, like simple human politeness, but San Francisco is deciding to just ban it all instead. It's crazy."
Jennifer Conaway, a housing advocate and organizer for low-income housing projects, also noted that the bill is also discriminatory.
"You don't have a lot of wealthy people living in apartment complexes with three apartments or more. Look at the cost of houses and duplexes and other single or double unit properties in the city. The only cheap options, and I use that word loosely, are apartments. And look at who the bill targets: people in apartments.
"It may have been unintentional, but Yee is discriminating against poorer residents who have nowhere else to go. For them, it's either stop smoking, which, to put it mildly, is not easy and comes with a whole host of other short-term issues, or they smoke outside, exposing more people to it and also being more susceptible to catching diseases out there, including COVID-19.
"All people are seeing on this bill is that it's anti-smoking, and that's all the public usually sees on these things. But for poorer residents, especially in this case, it's a lot more complicated. But it's also not a surprise. We've seen how the city has treated less-wealthy residents for years.
"And, don't forget, Yee is leaving the Board soon. He's trying to leave a legacy right now, and this bill is just that."
Non-profits such as the American Cancer Society and the American Heart association have endorsed the bill. Should it pass on December 1st, San Francisco will join other Californian cities such as Daly City and Berkeley in having apartments be smoke-free. The city would also become the largest city in the country with such a ban in place.

Latest posts by Evan Symon
(see all)