CA Senators and Assembly Members Exempt From COVID Vax Mandate, but Capitol Staffers Must Get Booster
Capitol Staff from both parties not happy with this unfair arrangement
By Katy Grimes, February 10, 2022 5:02 pm
The Globe has been told by State Capitol staffers that members of the Assembly and Senate are exempted from COVID vaccine mandates, but Capitol staffers are not, and in fact are required to receive a booster by March 1st.
How does mandating COVID vaccines and boosters for one group of Capitol employees, and exempting their bosses make any scientific sense? Where are the lawyers?
We contacted Assembly Speaker Anthony Rendon's office three times Thursday between 9:30am and 12:15pm with the following questions for his communication director Katie Talbot:
"Several Capitol staffers say lawmakers are not mandated to receive the COVID vaccine, but Capitol staffers are. This has come up again as they say they will be required to get a COVID booster by March 1st.
Can you tell me what the Capitol COVID vaccine policy is for lawmakers, Capitol staff and visitors to the Capitol? If lawmakers are not mandated to vaccinate, how frequently must they test?"
We heard back from Ms. Talbot at 1:15pm who said she had been out of the office and "will get back to you when I can." By 5:00pm we still had not received an answer, but will update the article when we do. Our sincere interest and point of the article is to get these questions answered.
The Globe received a copy Thursday of Speaker Rendon's latest edict (below):
"Speaker Rendon announced on Tuesday that every Assembly employee must receive a COVID-19 vaccination booster ("booster") no later than March 1, 2022."
"Remote work will not be permitted, pursuant to Speaker Rendon's announcement on Tuesday, as of March 1, 2022."
"Employees who do not submit COVID-19 vaccination booster records by March 1, 2022, may be subject to adverse action."
The Globe has reported on the vaccine and testing mandates Senate and Assembly leadership have continually imposed on staff. Last August memos were sent to all Capitol staff announcing mandatory twice-weekly COVID testing, regardless of vaccination status. Mandatory masks and social distancing were also part of the daily routine, and remain in place.
In July a memo issued by Assembly Speaker Anthony Rendon and Sen. Pro Tem Toni Atkins told Capitol staffers that despite 85% of State Capitol legislators and staffers having been vaccinated at that point in time, "it's not good enough." The legislative leaders said, "We realize there is more to do, and that starts with getting vaccinated. Everyone in the Capitol Community who can receive the vaccine should, and as quickly as possible. We are rapidly approaching the end of session, and none of us want to see a replay of what COVID-19 exposure caused last year— even more, no one wants to see another member of the Capitol Community get sick."
It would be interesting to know if this was 85% of all Capitol staffers and lawmakers, or the push for more vaccines was because it was 85% of just staffers.
Thursday morning, Republican lawmakers held a press conference calling for a vote on ending Gov. Gavin Newsom's two-year COVID State of Emergency. To no avail. Both the Assembly and Senate killed the resolution, and the Senate leader wouldn't even let Senators discuss or debate it, cutting off the microphones of Senators Melissa Melendez and Brian Jones.
Assemblyman Kevin Kiley Tweeted: "California Democrats just voted to continue the State of Emergency even as we host the Super Bowl. It might be the greatest absurdity in this state's history."
The Globe received the rules for all Assembly members Thursday from a source, which requires them to test twice a week; once on Sundays at home with an at-home test kit that is provided and once on Wednesdays in the Capitol.
A new Instagram account called "dearcastaffers" was created to allow Capitol staffers to share their experiences and emote. Sources say about a third of the posts are staffers posting their anger about the unfair vaccine mandates.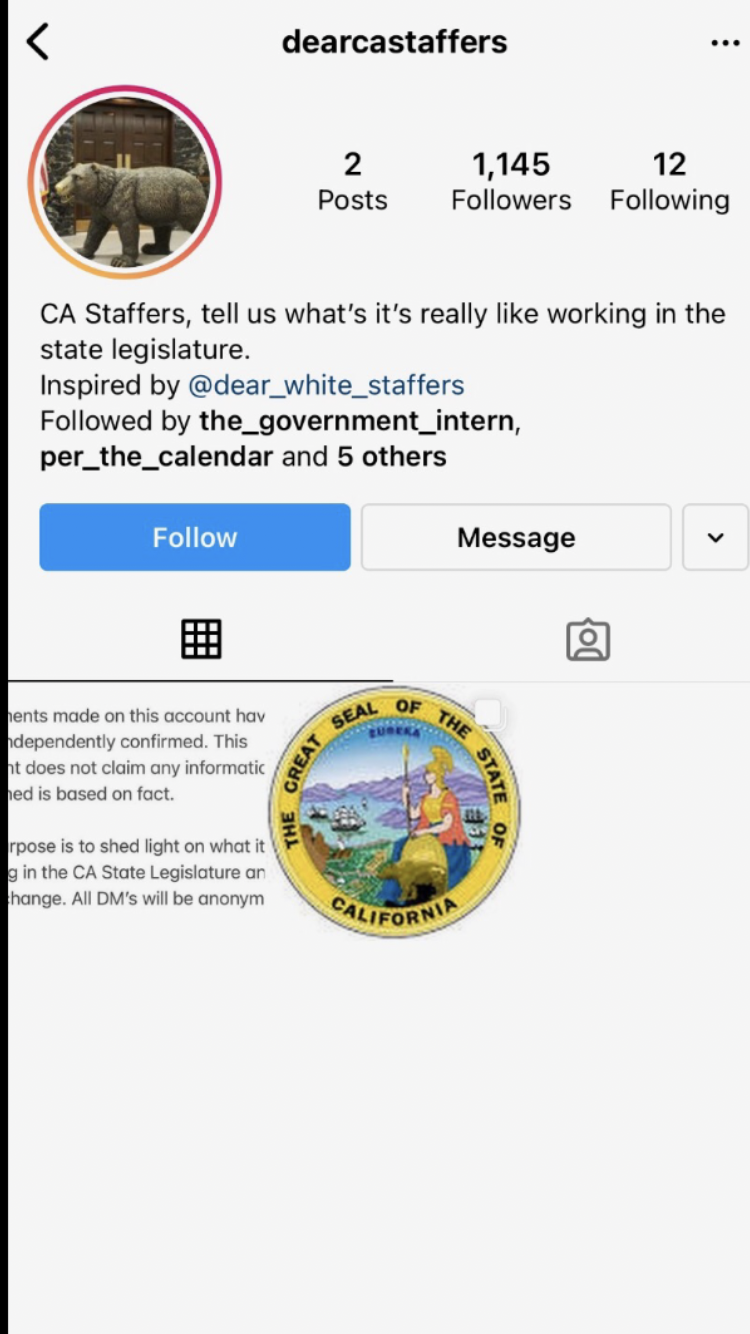 Latest posts by Katy Grimes
(see all)