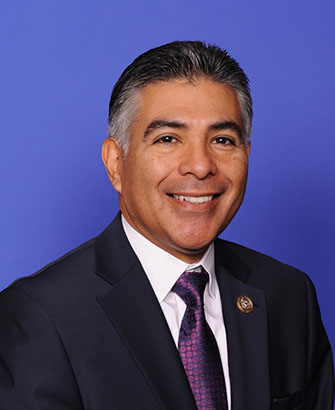 Congressman Tony Cardenas Announces He Won't Run For Reelection In 2024
Assemblywoman Luz Rivas announces run for district following announcement
By Evan Symon, November 21, 2023 2:30 am
San Fernando Valley-area Congressman Tony Cardenas (D-CA) announced on Monday that he will not be running for reelection in 2024, ending a nearly non-stop political career that dates back to his first elected win in the mid 1990s.
Cardenas began his elected political career by being elected to the state Assembly in 1996. There, Cardenas frequently worked with another future Congressman, Adam Schiff, even creating a joint crime-prevention act that still bears their names. Leaving the Assembly in 2002, Cardenas soon ran for and won a Los Angeles City Council seat. He served there from 2003 to 2013, where his focus was once again on youth crime prevention.
In 2012, he ran for the House, winning the district covering much of the valley. Since then, he has focused on, in addition to crime issues, animal rights and clean energy. In recent years he has faced criticism for not thinking independently away from any party-line issues, voting in-line with President Joe Biden's stance on issues 100% of the time. He was also accused of child molestation in the late 2010s, although those charges were never acted upon due to the accuser dropping the suit when no evidence was found.
Despite a decade of experience in Washington and no indication of any plans beforehand, Cardenas abruptly announced his retirement on Monday.
"Today, I'm announcing I won't seek reelection to the U.S. House of Representatives, and I will retire at the end of 2024 when this term concludes," said Cardenas in a statement.
— Rep. Tony Cárdenas (@RepCardenas) November 21, 2023
In a later statement, the Congressman gave his reasons for not running, adding that "It will be the first time in 28 years that I'm not on the ballot. The truth of the matter is I thought I could do this just for a few years. I'm just at the age where I have enough energy and experience to maybe do something different and have another chapter of a career where I don't have to go to Washington, D.C., 32 weeks out of the year."
Cardenas to retire
While Cardenas' seat is largely safe for Democrats due to the 29th District being in a solid blue area, his retirement is only the latest this year for Californian House Democrats. Congresswomen Katie Porter (D-CA) and Barbara Lee (D-CA), as well as Congressman Adam Schiff (D-CA) all opted out of reelection in 2024 to run for the late Senator Dianne Feinstein's seat. Add in Congresswoman Grace Napolitano (D-CA) also leaving, and that is five experienced Congressional members leaving office, with more likely to come in the next few months during the usual retirement announcement window.
While some of those seats are on the fence for Republicans to take over, with the most notable being Scott Baugh currently leading in polls in Katie Porter's district over Assemblyman Dave Min (D-Orange County), the 29th District will likely pit major area Democrats against each other. One, Assemblywoman Luz Rivas (D-Palmdale) has already announced her run, with Cardenas even giving her his support on Monday following his retirement announcement.
"Tony Cardenas has been a tireless voice for working families, children, and immigrants," said Rivas. "He is a true visionary who championed green energy, justice reform, and animal rights long before these issues became popular."
Political experts noted that, despite younger Democrats stepping up in races, the experience being lost will likely be felt in 2025, especially if some of the races go to GOP candidates instead.
"That is a lot of experience going out the window," added Brie Logan, a political campaign consultant to the Globe. "Schiff, Lee, and Porter, you know, only one of them will get the Senate seat in the end. So that is two out. Three if they really get hosed by Garvey. Napolitano is up there in age too, but Cardenas, well, no one was expecting him today. He does have a solid Democratic district, but that just means another Congressional member starting at the bottom too. The Democrats should have really planned retirements this year better, or told people to please run or don't run. Even more worrying for them is who else is going to bow out, and will they be in a district where a Republican could possibly win?"
More Congressional retirement announcements are expected in the coming months.

Latest posts by Evan Symon
(see all)