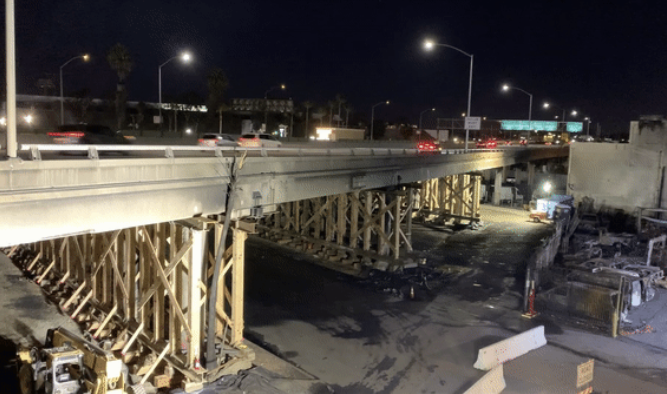 How Did I-10 Reopen All Lanes In Damaged Stretch In LA Weeks Ahead Of Schedule?
'The politicians really sort of hijacked all of this and are using this terrible incident as some sort of grandstanding thing'
By Evan Symon, November 20, 2023 6:04 pm
The fire damaged section of Interstate 10 in Los Angeles that caused major traffic issues for the past week fully reopened weeks ahead of schedule Sunday night, following days of intensive bracing and repair work, with many questioning if it reopened too fast because of the extensive damage.
A large section of the I-10 closed following a large fire that occurred last weekend. While the damage was initially thought to have been so bad  that a total rebuild was needed, subsequent tests upgraded the situation to being repairable, with a reopening timeline moved from "months" to "between 3 and 5 weeks" early last week. Despite this, the cost of the job, due in part to crews being assigned to work on repairs 24/7, remained high, with the main person of interest who started the blaze continuing to allude authorities.
Late last week, Governor Newsom moved up the timeline again, announcing a partial reopen in time for Tuesday of this week. With crews working around the clock, repairs continued on the stretch of I-10, with workers bracing the burnt areas with wooden, and in some areas, metal braces. These greatly increased the overall strength of the overpass area. Because of the massive economic and commuter impact of I-10, as well as the "around-the-clock efforts of crews and engineers on and off-site, better-than-expected structural testing results, rapid debris removal, and close coordination between state, local, and federal government officials", the section reopened far earlier than expected during the weekend, reopening in full late Sunday night.
ALL LANES ARE NOW OPEN ON INTERSTATE 10 BETWEEN ALAMEDA ST. AND THE EAST LA INTERCHANGE.

— CHP_LA_TRAFFIC (@CHP_LA_TRAFFIC) November 20, 2023
In a statement on Sunday, Governor Gavin Newsom said "What began as months has turned into days — before Angelenos hit the road on Monday, we're opening the 10 back up. Thanks to the tireless work of Caltrans and union construction crews and with help from our partners — from the Mayor's office to the White House — the 10's expedited repair is proof and a point of pride that here in California, we deliver."
Mayor Karen Bass, who has largely been working tandem with Newsom on the situation, added "The 10 will be safe to drive on weeks ahead of schedule because of urgent action and collaboration at all levels of government. When we work together, nothing can stop Los Angeles. Right when this happened, I heard from our state and federal partners that they would let nothing stand in our way. The White House and the Governor's Office not only lived up to that promise, they helped us exceed all expectations. Today is proof of locking arms delivering real results for the people of this city."
Federal officials also acted positively on Sunday. However, U.S. Secretary of Transportation Pete Buttigieg and Federal Highway Administrator Shailen Bhatt, both of whom secured money and resources for the rebuilding, did not give the official federal response. Instead, that was saved for Vice President Kamala Harris, who was in Los Angeles over the weekend and visited the site along with Governor Newsom, Mayor Bass, Senator Alex Padilla (D-CA) and other officials.
"The work that happened here is extraordinary," said Vice President Harris. "It was possible with the will and ambition of the workers on the ground, and their commitment as public servants and as union members to get this done and deliver for the people of Los Angeles. This is the kind of work that is happening around the country – where hard-working men and women, carpenters, laborers, and government workers, are rebuilding America's infrastructure. Thank you to those workers for your commitment to the country."
While the I-10 performed as usual throughout Monday in LA, many have questioned just how ready the California Department of Transportation (Caltrans) and others were in reopening on the accelerated timeline this week.
The Ten reopens in LA
As one local told the Globe on Monday, "From the ground, it looks like a bunch of wood is holding up the I-10. They're just keeping it up and holding it together instead of doing actual repair work. I know it is probably stronger than it looks and that we need it for Thanksgiving, but this feels really rushed and I wish we had a few more days. A lot of people would have felt better."
A Caltrans worker, speaking under condition of anonymity, added in a Globe interview, "We wouldn't have reopened it if we knew it wouldn't stay up. We're talking about a ton of engineers and experts with lots of experience, with the added experience of things like earthquake retrofitting and those spans needing to stay up during increased stresses. No one wants another 35W."
"That being said, the politicians really sort of hijacked all of this and are using this terrible incident as some sort of grandstanding thing. As one of my supervisors told me, this is an 'easy win' for them politically. I mean, being able to say that they 'led the way' in reopening a major damaged section of a vital highway weeks ahead of schedule?"
"And it's not that they did it, because as any government employee knows, having someone higher up claim victory for something that should really just go to a Department or Agency doing what they normally do, that happens all the time. It's how they did it, like they were saying 'Look, they told us it would take the rest of the year, but through us, it only took a week!'. You're right in using the word smug in there too. They wanted it all reopened for the Thanksgiving rush, and everyone was pressured to make it happen. That's what happened."
"They did mention us in speeches, but they didn't even say the Directors name. They just said 'Caltrans' in general, as well as 'union construction crews'. I mean, did they have to point out they were union? You kind of have to be to get the contracts anyway. It was all about them, and not in the usual way."
"But yeah, it is safe. Everyone involved checked and rechecked it. We wanted the ten back up and running like anyone, and no one wants to see their name in the news for when something goes bad. Or as that same Supervisor told us 'However bad you think the news will come down on you for screwing up, every politician here just put their seal of approval on it. If they fall, you sure as hell will'. You have to believe that that is extra motivation to make sure it is absolutely ready."
More on repair work for the I-10, as well as the police investigation into those responsible for the fire, is due to come this week.

Latest posts by Evan Symon
(see all)