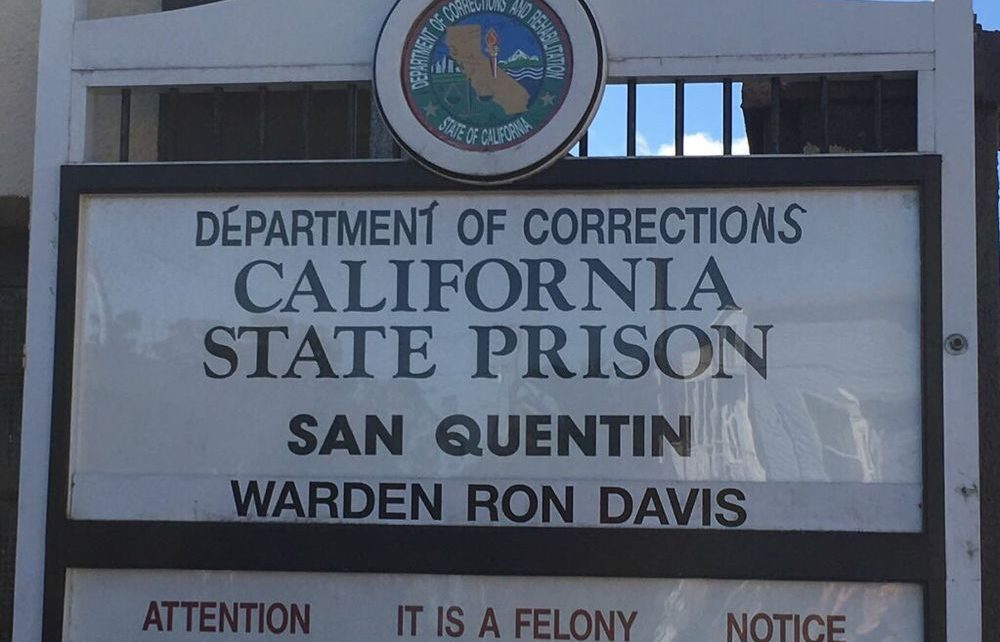 Gov. Gavin Newsom Issues a Death Sentence on California's Death Penalty
'Governor's decision of blanket reprieve of executions is abuse of power'
By Katy Grimes, March 13, 2019 2:28 pm
California Gov. Gavin Newsom announced Wednesday that he is granting reprieves for all death penalty murderers on California's death row, calling the death penalty "ineffective, irreversible and immoral." He then signed an executive order putting a moratorium on the executions of the 737 inmates currently incarcerated in California's death row.
With Newsom's announcement a political friend said, "Another 737 just went down."
"We cannot advance the death penalty in an effort to soften the blow of what happens to these victims," Newsom said. "If someone kills, we do not kill. We're better than that."
In 2016, California voters rejected a ballot initiative that would have repealed the death penalty, and instead voted to expedite the executions of the inmates currently sitting on death row. Newsom supported the initiative to repeal. "The Governor clearly does not represent the majority of people in this state who want to see justice served for these heinous crimes," said Assemblywoman Melissa Melendez (R-Lake Elsinore).
At his press conference, Newsom told a lengthy story of when he was a child, meeting a wrongly convicted man, and the impression it left on him. But victim's groups are appalled.
"With his announcement that he is granting sentencing reprieves for all death penalty eligible murderers on California's death row, Governor Gavin Newsom has substituted his own opinion for the repeated decisions of the state's voters," Michael Rushford with the Criminal Justice Legal Foundation said in an interview.
"The people have voted for the death penalty eleven times since 1972, including three times in the last seven years," said Criminal Justice Legal Foundation Legal Director Kent Scheidegger in a press statement. "The Governor's decision to grant a blanket reprieve to prevent executions is an abuse of power and a slap in the face of the families of murder victims."
"The Governor can reprieve a case that raises a question, but this law was never meant to do a blanket moratorium," Rushford added. "In a recent court filing, California Attorney General Xavier Becerra joined with murderers" and asked the federal court of appeals to reject a motion by the families of murder victims seeking to stay an illegal injunction that prevents the California Department of Corrections and Rehabilitation from making itself able to carry out executions of the state's worst murderers, Rushford said. "The AG said 'victims are just bystanders, and they have no legal standing.'"
"Governor Newsom callously disregards the anguish of these families and rips from them any sense of justice, victimizing them all over again," Sen. Jim Nielsen (R-Gerber) said. "The Governor has the authority to delay the implementation of the law but his action is eroding faith of California voters in our democracy and our system of justice."
"These are the 737 inmates on California's death row," the Los Angeles Times reported. The LAT posted a database of all 737 inmates with the ability to click on a photo and read about the heinous crimes committed: serial killers, gang murderers, botched robberies/murders, violent crimes of passion, and some of the most vile, evil crimes imaginable are included.
Newsom, in prepared remarks prior to the press conference, also said the system has wasted "billions of taxpayer dollars." However, Newsom was Lt. Gov. for eight years, and with Gov. Jerry Brown's long history of opposing the death penalty, neither ever proposed actual reforms to the death penalty process. Currently, once a criminal is convicted to death row, he is granted three automatic appeals, which take decades. Most death row inmates die of old age rather than being put to death for their crimes.
Many sincere criminal justice reformers have proposed ways to speed up the appeals process, to not only bring swift justice to the victims, but to help root out wrongly convicted persons, rather than letting them rot in prison unjustly.
In 2016 when Prop. 66 was passed, it was intended to be a remedy to the most heinous criminals sitting on death row for 30 years, with endless appeals delaying justice and costing taxpayers hundreds of millions – and to ensure no innocent person was executed. Opponents sued, taking the case to the California Supreme Court, which upheld voters' decision, but watered down a part of the initiative. The Court stated that provisions requiring the state to speed up the death penalty appeals process were directive, rather than mandatory.
Other reactions:
Senator Patricia Bates (R-Laguna Niguel):
"The announcement benefits people like Randy Kraft who butchered at least 16 young men and Scott Peterson who was convicted of murdering his wife and their unborn child. It sends the terrible message that the taking of innocent life will not be punished to the fullest extent of the law.  Handing out unearned reprieves will only add to the pain felt by many of the victims' relatives."
Michele Hanisee, president, Association of Deputy District Attorneys said in a press statement:
"The voters of the State of California support the death penalty. That is powerfully demonstrated by their approval of Proposition 66 in 2016 to ensure the death penalty is implemented, and their rejection of measures to end the death penalty in 2016 and 2012. Governor Newsom, who supported the failed initiative to end the death penalty in 2012, is usurping the express will of California voters and substituting his personal preferences via this hasty and ill-considered moratorium on the death penalty."
Re:store Justice said in a statement:
"This is a historic moment for California's criminal justice system with Governor Newsom's leadership to place a moratorium on the inhumane and discriminatory death penalty," said Re:store Justice executive director and co-founder Alexandria Mallick.
Sen. Scott Wiener (D-San Francisco), said in a press statement:
"I applaud Governor Newsom for his courageous decision to a stop to all executions in California. The death penalty doesn't make our communities safer, is immoral, and has huge racial disparities. It is time to end capital punishment in our state."
Sen. John Moorlach (R-Costa Mesa) said in a press statement:
Indeed, during last year's campaign for governor, a Newsom spokesperson said that, while he was personally opposed to the death penalty, "he recognizes that California voters have spoken on the issue and, if elected governor, he'd respect the will of the electorate by following and implementing the law." Now that he has won that office, he's knowingly defying the electorate.
Another aspect is the convicted killers come from the state's counties whose elected District Attorneys spent $1 million or more to obtain each of these death sentences. It costs that much to obtain the death penalty, versus life in prison. Therefore, the counties have spent some $737 million to respect current law and the wishes of the constituents of the elected District Attorneys.
President Donald Trump said in a Tweet:
"Defying voters, the Governor of California will halt all death penalty executions of 737 stone cold killers. Friends and families of the always forgotten VICTIMS are not thrilled, and neither am I!"
Latest posts by Katy Grimes
(see all)