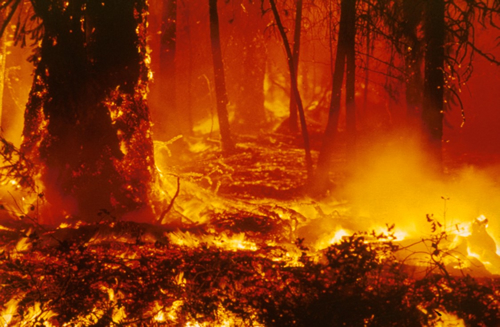 Man Who Set 2020 Big Sur Dolan Fire Sentenced to 24 Years in Prison
Dolan Fire killed 12 endangered birds, injured 15, cost the state $63 million to fight
By Evan Symon, May 20, 2022 12:43 pm
Monterey County District Attorney Jeannine Pacioni announced on Thursday that Monterey County Superior Court Judge Pamela Butler had sentenced the arsonist who set off the Dolan Fire in August 2020 to 24 years in prison due to the fire injuring firefighters, destroying homes, and killing 12 critically endangered California condors.
On August 18, 2020, the Dolan Fire was first spotted by California State Parks and Recreation officers in an area of the Los Padres National Forest. While firefighters were quickly dispatched to battle the wildfire, other officers responded to calls of a man throwing rocks at vehicles at the side of Highway 1. When confronted, the man, Ivan Gomez, stated that he had just set fire to his illegal marijuana grow operation. He was subsequently arrested.
Meanwhile, the fire grew over the ensuing weeks, eventually burning up 128,050 acres of forest in the Big Sur area. 15 people were injured by the fire, including multiple firefighters. One of the firefighters injured was a Captain who also received the worst injuries of anyone in the fire. 14 structures, including 10 homes and a fire station, were also destroyed. Most notably, the blaze reached a local population of California condors, a critically endangered bird and symbol of the state. 12 of the only 518 remaining were killed, with many more injured. In total, the cost of putting down the Dolan Fire was estimated at roughly $63 million.
A U.S. Forest Service Wildland Fire Investigation Team who investigated the case pinned the entire fire on Gomez. Over several weeks of investigation, they found that the fire had indeed started at the marijuana grow site identified by Gomez, found that Gomez had the time to start the fire, admitted he started the fire multiple times, and had multiple lighters on him that matched others found at the marijuana farm.
With so much evidence against Gomez, the trial went the prosecutors way. Last month, Gomez was found guilty of 16 felony counts. This led to Judge Butler's sentencing decision this week. Gomez received 9 years for arson causing serious injury to a firefighter, 5 years for the destruction of 14 structures, and another 10 years for the remaining felony counts, including multiple cruelty to animals charges and illegally cultivating marijuana.
Judge Butler sentenced him to the upper term of 9 years for the arson causing serious injury to a firefighter and an additional 5-year enhancement for destroying 14 structures, including residences. She also sentenced him consecutively for each of the additional charges, of which he was found guilty, for a total of 24 years in a state prison.
24 years for starting the Dolan Fire
Gomez was only the latest person to be charged with started fires that eventually became large wildfires in the state. In late December 2021, two men, a father and son, were arrested for allegedly starting the Caldor Fire last year that nearly burnt South Lake Tahoe. Thirty counts, including an involuntary manslaughter charge, were issued to a San Bernardino County couple for starting the El Dorado Fire in 2020 due to a gender reveal party stunt gone wrong. Others, including some who went on arson sprees, just wanted to start fires. But experts note that a clear pattern is emerging.
"They're going after people who started these fires hard now, whether they did it purposely or if it was an accident," attorney Raul Castillo, who has helped defend suspected arsonists in the past, told the Globe on Friday. "We're seeing enhancements in these cases, like with Gomez the other day. But, regardless, anything involving in contributing to a wildfire in any way will not end up well. Look at any case involving it, and you can see that they are going for max sentences, throwing in every charge possible, and in some cases making them pay financially as well as through prison time. The clear message California judges are giving is 'Don't start wildfires here.'" And, with wildfires getting worse, we're probably going to see even stiffer penalties in the coming years. These are people who are costing the state tens of millions for being a firebug. There needs to be a strong message."
Other cases involving starting or contributing to wildfires are currently pending at other courts across the state.

Latest posts by Evan Symon
(see all)