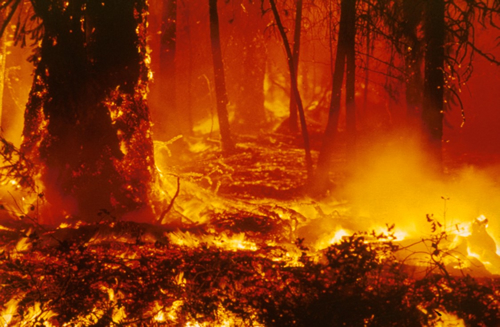 McKinney Fire Death Toll Grows to Four, Town of Klamath River Destroyed
Blaze currently 0% contained
By Evan Symon, August 3, 2022 4:19 pm
The death toll of the McKinney Fire grew to 4 on Tuesday, with the Siskiyou County town of Klamath River also being destroyed, as the blaze continues with 0% containment.
The McKinney Fire was started by still unknown means on July 29th. The fire quickly grew due to poor weather conditions, including dry thunderstorms, going from 300 acres burned on the night of the 29th to 18,000 acres the next morning. On July 31st, the first deaths were announced when a couple was found in their driveway off of Highway 96. By this time, Governor Gavin Newsom declared the fire a state of emergency for Siskiyou County.
"Governor Gavin Newsom today proclaimed a state of emergency for Siskiyou County due to the effects of the McKinney Fire, which has destroyed homes, threatened critical infrastructure and forced the evacuation of almost 2,000 residents. Intensified and spread by dry fuels, extreme drought conditions, high temperatures, winds and lightning storms, the McKinney Fire has burned more than 29,500 acres since it began," the press release said, which included no official statement from Newsom.
With the fire proving unstoppable, the town of Klamath River was evacuated. While no one died, the fire leveled the town of around 200 people, leaving few buildings remaining. Two more deaths were then announced Tuesday by CalFire, with the victims being found in the remains of homes along Highway 96.
"Everything was gone," said Candace Miller, a local resident who lost her home, to the Globe on Wednesday. "You're always very aware that it could happen here, but it really doesn't strike you until the police and others say to get out because a fire is rapidly approaching. And it's so odd. We were packing up what we could, and just before we left we the fire in the distance slowly come closer and closer. It really does move tree to tree."
"I think I'm still in shock because I haven't cried yet, but I know it's coming sooner or later. And it's hard to know who to blame. Was it lightning or an arsonist or was it an electric company like the one that did Paradise in? We don't know. All I know is that my home, and a lot of things in it, is now gone and we don't know where to go from here."
McKinney Fire 0% contained
As of Wednesday, the fire is 0% contained with the blaze now covering over 56,000 acres of burned area. In addition to the four deaths, over 100 structures, many of them being homes on Highway 96, have been destroyed. Even with an increased firefighter presence, the fire is expected to continue to grow due to the still dry conditions of the area and hot temperatures, with nearby Redding expected to hit a high of 107 F on Wednesday and Thursday.
"That's one of the things that's really driving this fire," noted McKinney Fire Public Information Officer Mike Lindbery Tuesday. "The drought conditions in California throughout the state have really impacted us. We've really seen it in the large fires over the last few years."
Politically, the fire may also affect some local races, but statewide, barring the fire from growing completely out of control, regional and statewide elections will likely not be affected.
"You can't really blame the rapid response to the fire," said Tom Alvarez, a researcher who has been studying wildfire and election result correlation in Western states since 2019, to the Globe on Wednesday. "Also, it is really hard to blame the fire on anything political. Sometimes fires do cause some upheavals and changes because people see the response after the fire to be slow or unsatisfactory, but remember this is also Siskiyou County. Over a third of the populace are registered Republicans, with only a quarter being Democrat. You'd really need something big and something that has nothing done about it to see any kind of swing in the elections there. Major candidates will definitely call for increased wildfire protection and, upon seeing what the cause is, react to that appropriately. We've been seeing the same pattern for years. Those who don't do it are quickly pounced upon."
As of Wednesday afternoon, fire crews are continuing to battle the blaze and are looking to start building containment soon.

Latest posts by Evan Symon
(see all)