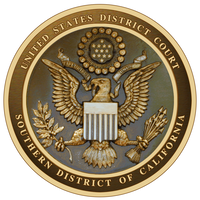 Poway Synagogue Shooter Sentenced to Life in Federal Prison
John T. Earnest killed one, injured three in Synagogue Attack in 2019
By Evan Symon, December 29, 2021 1:13 pm
The Southern District of California Federal Court in San Diego sentenced John T. Earnest, who killed one person and injured three others in a shooting at a Poway synagogue two years, to life in prison on Tuesday.
In 2019, Earnest, then a 19-year-old nursing student, was influenced by both the then-recent Christchurch, New Zealand mosque shooting and the Pittsburgh synagogue shooting to do his own attacks. After a failed attempt in March to burn down a mosque in Escondido, Earnest then turned his attention to the Chabad of Poway synagogue.
On April 27, 2019, the final day of Passover, Earnest entered the synagogue and opened fire with a rifle. He proceeded to kill Lori Gilbert Kaye and injure three others before his rifle jammed. He then fled the scene in a car while being chased out by synagogue members, and under fire himself by an off-duty border patrolman. Earnest was finally apprehended two hours later.
Reaction against the shooting was strong, with Californian and National politicians across the political spectrum denouncing the synagogue shooting and standing with the victims.
In the next few weeks, Earnest was ordered to be held without bail and was charged with 109 federal counts including 54 counts of obstruction of free exercise of religious beliefs using a dangerous weapon resulting in death, bodily injury and attempts to kill, 54 counts of hate crimes under the Matthew Shepard and James Byrd Jr. Hate Crimes Prevention Act, and one count of damaging religious property stemming from his earlier mosque attack.
Following a trial delayed by the COVID-19 pandemic, Earnest pleaded guilty and was initially sentenced to life in prison with no chance of parole, along with a combined extra 136 years, in a plea deal with the San Diego County Attorney's Office to avoid the death penalty.
On Tuesday, Earnest was sentenced again under federal charges, getting a second life sentence as well as another 30 years. Due to Earnest being convicted under federal charges, he will now be kept in the federal prison system instead of a state prison.
A life sentence for the Poway shooter
Federal lawyers noted on Tuesday that Earnest will now never be outside the federal court system for the rest of his life.
"The defendant targeted his victims because he hated the Jewish community and Muslim community, hatred that has no place in our society and hatred that will never, never win," said Randy Grossman, U.S. Attorney for the Southern District of California, Tuesday after the sentencing. "The defendant and his hatred have been silenced. He will spend the rest of his days and die in prison, while he languishes behind bars."
"Today we stand with the family of Lori Gilbert Kaye, the wounded, and all who suffered as a result of the defendant's heinous crimes. The United States Attorney's Office and our law enforcement partners reject all forms of hatred and prejudice, and we will relentlessly pursue justice for the victims of bias-motivated violence."
Attorney General Merrick Garland also remarked on the sentencing, saying, "All people in this country should be able to freely exercise their religion without fear of being attacked. This defendant's horrific crime was an assault on fundamental principles of our nation. The Justice Department is steadfast in its commitment to confronting unlawful acts of hate and to holding perpetrators of hate-fueled violence accountable."
Legal experts added that Earnest's shooting and sentencing would likely to continue to have an effect for at least the near-future.
"It's not often that you get one of these shooters alive," Michelle Duggan, a Washington-based lawyer who has been a part of hate crime cases in the past, told the Globe on Wednesday. "Whenever it happens, the federal government steps in and makes sure they at least get life in prison with no parole. Minimum. Hate crimes they always go for the max. In this case, the perpetrator just managed to avoid the death penalty."
"The Poway case will continue to be influential. They had a shooter, which usually weakens any second amendment arguments out there, but this one had a citizen with a gun fighting back with one, helping chase the shooter away, so that may come up. On the broader scale, people being disgusted by the incident was universal, so it's an incident more likely to be brought up in speeches, especially with the big mid-terms coming up."
Earnest is expected to be transferred to a federal prison soon.

Latest posts by Evan Symon
(see all)