Presidential Hopeful Bernie Sanders Holds Large Rally In Downtown Sacramento
'The country belongs to all of us, not just the wealthy campaign contributors'
By Katy Grimes, August 22, 2019 10:19 pm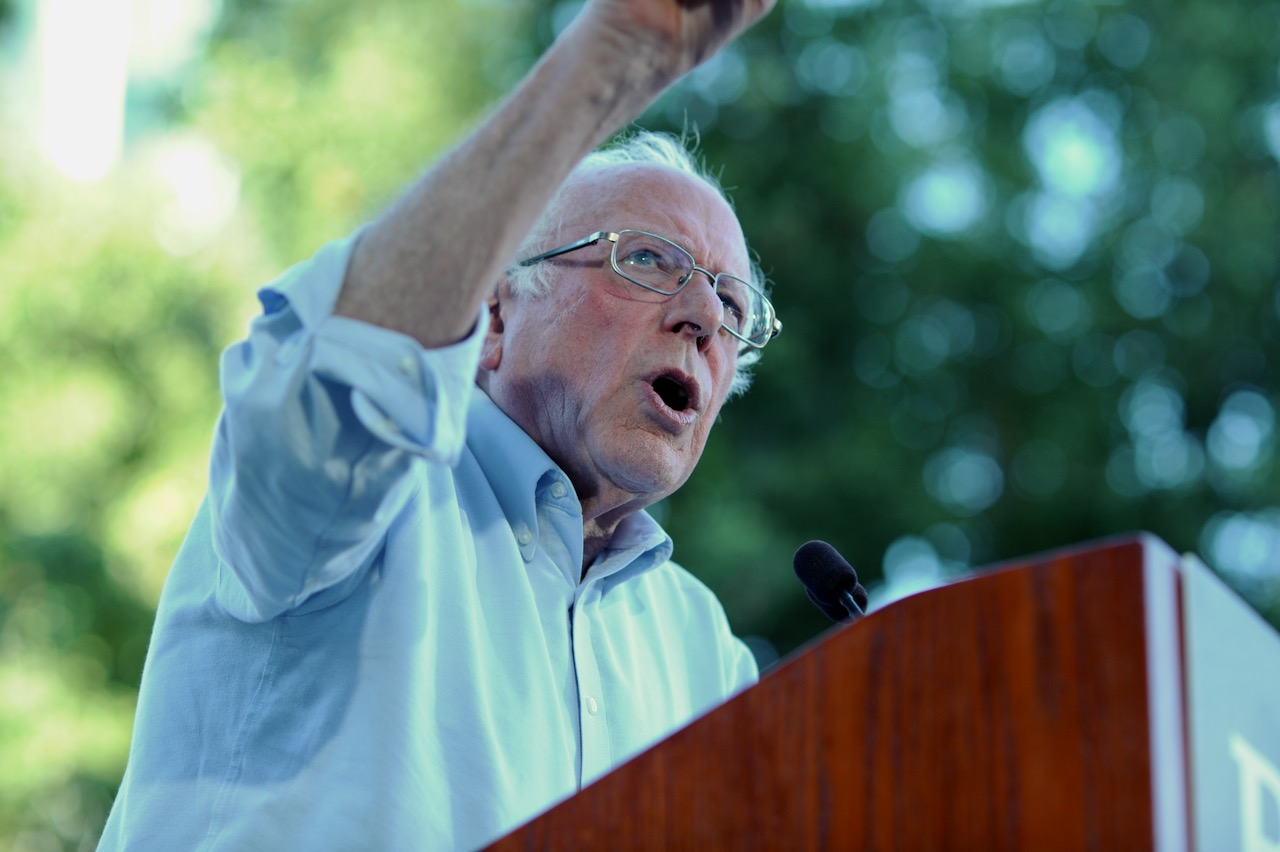 "I'm here this evening to ask for your help to win the Democratic primary in California," said Bernie Sanders, the U.S. Senator from Vermont, to a wildly cheering crowd Thursday evening. "This is about defeating the most dangerous President in history."
Sanders said he wants to "defeat badly" Donald Trump.
More than 1,000 Sanders supporters attended the campaign rally in Cesar Chavez Park in downtown Sacramento on a hot Thursday evening. The diverse crowd showed it was in lockstep with Bernie on the issues – from proud aging hippies, to political hipsters, teens, college kids, moms and dads with toddlers in tow, grandma and grandpa, everyone at the rally clearly felt welcome, even if it was just to "feel the Bern" for an evening.
Sanders hit hard on several points of change including free healthcare "without ever taking out your wallet," no hospital costs, teachers starting salaries at $60,000, making "public colleges and universities tuition-free," decriminalizing marijuana in America, overturning Citizens United, removing the Electoral college and making the election system "one person, one vote," and taking the "billionaire class" down a few notches by "creating an economy that works for all."
A woman walked around the crowd before the rally began and asked Bernie supporters if they thought corporations should be able to vote and if they should be allowed to vote. During the rally, Sanders said corporations cannot vote and do not belong in our elections.
The crowd cheered. Even a few journalists covering the event cheered and waved their fists.
"We need to develop a sense of outrage not currently acceptable," Sanders said.
Bernie Sanders said, "in order to transform the country, we need to take on Wall Street, insurance companies, fossil fuels, the prison industrial complex, the military industrial complex, and the top one percent."
"The country belongs to all of us, not just the wealthy campaign contributors," he said.
Sanders said he wants a political revolution. "It's too late to nibble around the edges. Now is the time for profound change."
"What makes this campaign different is the understanding that no president, not Bernie Sanders or anybody else, can do it alone," Sanders said. "In these unprecedented times, we need an unprecedented political movement."
Prior to the campaign rally, Sanders visited the town of Paradise, destroyed by the deadly 2018 Camp Fire. He said he held a town hall meeting in Chico. Sanders said he introduced his own version of a "Green New Deal" to battle climate change, claiming that the deadly Paradise wildfire last year was climate change related.
"Let us be clear that if we do not act together — and by that I mean not only in California, not only in America but all over the world — we will see more devastating disasters like the terrible wildfires we have seen here in Paradise," Sanders said at the town hall, meeting in Chico, posted on Facebook.
Notably, poll after poll shows Americans still believe the American dream is achievable, which translates into being not as concerned about inequality than Sanders and his campaign would like.
As for proposals to hike taxes on the most wealthy Americans, and Bernie counting on those as winning political arguments, many Americans see the wealthy, as well as successful corporations, as employers who pay well, and offer quality benefits.
A small crowd of Trump supporters showed up carrying Trump flags and wearing Trump t-shirts, and heckled a few Bernie supporters in good spirit. One young women just stood in front of them and blew loudly on a whistle, refusing to engage in conversation.
Latest posts by Katy Grimes
(see all)