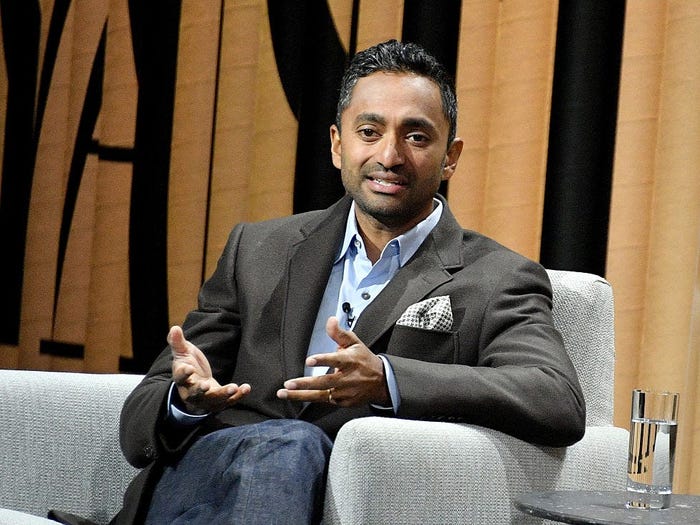 Billionaire VC Chamath Palihapitiya Announces Gubernatorial Run
With California's recall election, who will be candidate for Governor?
By Evan Symon, January 27, 2021 5:30 pm
Social Capital CEO, Golden State Warriors board member Chamath Palihapitiya is banking on a successful recall of Governor Newsom. With a possible or even probable recall of Gavin Newsom happening this year, there are rumored replacement candidates, and a few confirmed.
On Tuesday, venture capitalist Chamath Palihapitiya announced his run for Governor.
Palihapitiya, who is also the CEO of the VC firm Social Capital, announced the run following more high profile entrants such as former San Diego Mayor Kevin Faulconer and 2018 Republican candidate for Governor John Cox announcing exploratory committees in the last few months.
Unlike the other major candidates, who either held major public offices before or have run for them, Palihapitiya has yet to run for an election. Born in 1976 in Sri Lanka, Palihapitiya's family moved to Canada in the 1980's. After graduating from the University of Waterloo, Palihapitiya moved to California in 2000. Advancing quickly through the tech world, Palihapitiya became a Vice President at AOL in 2004. Within the next year he became one of the earliest employees at Facebook. In 2011 he left Facebook and started his own VC and took leadership roles in several companies, including becoming a board of director for Slack and the Golden State Warriors.
During this time he also made forays into politics, such as starting the FWD.us lobbying group that focused on immigration and education, as well as challenging many politicians over policies, such as former San Francisco Mayor Ed Lee over housing and startup business issues. However, he has yet to run for an office, with a 2021/2 gubernatorial run being his first.
Palihapitiya is running for office both due to the growing effort to recall Governor Gavin Newsom and because of many major Californian issues falling in-line with Palihapitiya's political beliefs. His platform, released earlier this week, is a mix of fiscally conservative and socially liberal stances. He wants state tax to be reduced from 16% to 0%, but also favors student loan removal, $70,000 base salary for public school teachers, $2,000 given for each child born in California, and a focus on tech and environmental jobs.
However, despite his announcement, many political experts say that he has a long road ahead of him.
"Chamath Palihapitiya is an interesting candidate, but he's going to be held back by several factors," political opinion analytics director Frank Barker told the Globe. "First of all, he's coming in as a Facebook venture capitalist. The GOP is trying to slide with someone with political experience and Democrats don't want to touch people like that. 'Silicon Valley billionaire' is not exactly the most friendly title in California right now, not with so many people out of work and struggling. Those three words make him automatically out of touch for many."
"He's also missing out on both experience and political backing. Gavin Newsom and Jerry Brown had years of elected experience, with Meg Whitman and John Cox being long-time political players and more conservative business leaders. Even Arnold Schwarzenegger had presidential appointments and won reelection based on his first term in '06."
"He also has the Bay Area tied to him. That's not only associated with Gavin Newsom, but it's where most of the California exodus is happening. Even LA and San Diego have bay area people still moving there because it's somehow cheaper. That's going to hurt him as anyone below Fresno right now is tiring of Bay Area politicians getting into higher offices in the state. Many above it too."
"But he does have the money, he has some name recognition, and his immigrant background could help him out.
"A lot of people are banking on Newsom being recalled this year for a serious crack at the job, and Palihapitiya is among them. It will be interesting to see where this goes."
Palihapitiya's run is largely dependent on Newsom's successful recall. As of Wednesday, over 1.2 million signatures have been submitted, more than 75% of the amount needed to trigger an election.

Latest posts by Evan Symon
(see all)