Demanding Rights They Already Have, What Are Women Marchers So Angry About?
Suffragettes in the year of our Lord 2020
By Katy Grimes, January 19, 2020 11:08 am
Ironically, the Desert Tortoise, Delta Smelt and Spotted Owl have more rights than the 'unborn.'
Planned Parenthood signs, Grannies From Davis, UC Davis students, and thousands of other angry women marched again at the California State Capitol on Saturday.
"It's been four years of insults and division and Twitter temper tantrums and we're done," Sacramento City Councilwoman Angelique Ashby, said, according to the Sacramento Bee. "The people he [Trump] has selected to oversee our most important offices in the nation, education, environment and even the Supreme Court are not worthy of their posts. And yet we have survived."
"Survived?" Really. By all accounts, most Americans are doing much better than four years ago. What are we "surviving" exactly? A booming economy? The landmark trade deal with China? The blue-collar labor boom? The United States-Mexico-Canada Agreement? The low unemployment rate at 3.5 percent, matching the lowest rate since May 1969? Or that more Hispanics, African Americans and women than ever are in the workforce?
Why aren't they celebrating California's "budget surplus?"
"Resist!"
What are the complaints of the marching women wearing pink p*ssy hats holding vulgar signs about the rights of their genitalia?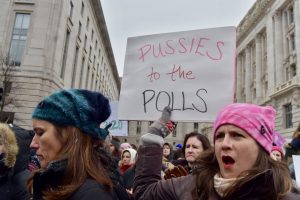 "We started this effort four years ago because we were angry and disgusted," Ashby said. "How could a man who treats women so vulgarly even be considered for the top office of the United States of America? Forget his politics, he's not morally fit for the position."
Some women's disgust is so four years ago – they are still bringing up the Access Hollywood Billy Bush tape with Donald Trump, which wasn't anything then-Candidate Trump did, but said he could do because of his stardom. Former Democratic President Bill Clinton actually did what he was accused of, but these same women were silent.
They say "he's not morally fit." Yet these women have marched for years in support of Planned Parenthood, carrying signs supporting killing unwanted babies through abortions, which is a legal right now because women wanted this "right."
Ironically, the Desert Tortoise, Delta Smelt and Spotted Owl have more rights than the "unborn."  Convicted prisoners have "prisoners rights," and those convicted of the most heinous crimes on death row die of old age after exhausting years and years of taxpayer-paid legal appeals. Notably, killing cougars and threatening tortoises is punishable by imprisonment in the county jail for one year, and a fine of $10,000.
What rights do women not have? The right to vote? The right to protest? The right to work? The right to not not marry or not have children? The right to equal pay?
Are these women in the year 2020 suffragettes? A suffragette was a 20th Century member of militant women's organizations fighting for "Votes for Women." The 19th Amendment to the U.S. Constitution granted American women the right to vote, ratified on August 18, 1920.
On the issue of equal pay, it's often in Democrat politicians' offices where women are paid less than their male counterparts, especially in the California Legislature.
In 2015, it was the Sacramento Bee, and not the California Legislative Women's Caucus, that analyzed the Legislature's own payroll finding significant wage gaps between the 2,100 men and women employees of the Legislature:
▪ In the Assembly, women make 92 cents on the dollar compared to men. In the Senate, women make 94 cents on the dollar compared to men.
▪ In both houses, the five highest-paid employees are men. Among the 41 employees across both houses who make $150,000 or more, 61 percent of the positions are held by men.
▪ Within specific job categories, the average pay for men and women is rarely equal. In higher-paid categories – such as chief of staff or chief consultant – men, on average, make more than women with the same title.
▪ When women make more than men with the same job title, it tends to be in lower-paid job categories, such as executive secretary or committee assistant – positions that are dominated by female employees.
This forced the California Senate in 2017 to give 10 percent raises to 71 employees to shrink the gender pay gap.
Back at the rally, random women were interviewed by the Bee:
"Women's rights are tangled with the rights of all people," said one woman.
"Immigrants, climate change and corrupt corporations," said one orange-haired woman in a unicorn outfit. "It's personhood, and he never released his taxes."
"Reproductive rights… it is huge for women. Black lives matter…" she added.
A young female student at UC Davis talking about how empowering it was to be at the march, and then pivoted to the importance of "reproductive rights," and Planned Parenthood.
The absurd notion of "female empowerment" amounts to nothing more than screaming, angry female leftists demanding rights they already have.
Leftist feminist women deny that they have the power to unite, or the power to divide. Women have amazing power, but when used destructively is devastating.
Latest posts by Katy Grimes
(see all)