Gov. Gavin Newsom's 'Dinnergate' Apology Grows From Little White Lie to Whopper
This was no 'Freudian' slip or 'political gaffe'
By Katy Grimes, November 23, 2020 5:26 pm
We know that with too many politicians "the ends justify the means," meaning the desired result is so important that any method, even a morally bad one, may be used to achieve it.
Gov. Gavin Newsom was caught in recent weeks dining in Napa Valley with a large dinner party at the swanky French Laundry restaurant, violating his own COVID stay-at-home orders. Monday at his press briefing, he issued a duplicitous apology, arguing that Napa was in the less restrictive orange tier of his lockdown, he was caught off guard, and the party was outside… as if that minimized his personal breach.
Newsom smiled and smirked and even lied during his apology to the people, claiming the dinner party was outside. Photos taken by another guest dining at the French Laundry show that his large group was indeed indoors.
But the dishonesty doesn't stop there.
As any Capitol insider and observer knows, all California Governors have professional and extensive security detail, provided by the California Highway Patrol. The governor doesn't show up anywhere unaware, and doesn't go anywhere without detailed coordination by his advance security team. They know who will be at the event, and go so far as to require names, companies/affiliations, and phone numbers.
The California Globe has been told Newsom's CHP security totals 20 officers.
The dinner party was for Jason Kinney, "a respected Sacramento-based public affairs consultant and political communications expert, who has advised California's best known public officials, most prominent job creators, and most impactful political associations," according to his firm bio.
Kinney, a 20-year friend and political consultant to the governor, held the party at the famed Michelin-starred restaurant, The French Laundry in Yountville, California Globe reported. On the Chef's tasting menu, the starting meal costs $310 per person, before wine.
Gov. Newsom tried to be contrite in issuing an apology last week saying, "Instead of sitting down I should have gotten back in my car and gone home." The Governor doesn't drive… as if he actually would have gotten in "his car" and gone home. The Governor has a driver everywhere he goes in addition to his security detail.
However, since his apology and lie about dining outdoors, a few more untruths have been exposed.
"I own the mistake. I expect more from myself. I'll never do it again," Newsom said. It wasn't clear whether he meant he won't dine with more than 10 people again per his own lockdown orders, or if he won't get caught dining with more than 10 people again, because he still has not explained why he restricted "gatherings" for the great unwashed of California to 10 people or less.
Clearly if Gov. Newsom doesn't feel threatened dining with 10 or more people, why should anyone else?
Some reported that there were actually 20 people at the dinner party. There are also figures for the bar tab ranging from $12,000 to $15,000.
Reporter Adam Housely posted on Twitter that the bar tab was $15,000 and there were 22 guests at the Kinney birthday dinner – not the 12 Gov. Newsom claimed. If everyone at the party imbibed and/or paid their own bar tab, it would have cost each of the 22 guests $682.00 per person just for the liquor.
For information on Jason Kinney, Dan Walters reported:
"lobbyist Jason Kinney, a veteran political consultant and a long-time Newsom friend who founded a lobbying firm, Axiom Advisors, shortly after Newsom was elected in 2018."
As Politico pointed out in a quickly reported and written article, "Axiom reaped $10.9 million worth of lobbying work in 2019-20, the first legislative session during which Newsom was governor."
The firm has nine lobbyists and more than 80 clients, most of whom are corporate entities or coalitions who in Capitol politics would be jousting with interests, such as unions and environmental groups, associated with Newsom's Democratic Party."
Walters also reminds readers that Jason Kinney was a speechwriter for the last recalled California Governor Gray Davis.
The Globe has spoken to lobbyists and Capitol staffers who report that Kinney has been in and out of Gov. Newsom's office as if he's Chief of Staff, since the governor was elected – even if the governor is out of town. They also say Kinney tells potential and existing clients he is a senior advisor to the Governor. But how can he be senior advisor to the governor and a lobbyist representing private sector clients, who then lobby the governor?
Kinney, who is a consultant to the California Medical Association, dined with CMA's CEO and lobbyist at the French Laundry birthday dinner, according to news reports.
"The California Medical Assn. on Wednesday confirmed that Dustin Corcoran, the association's chief executive, and its top lobbyist Janus Norman attended the Nov. 6 dinner at the Michelin-starred French Laundry in Yountville for Jason Kinney, a close friend of the governor and lobbyist with his own firm, Axiom Advisors," the Los Angeles Times reported. "The event and the photos emphasized Newsom's close ties to top lobbyists at the state Capitol and led to criticism that the governor is flouting the safety guidelines he has set for Californians. Newsom said Monday that he and his wife paid for their meals."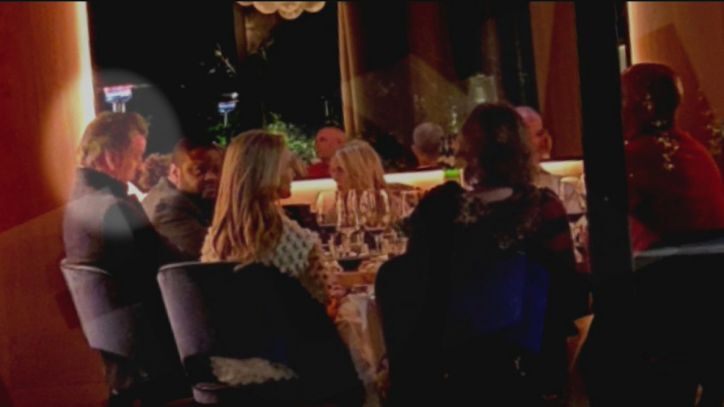 Both Dustin Corcoran and Janus Norman can be seen in the photo at the French Laundry seated near Gavin Newsom without masks on or socially distanced, leading many to believe that just as with Gov. Newsom, they also don't feel threatened or in danger of contracting coronavirus in the company of 22 other people while dining indoors.
We may have to wait until next quarter to access the politician and lobbyist financial reports to learn who paid for the dinner, and whether it was expensed back to the California Medical Association.
1/2 Because Yountville is my hometown..and where the French Laundry is located…I thought I'd do some digging. Facts about the Newsom dinner. The bar bill was around 15-thousand. 22 people in attendance, not 12. No masks. All indoors. They got so loud, other patrons complained

— Adam Housley (@adamhousley) November 23, 2020
Latest posts by Katy Grimes
(see all)