Racehorse Deaths Continue At Santa Anita Park Despite New Laws Passed By The State Legislature
33 deaths have been recorded since December of 2018
By Evan Symon, October 10, 2019 7:10 am
The 33rd horses death at Santa Anita Park since December of last year occurred early this month, calling into question the effectiveness of earlier legislative action.
Beginning in December of last year, a large number of horses began dying at the Northern Los Angeles County racetrack Santa Anita Park. Most of them, including the fatality earlier this month, were of stress induced conditions and complications, including heart attacks.
By early March there were 21 confirmed deaths, and by June the number shot up to 30.
Some action was taken. In June horse trainers who had multiple horses die under their watch were banned from the park. The same month, the California Horse Racing Board created a safety review team for all parks across California, and Santa Anita introduced a veterinarian team to oversee the horses.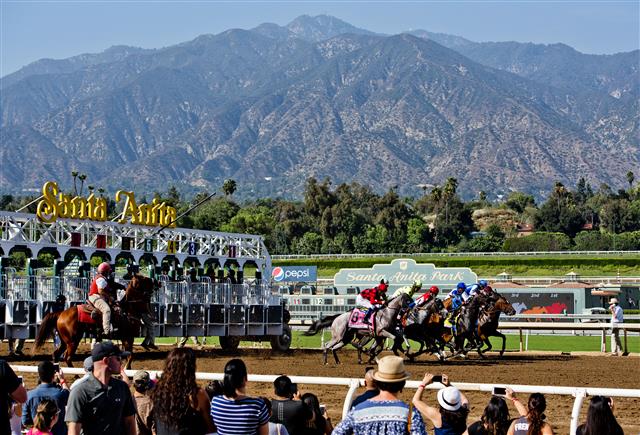 Most significantly, SB 469, sponsored by Senator Bill Dodd (D-Napa), was signed into law around the same time. SB 469 gave the California Horse Racing Board authority to immediately suspend any meeting or race in the state, and gave them protecting power for the horses if the need should arise. Basically, any and all horse races became under their control.
"Both Senator Dodd and I believe that California's horse racing industry must be willing to accept and adopt forward thinking solutions to address long-standing issues and debates," said Assemblyman Adam Gray (D-Merced) earlier this year about the bill. "[SB 469] will give the committees an opportunity to conduct a thorough review of the industry's safety track record, and highlight new and potentially necessary reforms to improve safe racing conditions."
While these measures reduced the death rate, horses have still been dying at least once a month at the Park. It is still considered above normal.
"It's actually incredible," said Marco Ruiz, a former jockey at tracks in California and Florida. "You would have to actively be working to run these horses to death the way they're doing it."
"Like people, you always expect a few a year. These are young horses, but accidents do happen, and of course some leg injuries can be too much for them. Many tracks actually are prepared to kill them on the field."
"But at Santa Anita it's been, what, heart attacks? Collapsing? That's not normal."
"Sweeping rule changes have been discussed since March, but so far, those have not happened. As of now there has been no word on those rule changes, but the state legislature hasn't ignored the issue either."
"Some Santa Anita people I know have had talks with Dodd and those people who have the Park in their district [Senator Susan Rubio (D-Baldwin Park) and Assemblyman Ed Chau (D-Arcadia)], continued Ruiz. They're looking to get more done."
"But it needs to happen fast. It's been happening less, but it's still happening. The problem is still there."
"Other parks are worried too. If they are over-running these horses, that means if they go from Santa Anita to their park, it can spread there. No one wants this."
"They've definitely helped, but this hasn't been nipped in the bud yet. If Newsom and everyone can get a stricter law through protecting the horses and the jockeys more, then I think we'll have real change."
"As of yet no new bill has been announced regarding horse tracks, but with a climbing death toll, it may be only a matter of time."

Latest posts by Evan Symon
(see all)