Sacramento Business Owners Protest Dangers of Homeless Drug-Addicted, Mentally-Ill Transients
A neighbor's vigilance resulted in the arrest of a transient guy with a $250,000 warrant Sunday
By Katy Grimes, September 12, 2022 4:29 pm
The Globe writes frequently about the widespread, growing population of drug-addicted street people in Sacramento. I take photos to illustrate my observations.
This weekend I added to the photo album. Readers can see Sacramento is headed for more tragedy if 11,000 drug-addicted and mentally ill homeless transients are allowed to continue to live on the streets, in the parks, and where ever they park their tents or RVs.
The Sacramento Land Park neighborhood is where long time resident Kate Tibbitts was brutally murdered in her home by a parolee. Last fall "homeless" transient Troy Davis, out on the streets despite his recent parole violation, raped and murdered downtown Sacramento resident Kate Tibbitts, in the Land Park neighborhood, killing her dogs and setting her house on fire," the Globe reported.
Tibbitts horrific murder remains a fresh imprint on locals's psyche, but seems to be a far-away, inconvenient memory for local politicians.
A neighbor's vigilance resulted in the arrest of a transient guy with a $250,000 warrant Sunday at the amphitheater at William Land Park. The park is home to the Sacramento Zoo, Fairytale Town, Sunderland Amusement Park and a 9-hole municipal golf course.
The Globe recently reported on what was serving only as a respite center for the homeless, with the begrudging approval of the nearby residential neighborhoods, is being turned into an actual shelter, and without the approval of City Council members or the nearby neighborhood groups – primarily because it is so far away from City Hall and from the residents of the city.
But this latest homeless shelter is right next door to the Children's Receiving Home, a home for children and young adults who have suffered abuse and neglect.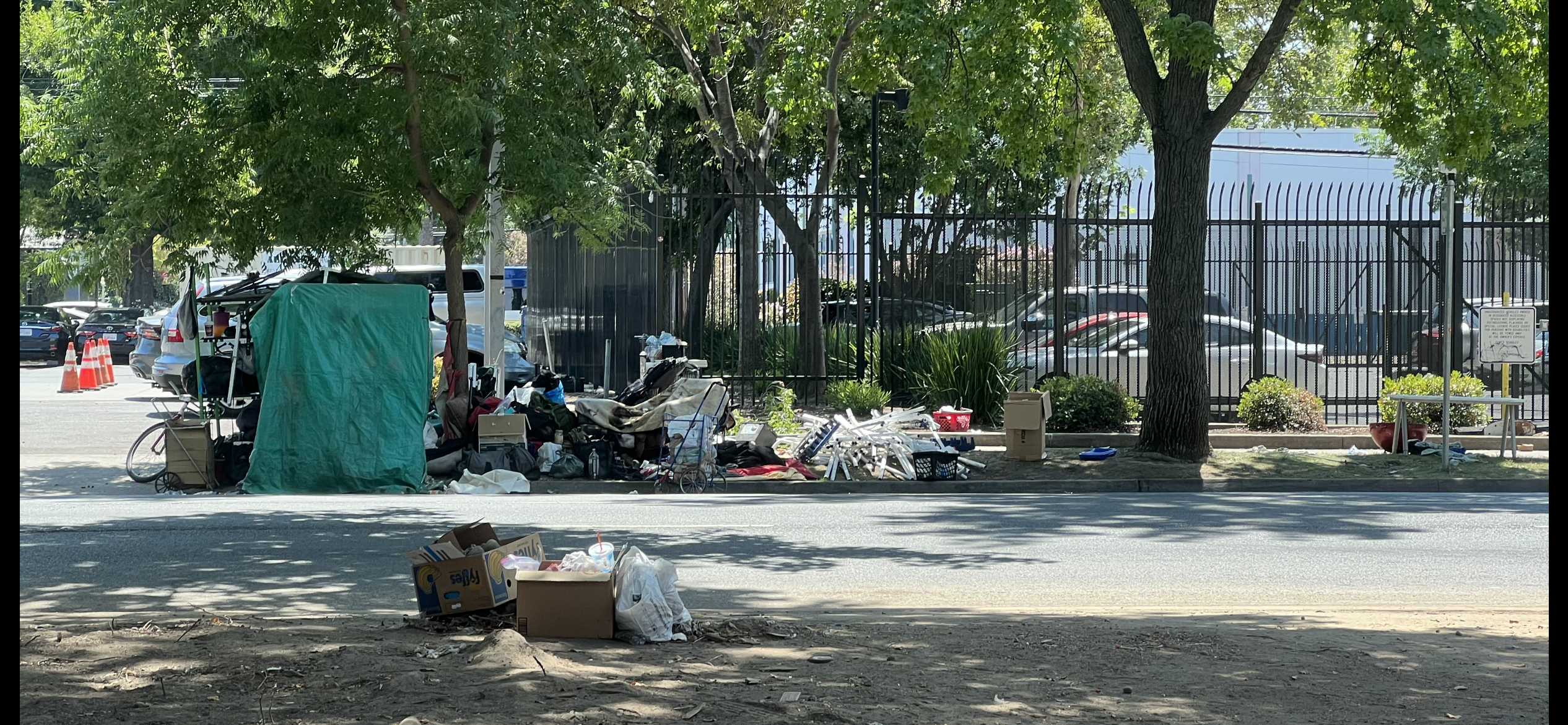 Deadly shootings, narcotics, burglary, aggravated assault, battery, vandalism, and weapon-related crimes are now commonplace in Sacramento residential neighborhoods, in parks, near schools, by businesses and grocery stores. No parking lot is safe. Women have been assaulted while running on park paths.
Sacramento City Council is ineffective. They blame the Sacramento County Board of Supervisors for sitting on the pot of money to be used for treatment, shelter/housing for the transients.
What the local elected officials don't understand is Sacramento residents no longer care whose fault it is. Residents just know nothing is being done, and that officials are actually allowing the drug-addicted vagrants to live in public parks, on sidewalks and along the rivers putting our children, the elderly, moms, dads and families, homes, businesses and pets in jeopardy.
The Sacramento City Council actually gave Miller Park, a once-lovely city park, over to a homeless tent camp along the Sacramento River.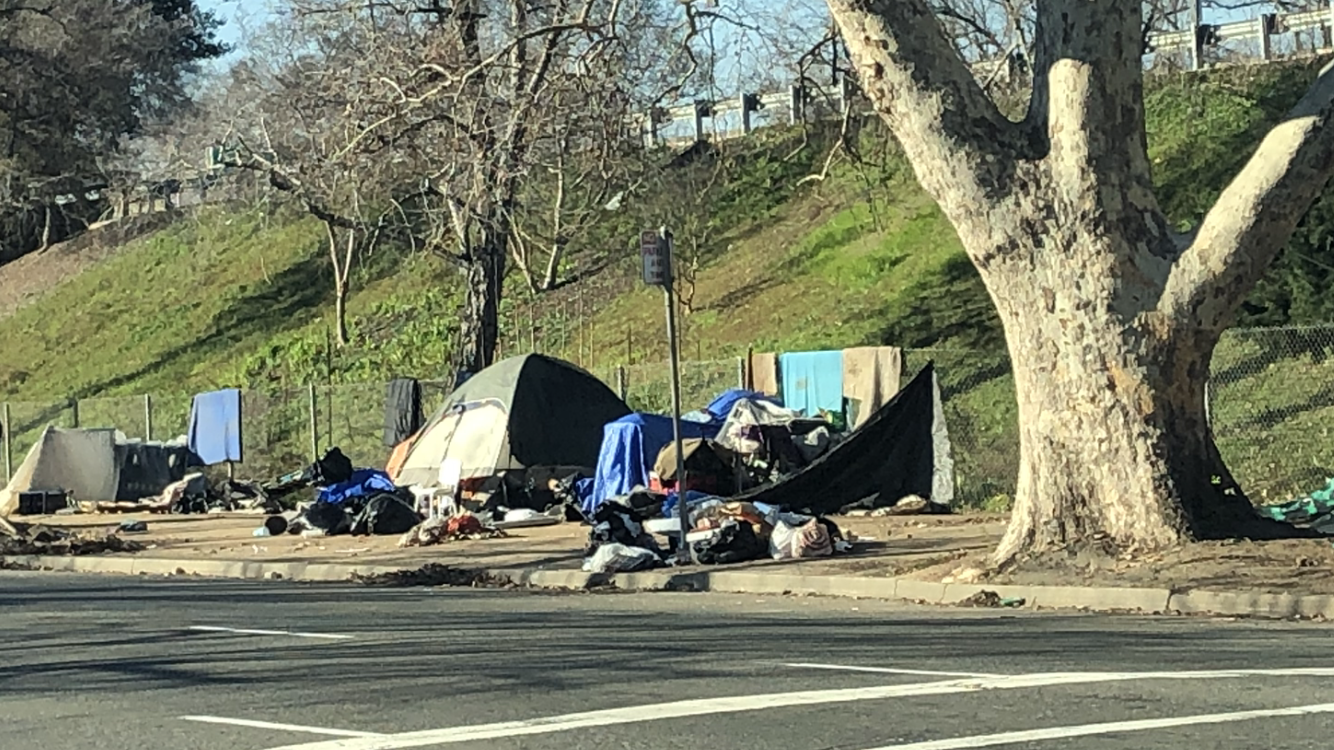 This homeless woman lives in the park, and frequently screams at people, while making violent slashing movements. She needs help, and is beyond the point of making sound decisions for herself.
What the city officials don't want us discussing is that these homeless camps are rat and cockroach infested. Ask any local pest control agent – he will describe the infested conditions the transients are living in, which spreads to nearby residential homes and businesses. Local business owners now report seeing cockroaches and rats at their places of business in  previously vermin-free zones.
The violent confrontations the transients have with residents occur daily. On Broadway, businesses are closing and leaving the area. Starbucks and Jamba Juice recently closed because of safety concerns. Business owners on Broadway held a protest this weekend, only to have it hijacked by homeless advocates claiming if the homeless transients all had homes, this would all go away.
The housing first policy has been a failure – except for those financially benefitting from the government funded renovations and rent payments.
Treating the drug-addicted homeless transients as if they are patrons at the Ritz Carlton, city officials refers to them as "guests" and "people experiencing homelessness," never acknowledging how violent and dangerous many of these "guests" are, or that they are meth and heroin addicts.
And because there isn't a seamless pipeline for those who want to get out of the life and into treatment, those wanting to get off the street find themselves stuck in dangerous situations.
"People experiencing homelessness" is supposed to soften the fact that many of the city's homeless transients were let out of prison and jail early "for good behavior," and are violent drug addicts. The police reports prove this.
In October 2021 Sacramento's new homeless shelter opened and moved 26 transients off the street. Sacramento has 11,000 homeless transients, and increasing commensurate crime rates.
But that didn't stop the Mayor from patting himself on the back: "Mayor Darrell Steinberg applauded the DCR staff and said he hoped its success could be replicated to help people experiencing homelessness while at the same time responding to neighborhood concerns about the effects of unsheltered homelessness."
Sacramento's homeless has even surpassed San Francisco's. "Within the city limits of Sacramento, just over 5,000 unsheltered people… were counted in a new homelessness report, compared with about 4,400 people in San Francisco. But with Sacramento's population of 525,000 versus San Francisco's 874,000, that works out to a rate of 952 per 100,000 in Sacramento versus 503 per 100,000 for San Francisco," the San Francisco Chronicle reported.
The City of Sacramento is spending more than $44 million to provide eight homeless shelters and camping options, most not yet built or ready, and three Project Homekey motel conversions, the Globe reported in April. According to city officials, "most of that comes from state and federal grants that are not certain year to year."
As the City Council waits for the County Board of Supervisors to make the first move, locals are fearful that another dangerous drug-addicted transient will physically harm or kill another resident.
The City Council did pass an ordinance in August that tents and other obstructions blocking sidewalks will need to be moved under an update to the city's sidewalk regulations adopted unanimously Tuesday by the Sacramento City Council.
This photo was taken Sunday:
Latest posts by Katy Grimes
(see all)