Sacramento Sued in Class-Action Lawsuit by Disabled over Sidewalk Homeless Camps
The suit also could affect anyone else who has had to maneuver around tents and campsites outside City Hall or on sidewalks
By Katy Grimes, February 9, 2023 8:04 am
Sacramento is being sued in a class-action lawsuit by a group of disabled citizens over homeless camps on city sidewalks.
It wasn't enough for business owners, office workers, and mothers walking with children to complain to city officials about drug addicted vagrants blocking city sidewalks. Most people's complaints were ignored, despite violent confrontations with homeless, and daily harassment. Businesses have even closed in the City and along the Broadway corridor citing daily dangerous confrontations and harassment of employees and patrons by homeless vagrants.
The number of homeless living on Sacramento streets has increased significantly over the past three years, according to the July Point-in-Time count released by Sacramento Steps Forward.
Even the New York Post reported on the shocking growth of Sacramento's homeless population: An official count from February found 9,278 people homeless throughout Sacramento county — a 67% increase over the 5,570 during the previous count in 2019. The vast majority of them, more than 5,000, were sleeping rough within the capital city itself, the Point-in-Time Count noted.
It's even worse six months later.
As the Globe reported in April, Sacramento County has more than 11,200 homeless living on the streets and in the parks, and all shelter beds and spaces are full on any given night. And those were numbers provided by Sacramento Steps Forward.
Someone can't count.
So, as the Sacramento City Council and Mayor have allowed drug addicted homeless vagrants to block city sidewalks with no regard for the plight and fear of downtown workers, business owners and shoppers, everyone navigating the sidewalks has been forced out onto the busy streets to avoid the sidewalk tent camps and crazy drug addicts – which just is not possible for the disabled.
The Sacramento Bee reported:
The suit was filed on behalf of Susan Hood, a 64-year-old legally blind Arden Arcade resident, and Chester McNabb, a 66-year-old downtown Sacramento resident who has trouble walking and uses an electric scooter to get around.
But the action has the potential to affect up to 200,000 other disabled residents of Sacramento, with the suit noting that 12.4% of the county's residents and 11.8% of the city's residents are considered disabled. The suit also could affect anyone else who has had to maneuver around tents and campsites outside City Hall or on sidewalks throughout the region.
A county spokeswoman declined to comment Wednesday on pending litigation, and a city spokesman declined to comment because the city had not yet been served with the complaint.
The suit cites violations of the Americans with Disabilities Act and other measures enacted to protect the disabled, and it asks for a court order requiring the city and county to clear sidewalks and require a 10-foot buffer zone from sidewalks "to shield class members from threats to their personal safety which they regularly experience when navigating close to tent encampments."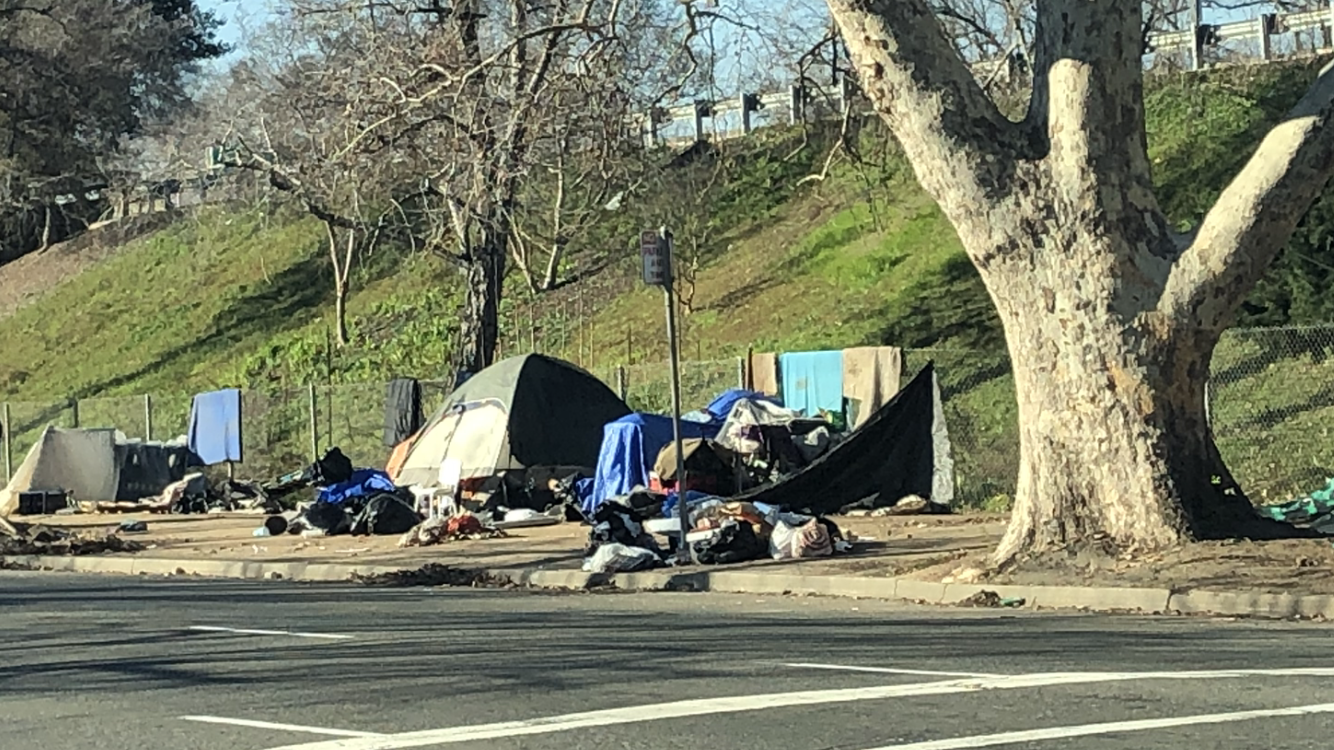 While Sacramento Mayor Darrell Steinberg has solely focused on spending federal and state funds on renovated motels, apartments and tiny homes for the city's homeless (he calls them the "unhoused"), he ignores that they need treatment, and in some cases incarceration.
What the local elected officials don't understand is Sacramento residents no longer care whose fault it is. Residents just know nothing is being done, and that officials are actually allowing the drug-addicted vagrants to live in public parks, on sidewalks and along the rivers putting our children, the elderly, disabled, moms, dads and families, homes, businesses and pets in jeopardy, the Globe reported in September.
The Sacramento City Council actually gave Miller Park, a once-lovely city park, over to a homeless tent camp along the Sacramento River.
When is Sacramento going to grow up and start electing serious people who care about governing?
The Globe will follow this lawsuit and provide updates.
Latest posts by Katy Grimes
(see all)