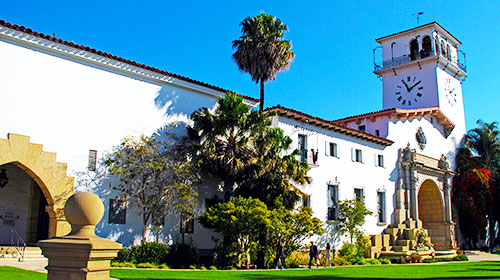 Therapist has AHA! Moment, Gives Up Her License
Freed's website and Substack page may shed light on her therapeutic theory
By Thomas Buckley, September 19, 2023 3:14 pm
Highly controversial Santa Barabra therapist/psychological astrologer/public school contractor/teen sex guru/Gwyneth Paltrow friend Jennifer Freed has given up her license to practice in California.
Freed made the announcement on her Substack site, "A Map to our Souls," saying she decide to "retire" her license as she realized: 
"One thing about getting older and erasing identities: you see how dearly precious each moment is and how essential it is to find the joy of being alive. When people are mired in old pain, it prevents them from being present. This is avoidable with the right kind of help. I venerate the work of truly gifted therapists and refer often. 
As for me: I no longer identify with being an MFT therapist. I am more of a spiritual consultant and advisor. I am more interested now in post-traumatic-growth and living into solutions than solving problems.  
These days, I want to be more mutual with people, sharing in the great journey of meaning-making and discovery (original in bold.)"
All well and good for a person to take a new path in life, but there may be other factors at play including her alleged counseling of a teen sexual assault victim to sit down with her attacker and engage in a "restorative justice" session rather than report the incident to the authorities. Freed allegedly asked her to do this in part because there were already too many black men in prison.
Freed has denied this version of events, but the school district eventually settled with the student – the attacker was a teacher – for $1 million and the teacher pleaded no contest to battery and fired.  
The perpetrators woke allies then proceeded to demand he be re-instated, with one even telling the state credentialing commission: "I understand that there has been some difficulty between Matef (Harmachis, the teacher/attacker) and the school district recently, perhaps generated by his unswerving advocacy for his students and for social justice," stunning the victim.
At the time – and it seems still now – Freed had a sizable contract with the Santa Barbara school district for her AHA! Program – a project that offers a range of allyship/counseling programs to students. AHA! is based around the concept of "social/emotional learning," a very trendy (in school circles) that claims to care for the child "holistically" but is seen by many as a political indoctrination platform.
From an article on the state teacher's union:
"The training also includes a segment on "Transformative Social-emotional Learning (SEL.)"  SEL, according to its proponents, is a holistic template that allows students to grow and share; opponents say it is a multi-million dollar rip off of taxpayer dollars and is used as a "Trojan Horse" to politically indoctrinate students.  I'm thinking the latter, but you decide – pro: https://casel.org/fundamentals-of-sel/how-does-sel-support-educational-equity-and-excellence/transformative-sel/ and con:  https://www.aei.org/research-products/testimony/the-trouble-with-social-emotional-learning/ ."
Specifically, here's a description of the "Peace Builders" offering for middle school kids:
In once-weekly meetings, AHA! equips junior high and middle school students to be inclusive allies and leaders. Students cultivate self-care, emotional intelligence, management, listening skills, mindfulness, and social awareness, and work together to learn to facilitate their own small Connection Circle groups. Current AHA! Peace Builders (supported by AHA! staff) invite students not in the program to participate in lunchtime Connection Circles. 
For her 2003 doctoral dissertation – Freed has a PhD in "Depth Psychology" which she got from the for-profit Pacifica Graduate Institute (she had worked there as well) – focused on teen girls and sex which involved interviewing, well, teen girls and four of them reported being sexually assaulted. She did not report the incidents to the state as required.
In other situations, Freed allegedly coached girls about sex and may have even pressured them to make uncomfortable choices.
From the Daily Wire story:
"One teen girl who was paid for her involvement in AHA, who The Daily Wire is referring to only as Maria, said that Freed pressured her to masturbate and engage in lesbian sex. She'd say she wasn't interested in women, "and (Freed) would question that and say, 'Why can't you be both?'"
When asked for comment via Facebook message, Freed said:  "I'm 65.  I'm retired.  That's it."
Her website and Substack page, however, do shed light on her therapeutic theory.
A few tidbits from both:
"My practice, on the other hand, is one of relational astrology, which understands that we are interdependent and interconnected constellations, just like planets and stars in the galaxy."
As to this summer's blockbuster movies, Barbie and Oppenheimer, Freed had this to say:
While Barbie opposes the patriarchy, "Oppenheimer painstakingly reveals the path of escalating destruction on a world stage of unhinged men vying for power.
We have come to the midnight hour at the crossroads of extinction, or enlightenment. (bold in original)
We are either going to keep hurling in the darkness towards more greed and power, or make a rapid turn towards saving humanity and the Earth.
Astrologically speaking we are in the death rattle and final cycle of Pluto in Capricorn.  Pluto represents the id, or the primitive libidinal desire, for domination and winning at all costs, Capricorn represents the old rigid order of status hierarchy, and the shadow side of ambition tied only toward control and conquest."
Finally, it should come as no surprise that Freed is a part of Gwyneth Paltrow's "goop" world, with the website noting Freed's "reading" talents thusly:  
"While her day job is running the incredible Santa Barbara non-profit, AHA, Jennifer Freed, Ph.D is an incredible astrologer, particularly because she pairs her understanding of the stars with her background as a therapist. A reading with Freed isn't simply about destiny, it's about what the application of that destiny might look and feel like, and how to step into it. As Freed explains at the opening of every reading, astrology isn't about what must happen, it's about what is possible for you."
If you do not have the time for a personal reading, you can always listen to Gwyneth and Jennifer chat on the goop podcast.
Now that Freed is not a licensed therapist, she no longer is a mandated reporter or needs to follow the rules of the state licensing board.
And as a person who is a living archetype of the woke white western wealthy wacky wobbly wrathful wandering woeful wrongheaded witchy woman ethos, that's probably a good thing…at least for her.
Latest posts by Thomas Buckley
(see all)