SacBee Calls Parents 'Angry, Violent, Toxic' While Touting City's New Community Organizer Hire
Was the Bee at the State Capitol Parent Protest Monday?
By Katy Grimes, November 16, 2021 9:42 am
The Sacramento Bee recently published a news article calling angry and frustrated California parents  "violent" and "toxic extremists."
Within days the Bee published another article touting Sacramento Mayor Darrell Steinberg's latest hire: a former Community organizer to run Sacramento's new Community Engagement Team, established in 2020 to replace Sacramento police officers in dealing with the city's 11,000 street vagrants, lovingly called "underserved," and "unhoused."
The Globe has attended the parent protests for several years at the State Capitol, and spoken with hundreds of parents. Yes, California parents say they are angry about their public schools closed down for 18 months during COVID and kids stuck at home distance learning in their bedrooms. They are angry at the fits and starts with school closures and re-openings. They are angry about their kids now being forced to wear masks all day in school, indoors and outdoors during recess and sports. They are angry and frustrated at Gov. Newsom's latest edict overriding their medical freedom, ordering all children ages 5 to 11, as well as age 12 on up, to be vaccinated with the COVID vaccine – notably, the only state in the country to do so.
And they are angry over discovering Critical Race Theory curriculum in schools throughout the state, as well as porn-quality sexualized curriculum foisted on their children as young as Kindergarteners.
The Globe did not see the Bee at Monday's State Capitol parent protest.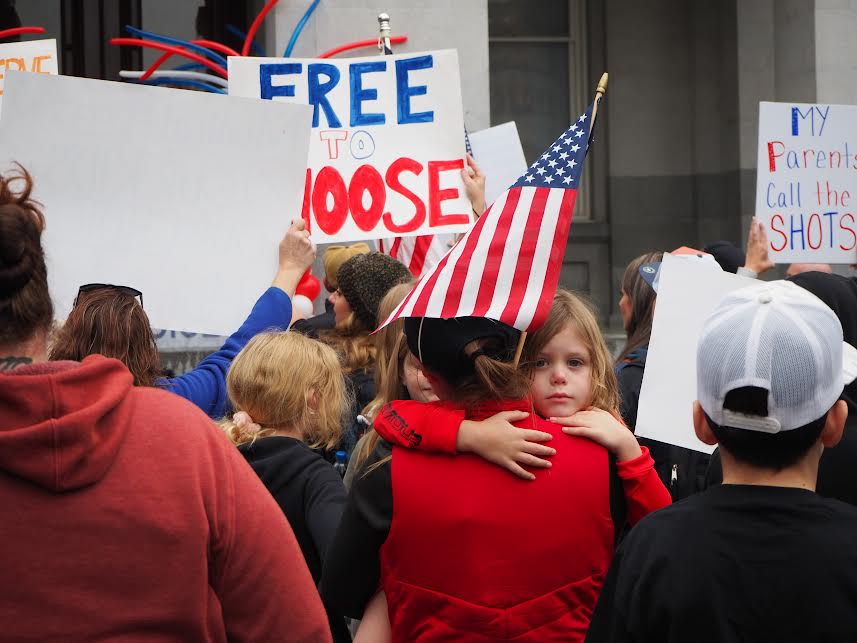 The Bee wrote:
"From Modesto to Placerville, Sacramento to Oroville to Redding, the dangerous, conspiracy theory-driven spirit behind the deadly Jan. 6 U.S. Capitol riots has spread across California as far-right extremists and anti-government activists mobilize to disrupt the work of local elected officials. In Rocklin, law enforcement now attends school board meetings, which have become increasingly contentious and riddled with misinformation and conspiracies."
"Deadly" U.S. Capitol riots? There is one documented death as a result of the protest. However, more than 25 people died at the hands of violent protesters in cities across the country following George Floyd's May 25, 2020 death. Those were called "mostly peaceful protests" by media, as buildings burned in the background.
Notably, the word "insurrectionist" is a synonym of "leftists."
The Bee is pushing disinformation about the Jan. 6 U.S. Capitol protest, as well as conflating the ostensible "domestic violent extremism, radicalization, calls for mobilization, attack plotting and attempts" of very few real extremists, with the parent revolution currently taking place.
And the Bee slurs all parents opposed to vaccinating their children with the COVID vaccine as "anti-vaxxers."
"And Keeley Link, an anti-vaccine advocate and member of the Freedom Angels, an anti-vaccine group that has increasingly espoused anti-government ideas, has for more than a year spun elaborate conspiracy theories during board meetings and rallies," the Bee reported. "She said the vaccines were a ploy to enrich drug companies and doctors. She has criticized county officials in public meetings and sent them scores of emails in recent months."
Many parents attending these protests would agree with her. Many other parents attending the protests say they aren't opposed to vaccines, but are opposed to mandates.
"MORE EXTREME THAN THE TEA PARTY" the Bee subhead says. How "extreme" was the Tea Party – that "non-partisan grassroots organization of individuals united by core values derived from the Declaration of Independence, the Constitution of the United States of America and the Bill of Rights as explained in the Federalist Papers," fighting excessive government spending and taxation?
"What makes this moment particularly dangerous, experts who study political violence and anti-democracy movements say, is that right-wing activists are using misinformation — about public health, school curriculums and elections — to gain traction," the Bee said.
This is not just routine conservative organizing, said Lindsay Schubiner, a program director at the Western States Center, an Oregon-based nonprofit that promotes equity and counters white nationalism. It's a confluence of "bigoted and anti-democracy groups" working to undermine basic institutions.
It's curious that the Bee chose this non-profit, whose board members include an attorney with the Southern Poverty Law Center, a self-described "social justice agitator, cultural sexologist, and public/sexual health educator," and a member of the PLAN Action Fund board, which "Organizes people to use our collective leverage for social justice."
"Oregon has faced political violence and attacks on our democracy throughout its history from bigoted and anti-democratic movements," the Western States Center says.
But ignore what's happening in Portland… residents are fearful of going to the "trashed" downtown. A tourism report by Travel Portland found that people don't want to travel to Portland because they associate the city with homelessness, homicide, and civil unrest. "Because of group cancellations stemming from the pandemic, homeless, and downtown riots, tourism jobs in the metro area have dropped by 10,000 from 36,000 in 2019," Oregon Catalyst just reported.
This is a perfect storm fomented by media, organized leftists, shadow government NGOs and non-profits, and government: Call parents "terrorists," while defunding local police. This won't end well.
The Globe reported on this shift away from fully-funding Sacramento's police department in October 2020:
The Sacramento City Council voted unanimously to pass a "public safety" resolution, but there is little safety involved. The resolution is intended to officially redefine public safety — Sacramento Police Department, Sacramento Fire Department, and Emergency Medical Teams — to include what the city calls "youth-prevention services" such as arts programs and health food programs, and other "community outreach programs."
Even with all of the data and statistics of a stunning crime spike in the Capitol City, instead of beefing up the very effective Sacramento Police IMPACT Team and the gang enforcement unit, Mayor Steinberg chose to offer concierge services to "the underserved," and "unhoused."
"The community engagement team organizes residents through civic engagement to ensure they have access to resources and opportunities provided by the city of Sacramento. The engagement team is the direct liaison between the community and the mayor's office, and its focus is on reaching the underserved."
The City already has mental health and homeless outreach units with the Sacramento Police Department, who are trained to deal with these unique issues – unless they've already been defunded.
Latest posts by Katy Grimes
(see all)